Terra Flores
Reduced price!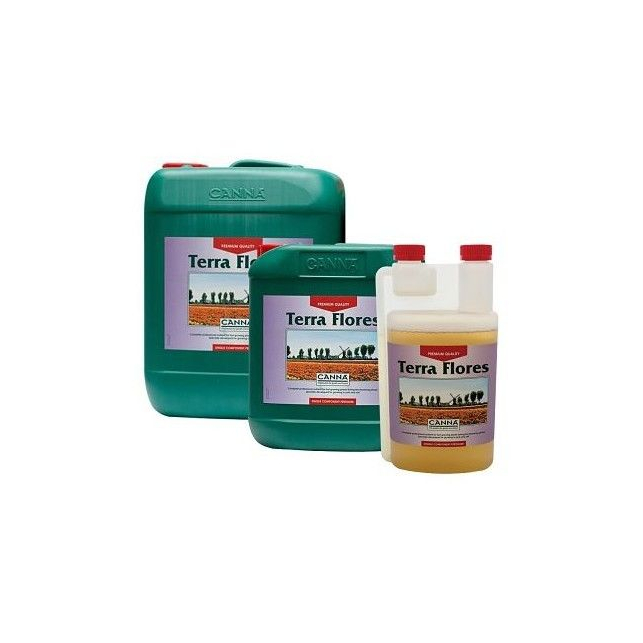 Description
Terra Flores, by Canna, is a fertilizer for the flowering period featured for its easy and direct use. It can be used in soil crops and brings a lot of minerals to your plant.
If you are one of those cannabis growers who opts for growing marijuana organically I'm sure you know Canna products. In this case we talk about Terra Flores, a fertilizer to be used during the entire growing period of the plant, contributing to its flowering.
Thanks to its properties, if you use Terra Flores, your marijuana plants will have all the necessary nutrients throughout its development, giving very satisfactory results, as confirmed by the cannabis growers who have used it, giving rise to very dense flowers and, therefore, very juicy fruits.
Some of the advantages of using this product include the fact that it avoids the binding of harmfull ions, as well as the fact that this fertilizer is rich in chelated trace elements, which facilitates its immediate absorption.
In addition, you will be pleased to know that CANNA uses only high-quality pure chelates and nutritive substances that the plant can absorb directly and completely, as we have just mentioned before.
The dosing bottle is made of polyethylene (without PVC or cadmium), a plastic which can easily biodegradaded and recycled, thus responding to the philosophy of respect for nature that is followed by this Barcelona company.
Terra Flores' dosage and usage:
Add 5mL per each litre of water in order to irrigate your plants during the flowering.
Combine it with the Canna additives to improve the production.
Terra Flores' composition:
NPK: 2-2-4
2.0% Nitrogen
2.0% Phosphorus.
4.0% Potassium
0.5% Magnesium
0.5% Sulphur
0.006% Boron
0.001% Copper
0.001% Iron
0.01% Manganese
0.001% Molybdenum
0,005% Zinc
More info
Data Sheet
| | |
| --- | --- |
| Composition | Mineral |
| Cultivation phase | Flowering |
| Cultivation phase | Growth |
| Type of crop | Soil |
Send us your questions! We are happy to help you.
There are no questions about this product, be the first to ask!
---