PEV Grow invites you to enjoy with us one of the best Spanish marijuana seed banks with more opinions: Medical seeds
Founded by the breeder and alchemist Javier Ruano, Medical seeds stands out for the purity of their strains, whose quality and homogeneity have been refined till final details, focusing above all on medicinal uses of all strains that he developed pointing out on their terpenic nuances.
With headquarter in Barcelona, many of their cultivars have been winners of a multitude of extraction awards based on different techniques, either in BHO / Rosin, ethanol, solvent blends ... as a result of an outstanding cannabic career both in strains development and in extractions research.
All their products are the result of years of research in the world of cannabis, including feminised cultivars suitable for both indoor and outdoor crops, with fast flowering and a remarked sativa-indica hybrid structure.
Most of their genetics express very high THC levels with medium-low CBD contents. The absence of autoflowering varieties is offset by the flawless quality of their catalog.
Here we offer you a brief summary of the Medical Seeds catalog so that you do not miss any detail:


Medical Seeds Canadian Kush: In case you did not know, Javier Ruano has spent part of his working life in Canada, providing his extensive knowledge and experience. One of his results has been this crossbreed strain between a Californian Purple Kush and the Canadian Special Kush. This cultivar is recommended for pain relief, depression and insomnia.
Medical Seeds Prozac: Bush-shaped plant descendant from Kush family parentals. Its trichomes density with great amount of resin is impressive. Ideal for making hash. This strain has a very high medicinal value for all kinds of indications referring to THC-A and THC uses.
Medical Seeds No Name: Developed from Sensi Star (a Sensi Seeds cultivar), it's a plant with sativa predominance but surprising due to its short flowering period. Highly appreciated for its Cheese flavor with nuances of licorice stick. Its effects are cerebral in the beginning, to finish with a marked narcotic point in few minutes, leading to a happy and deep sleep.
Medical Seeds Devil Fruit: Another poly-hybrid Indica-Sativa with Indica structure. With a relaxing but not devastating effect, ideal for performing creative tasks. Its flavor is sweet and fruity, inherited from its parental sativa genotype.
Medical Seeds Mendocino Purple Kush: Another genetic developed by Javier Ruano in Canada, this is a very stable hybridization between Mendocino Purple (known in Canada as Purps) and of course, a Purple Kush. Its creator distinguishes among four phenotypes differentiated by colors (different anthocyanidins expressed in each phenotype), ranging from green to intense violet, also evolving the chemistry of their terpenes, resulting from the most earthy to the sweetest taste.
Medical Seeds White Widow: A very successful genetic due to its stable cannabinoids range. Ideal for treatments of chronic pain caused by nerve-type injuries.
Medical Seeds Channel +: Perfect cultivar to grow in S.C.R.O.G. It is widely used to alleviate symptoms of spasticity in multiple sclerosis and also to alleviate the side effects caused by chemotherapy.
Medical Seeds 2046: A Haze genetic of extraordinary psychedelic potency. Its long flowering cycle is offset by its excellent production levels. Optimal variety to alleviate conditions that require elevated levels of THC and low levels in other cannabinoids, such as glaucoma and inhibition of emesis in chemotherapy.
Medical Seeds Malakoff: Sativa genotype featured to be a fast version flowering strain. Its effects are energizing providing a touch of creativity in you. Acid taste with a remarked liquid cream and strawberry nuances. There are no words to express my feelings.
Medical Seeds Y Griega: Overproductive Sativa strain with one of the highest psychoactivity indexes. Flavor Haze with deep sweetness.
Medical Seeds Jack La Mota: A tribute to Jack Herer, possibly it is the most international genetic. It is a hybrid of incense flavor. If you grow it in a hydroponic system you will get its maximum potential...you'll see the difference!!
Medical Seeds BCN Sour Diesel: Hybrid with Sativa predominance as a result of the crossbreed between Diesel and an Indica genetic of exaggerated yield. Its euphorizing and no cerebral make it perfect to consume daily.
Medical Seeds 1024: Probably the most complete genetic in Medical Seeds catalog. It combines production, flavor, appearance, versatility, adaptability, psychoactivity, medicinal value...
From PEV Grow we will simply tell you this: Woooooowwww !!!!
Medical Seeds, obsessed with quality
Welcome dear cannabis lover! This time I am proud to present the autoflowering strains created by the Spanish seed bank Medical Seeds. To give you an idea, and I tell you first hand because we are very friends, the only mission and objective that Medical Seeds has, is to create the best varieties of cannabis with therapeutic power, hence its name, and when one has such high goals, the level of demand is maximum and this translates into a bestial product quality, which surpasses the strictest quality controls, and of course, could not be missing in your trusted online Growshop!
Catalogue
Medical Seeds' catalogue of auto-flowering seeds is made up of only 2 varieties, but as they always taught me at home, quality is better than quantity, and that is why have 40 different varieties and all of them mediocre, when you can make two authentic works of art?
The best autoflowering varieties of Medical Seeds
No Name Auto
This weed is recognized for being one of the favorite varieties of many of the followers of Medical Seeds, for its aroma and flavor, characterized by its genetics Cheese, which gives it that touch of cured cheese that both triumphs in much of the globe, giving rise to a medicinal plant easy to grow and a huge resistance.
In outdoor crops, requires enriched substrates, such as bat guano, which also get an extra resistance to pests, you must also use a good fertilizer, my favorite is Top Veg, organic fertilizer Top Crop.
In indoor crops, if you place it under a LEC luminaire of 315 w, you will get a very good Gr/w ratio, optimizing to the maximum the costs of cultivation.
Bluehell Auto
Their birth is the result of the genetic combination between two authentic stars, Blueberry Original by Dj Short with an Auto Medical Ruderalis, and have created a true wonder, 80% Indica dominance.
I was absolutely delighted when I tasted it for the first time, because its taste of berries inevitably reminds us of its mother Blueberry, one of my favourites.
The effect it produces is very physical and narcotic, although moderated by its levels of THC between 12-15%, is characterized by an active rise and mental joy, perfect for forgetting a bad day, and is followed by a very pleasant body relaxation, which does not come to produce a sofa effect.

Don't miss out on this wonderful opportunity, because Bluehell Auto is also a limited edition, and I'm sure it won't last long! Enjoy it at PevGrow!
Medical Seeds, for medical marijuana lovers
Welcome to our online Growshop, PevGrow! On this occasion, we are proud to announce the addition to our catalogue of seeds with high CBD content from Medical Seeds. As its name indicates, Medical Seeds is focused on the creation of varieties for medicinal purposes, maximizing the properties of cannabis.
In this case I want you to know more about the varieties with a high CBD content, which Medical Seeds has created by making a very thorough genetic selection, and a high quality work, so without a doubt, Medical Seeds is a safe bet!
The catalogue of seeds with high CBD content from Medical seeds
Y Griega CBD
The high CBD version of a classic from the Medical Seeds catalogue, characterised by a THC:CBD 1:1 ratio, which gives it an impressive balance. Its mental effect is moderate, since CBD modulates the psychotropic effects of THC, which makes it perfect to take daily, without fear of not being able to perform their normal activities.
Its benefits are multiple, as it acts as a pain analgesic and anti-inflammatory, being widely recommended for the treatment of arthritis. Its organoleptic properties are not left behind, and is that its lemon flavor and citrus aroma will make your taste buds melt in a state of maximum pleasure, dare you?
OG Kush CBD
This is one of the most demanded varieties in the United States, more specifically in California, where it carries a caterpillar of thousands and thousands of followers. This is the version of OG with high CBD content and produces more moderate effects, perfect for those who could not with the power of original OG Kush.
Its productivity is a real madness, and in addition its culture is very simple and it has a magnificent resistance to the attack of plagues, fungi and mold, so if you cultivate in outside, it will behave like an authentic beast. You will be able to collect more than 1000 gr per plant, and I advise you to cultivate it in organic, as well as the use of organic fertilizers such as Top Bloom by Top Crop, specially designed for the flowering period.
In Indoor crops, in just 70 days after germination, if you use 20 pots of 5.5 liters per m2, and place it under a LEC lighting of 315w, you can get between 450-500 gr per m2 of impressive buds, marked by their balance 1:1 THC:CBD. If you are a grower with enough hours of flight to the back, the SOG crop for cuttings comes as a ring to the finger. Do you know that in our blog you have an article that explains step by step, how to make a SOG crop? Visit it!

Do not hesitate any more, and discover in PevGrow, the varieties with high CBD content from Medical Seeds, a real spectacle!
Opinions and doubts about Medical Seeds
Leave us your opinion or ask us any questions you have about this category and participate in the draw!
Among all of you who comment or send us your questions there will be a bimonthly draw for a 50 euros voucher to buy in Pevgrow. What are you waiting for? Write now and participate!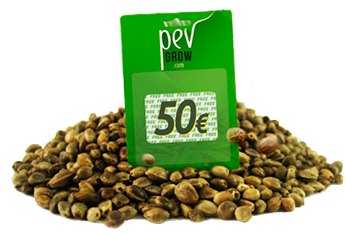 Customer Reviews