Jack Herer from PEV Seeds is the feminized version of the mythical Jack Herer marijuana variety, one of the most powerful hybrids on the market. Now you can get the cannabis seeds that pay tribute to one of the greatest activists, at the best price, and with all guarantees.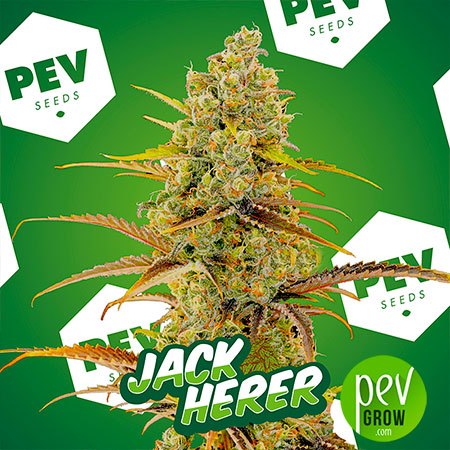 What genetics does Jack Herer have?
The DNA of this plant includes the whole cannabis genetic spectrum, mixing perfectly the 3 best marijuana hybrids that existed in the mid 90's, Haze, Skunk#1 and Northern Lights.
It was created by Nevil Shoenmakers when he was working for Sensi Seeds, and it is believed that he crossed his Northern Lights #5 X Haze with a Haze X Skunk#1 hybrid. Since its very release was a success, and quickly became the favorite of many smokers and growers, Do you want to know why? You'll soon find out...
How's the feminized Jack Herer?
The first thing you have to know is that there are several phenotypes of Jack Herer, this is not bad, in fact it is quite normal and happens with many varieties of cannabis. 
The phenotype "indica" has a fairly compact size, almost as much as the Northern Lights, with wide and dark leaf. In flowering it stretches in a moderate way, and it is probably the easiest phenotype to cultivate.
The most sativa part of this great hybrid represents a phenotype that comes out less than the others, but for lovers of psychoactivity is the best. This one grows and branches with an impressive vigor, but its distance between knots is wider than in the other phenotypes. 
And finally and ultimately for us the best, the phenotype that best blends the genes of all their ancestors. Its morphology would be a mixture of the 2 previous phenotypes, with very sawn leaves, of medium size and not so dark green and bright.
How is Jack Herer grown indoors?
Usually the hybrid phenotype is shown in more than 50% of individuals, and the differences between all of them are not very noticeable, they can be grown together without problems. It can be a difference in height, but from the highest plant to the lowest is not usually exceeded 25%. 
Its cultivation is quite simple, the great hybrid vigour provided by its genetic pool allows it to withstand some types of stress very well. It admits high doses of fertilizers, without going too far, but something more than many varieties and it adapts very well to the production optimization technique known as "Screen Of Green".
And outdoors, can Jack Herer be planted?
Of course, even if it contains a Haze soul, it's perfect for outdoor growing. We think that one of Nevil's objectives when creating this variety among others was this, to be able to grow sativas outdoors with the advantages of indicas.
It is not necessary to plant Jack Herer feminized seeds very early, its impressive rate of growth allows it to accelerate the development over other plants. In the northern hemisphere you can germinate in mid or late April, usually in summer it will be larger than other strains sown in March.
If autumn tends to be rainy in your growing area, it's better to grow it in a greenhouse, as Jack Herer creates very hard and bulky buds, which don't like getting wet when they're shaped, and we don't want to ruin the crop, do we?
What is Jack Herer's flowering time?
Indoors you may need 55 to 70 days of flowering, depending on the phenotype. It may not be the fastest strain to grow indoors, but the quality of this plant is certainly worth the wait.
In outdoor cultivation it is harvested in mid-October in the northern hemisphere, in the average of most commercial varieties on the market. In the southern hemisphere it is cut in mid-April.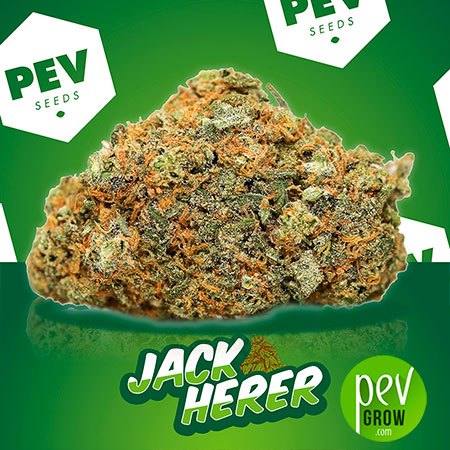 How much does feminized Jack Herer produce?
The production of Jack Herer is high in all senses, both flowers, resin, terpenes, and especially cannabinoids. The buds are hard and compact in the indica phenotype, and long and very hairy in the others. Both of them perform very well indoors and outdoors.
In indoor cultivation you can get the desired gram / watt or even more, it is a very grateful variety when you know how to squeeze well. 
Outdoors you can overcome the Kilo per plant if you give it enough substrate, many hours of sun, and water and fertilizers in their right measure.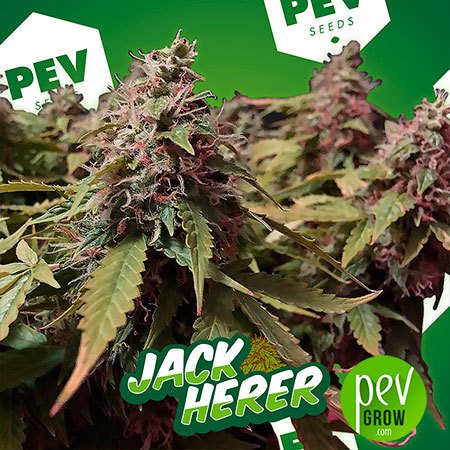 What does Jack Herer from PEV Seeds taste like?
Incense clearly predominates in its taste, with clear acid hints similar to lemon, with a lot of body, as happens with other Haze hybrids. The aftertaste it leaves in the mouth has spicy touches reminiscent of spices, and it stays on the tongue for quite some time after consuming it.
It is a taste that when you try it the first time surprises you a lot, a very dense smoke that collapses the lungs if you go too far, and masks the smoke of any other variety smoked in the same room, did that happen to you with any other genetics?
What are the effects of Jack Herer?
It was once the most potent cannabis on the planet without a doubt, and it is still in the ranking of the strongest. Its effect on both body and mind is not suitable for inexperienced users.
It starts going up instantly to the brain, causing an unusual activity, high speed of thinking, a Psychoactivity so high that for a beginner user can end up in panic. 
At first you do not notice so much the physical part, or mental collapse does not allow you to see it, but after a while you will notice a huge body heaviness, at the level of the most powerful indicas, without leaving aside psychoactivity. 
For smokers with tolerance is very pleasant because it satiates for hours, this is one of the reasons why it is always among the best-selling.
Do you want to buy Jack Herer seeds?
If after reading all this you have not been convinced, ask a friend who has tried Herer, who can tell you about his/her experience with this marijuana and you will surely be convinced. But if you agree with us, that it is a variety that has to be grown at least once in a lifetime, don't wait too long and choose your preferred format, we have a discount on all of them, but the more Jack Herer seeds you buy, the more you will save.
You may also be interested in: