PevGrow brings you the Purple Russian Express seeds from Kalashnikov Seeds Bank, a cross between Big Daddy Purple and White Russian, with a secret hybrid. It is a plant with a dominance of 80% Indica, so it ensures the most relaxed effects, both physically and mentally.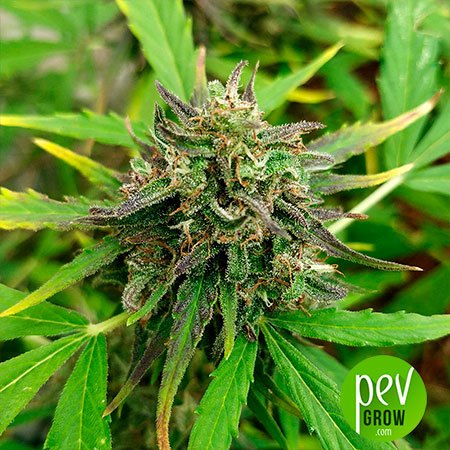 The buds of this variety have a characteristic purple color, they are also very resinous and have a fast and powerful effect. The appearance of the plant is compact and the whitish trichomes stand out above the purple coloration that characterizes it. Its taste distinguishes it from other genetics, with a sweet touch that is not easily forgotten.
For indoor crops you will have to take into account that you will need 100 liters of substrate per square meter. It works very well with the SOG method and can offer you between 500 and 600 grams of harvest per square meter. It has a fast flowering time that promises you great harvests in just 60 to 65 days.
Outdoors, this plant is more than one meter high and ranges in size from 90 to 130 centimeters. With this option you will have harvests that yield much more, being able to harvest between 800 and 1200 grams per plant. Harvesting is preferably done at the end of September or beginning of October.
Whatever your method of cultivation, keep in mind that it is a very aromatic plant. Indoors you will want to use filters to avoid drawing attention to your greenhouse
Get already this special and characteristic Kalashnikov variety. Its high THC content and resinous buds make Purple Russian Express one of the preferred choices of experts. The simplicity and speed of flowering make it one of the easiest genetics for beginners to grow.
You may also be interested in: