Bruce Banner 3 are feminized cannabis seeds, created by PEV Seeds to satisfy the demand of this USA genetics, which pays tribute to Hulk for his great power and he is slowly reaching the level of legends, but what is special about this strain? You'll find out soon enough…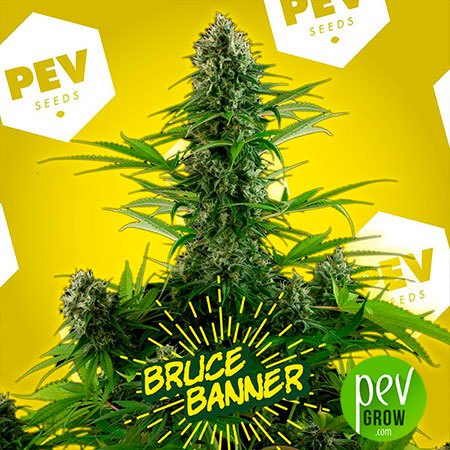 How is the Bruce Banner 3 Original variety?
The original Bruce Banner plant was created from a cross between OG Kush and Strawberry Diesel, which tried to combine the powerful effect of the Kush phenotype with the extraordinary taste and aroma that comes with Diesel. But the result of this mixture was even better, as a green monster with enormous power was born.
It is a plant of hybrid structure, its morphology resembles the OG, with distance between knots but quite resistant stems.
Thanks to a friend, the genuine Bruce Banner 3 seeds reached our hands, and after making a great selection, we kept the best specimens to replicate this variety as feminized seeds to be able to offer this superior weed, so difficult to obtain, to the market.
How are Bruce Banner 3 feminized seeds grown? 
In indoor cultivation it is best suited to the SCROG method because of its structure, but performs very well even without using optimization techniques. Its flowering time is usually around 9 weeks, ending with resin frosted buds. 
If you are going to grow it indoors make sure you have a good anti-odor system, as it gives off an appetizing aroma but very intense, stinging like most of the Sour family.
Flowering time of Bruce Banner 3 in outdoor crops
If you want to grow it in the northern hemisphere you will have to wait until the middle or end of October, depending on where you live, because in northern latitudes can anticipate due to cold. In the southern hemisphere it can be harvested in the middle/end of April in outdoor or greenhouse cultivation.
How much does Bruce Banner 3 produce?
Its yield can be considered quite high, in hands of an experienced grower can exceed 500 grams per square meter in indoor cultivation. 
Outdoors a single Bruce Banner 3 plant can give you more than 1 kilogram, germinating early and with plenty of substrate and food.
What does PEV Seeds' Bruce Banner 3 taste like?
In mouth predominate fruity notes that remind of strawberry, but with an acidic background, inherited from the Kush family, a surprising blend that usually pleases everyone who tastes it. In order to be able to really enjoy the flavour of Bruce Banner 3, we recommend growing it organically. It does not mean that if you feed it with mineral nutrients, the flavour will not be good, it is also very good, but with less intensity and flavour nuances than when it is fed with natural organic fertilisers.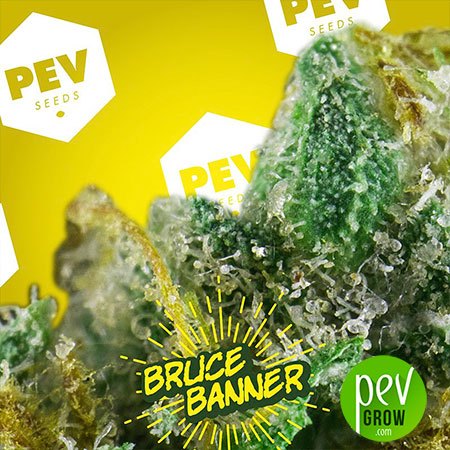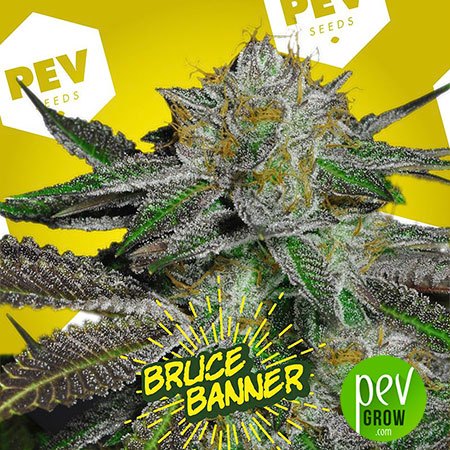 What is the effect of Bruce Banner 3?
Its effect is what has made this variety famous worldwide, even being able to order Bruce Banner 3 in Amsterdam or in the cannabis clubs in Barcelona, widely consumed for its high power stimulant and pleasant, with THC levels close to 30%, something achievable by very few strains.
This information must be considered, you should not smoke much if your tolerance to cannabis is not very high, because the power of Bruce Banner #3 is in a higher level, something that may be excessive for beginners but very demanded if you need this variety as medicinal marijuana, because it is effective for treating muscle and bone pain, a great analgesic with the name of the Marvel factory.
Buy Bruce Banner 3 seeds, what is its price?
It depends on the quantity that you want, since PEV Seeds sales cannabis seeds of Bruce Banner 3 feminized from one to 500 units, so you can buy this variety from 2.70 € a unit. But whatever amount you want, in PEV Grow you have all formats with a 10% discount, so don't wait too long and get the powerful green monster now.
You may also be interested in: