Our kit with 80 x 80 x 160 cm. (2.62 x 2.62 x 5.25 feet) cabinet contains everything you need to grow cannabis indoors in the most comfortable and practical way. It has perfect dimensions as a growing cabinet, also for the maintenance of mother plants, or even to make complete cycles, from germination to drying, and the best thing is that you can place it in any corner of the house.
What does this kit for indoor growing of cannabis contain?
Growing cabinet Cultibox SG Combi 80 x 80 x 160 cm. (2.62 x 2.62 x 5.25 feet)
Manufactured with top quality materials, the SG Combi cabinet from Cultibox is very solid and resistant, ideal for withstanding changes in temperature and humidity without suffering damage. The assembly is very simple and fast, you do not need tools or special skills, in less than 5 minutes you have it.
The inner side of the canvas has a 95% reflection power, as if the whole cabin is a huge reflector, optimizing the light to the maximum. On the other hand, the external part of the canvas is black and opaque, and does not let a single photon escape to the outside, as well as providing thermal insulation.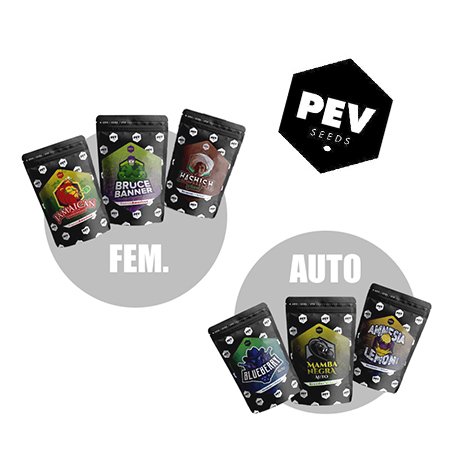 PEV Bank Seeds' Feminized or autoflowering seeds
5 feminized or autoflowering cannabis seeds from PEV Bank Seeds, to be chosen by yourself from the following options:
- Bruce Banner: Powerful and tasty American variety with an immense amount of resin.
- Hash Plant: Indica plant very resistant, productive, sweet and very relaxing effect.
- Jamaican Lambsbread: Pure equatorial Sativa, large size, powerful and smooth taste.
- Amnesia Lemon Auto: Sativa hybrid with automatic flowering and superior yield.
- Blueberry Auto: Automatic strain with an indica effect and a very delicious fruity taste.
- Mamba Negra Auto: Last generation autoflowering variety, powerful and with a citrus taste.
You can choose between sativa, indica, hybrid or auto, whichever you prefer.
250w HPS lighting kit
Composed of a Gear ballast, a large reflective stucco reflector, and a mixed spectrum Hortilight bulb, so you get for both growth and flowering. With this lighting you can get up to 250 grams (8.8 oz) of harvest every 3 months, so you can get 1 kilo (35.3 oz) per year.
This is undoubtedly the best investment you can make if you are a weed user, produce your own weed and forget about the black market. Remember that it is necessary to change the bulb every 3 crops because the high pressure sodium lights lose much of their power with use.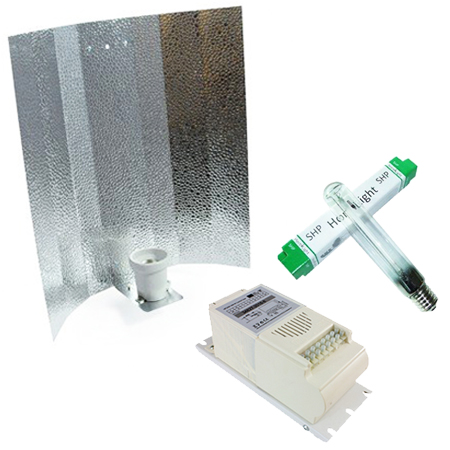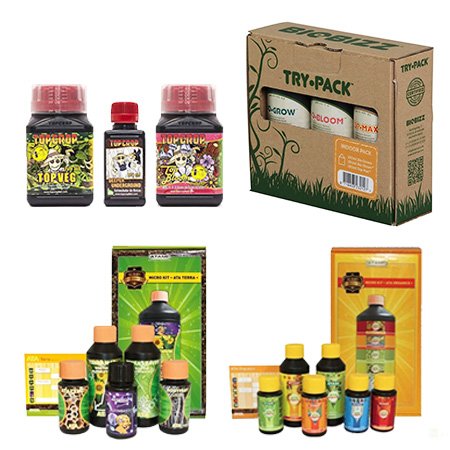 Fertilizer pack of your choice
Complete kit of liquid fertilizers of different brands and formats for you to choose the ones you prefer. You have different options between organic or mineral from different brands of the sector famous all over the world:
Try Pack by Biobizz: The world's best known brand of organic cannabis fertilizers.
Micro Kit Ata Organics: Composed of all the organic fertilizers from Atami brand.
Micro Kit Ata Terra: Contains all Atami mineral fertilizers in small format.
Tripack by Top Crop: Organic fertilizer kit from this prestigious Spanish brand.
Odour filter (optional)
The carbon filter is essential to avoid odors that can betray us, as long as we are going to use this culture kit to bloom. But if you are only going to use it as a cabinet for growing or maintaining mother plants you do not need the filter, so you can save a good money. You have 2 different options to choose from:
- Mountain Air 237 m3/h: Without a doubt the best option, efficient, durable and easy to maintain.
 - Odorsok of 225 m3/h: For those who can not invest much money, but not so good.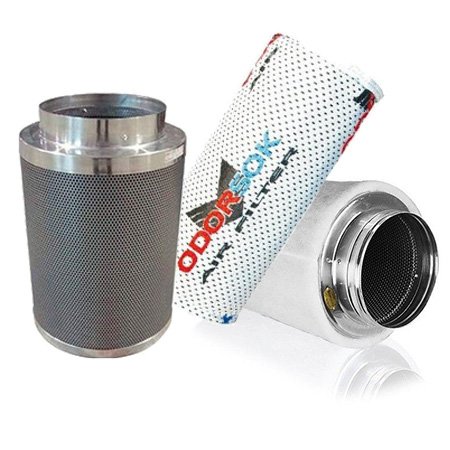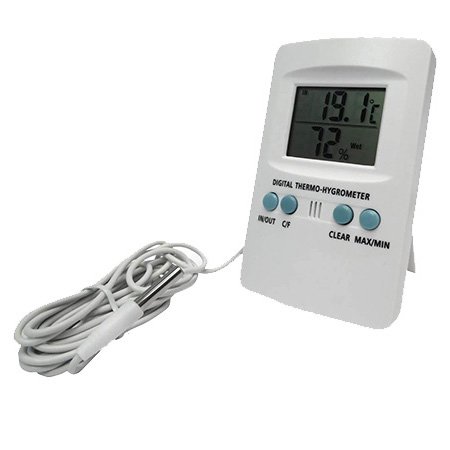 Thermohygrometer with probe
A must have for all indoor cannabis growing kits. It consists of a device with a display where you can easily read the temperature and humidity parameters 24/7. It contains a probe that has to be placed just under the light bulb, at the height of the tallest plants, and this probe will go up as our girls grow.
Thanks to its internal memory you can check the temperature and humidity history at any time, so you can know the environmental conditions your crop has reached without having to constantly look at the screen.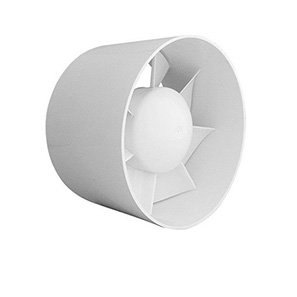 TT Dual 
extractor 125 mm. (5 inches)
It is in charge of taking out the hot or stale air from the cultivation cabinet, it is very silent and its power reaches up to 190 m3/h.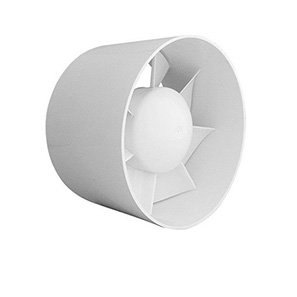 Helical extractor 100 mm. (4 inches)
Small in-line extractor that in this case we are going to use it in the opposite direction, to bring clean air into our indoor growing cabinet.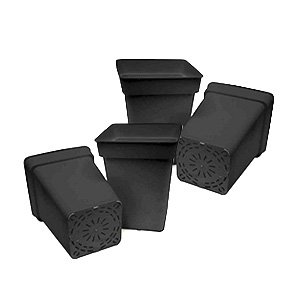 5 black square pots of 7L.
Black durable plastic containers for indoor growing, 7 litre capacity, the most widely used size for indoor growing.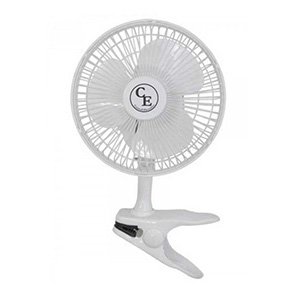 Indoor fan
A small but highly effective clip-on fan that removes air from the cabin to prevent moisture pockets without making much noise.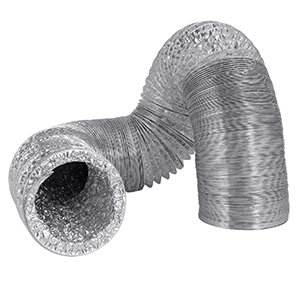 Flexible tube for extraction

2 metres (6.5 feet) of flexible aluminium tube with a diameter of 127 mm. (5 inches) to connect to the extractor and thus take the air out of the cultivation cabinet.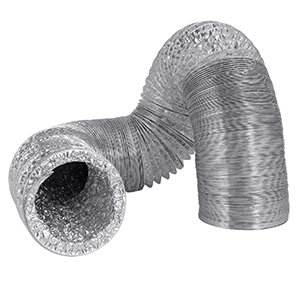 Flexible tube for intraction

Aluminum tube of 2 meters (6.5 feet) long and 102 mm. (4 inches) output, ideal for connecting the intractor of the indoor crop to bring in clean air.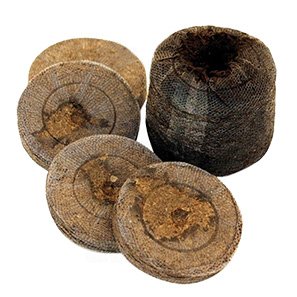 5 peat discs to germinate

Tablets or Jiffy of 33 mm. (1.3 inches) special to germinate cannabis seeds. Put them in the water and when they swell they can be used.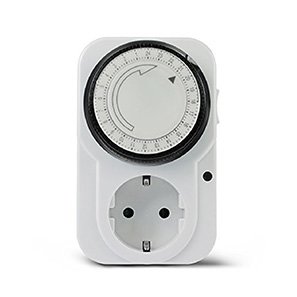 Manual timer

Practical analog timer that allows to control the photoperiod of the indoor cultivation, that is, to turn on and off the light when needed.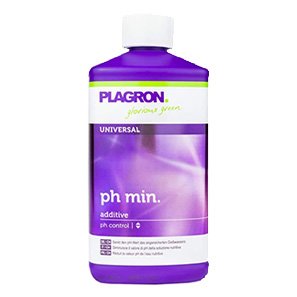 Acid to lower the PH
Half a litre (16.9 US lq. oz.) of Plagron's PH-reducing liquid, very concentrated, as only a few drops are enough to lower one PH-point.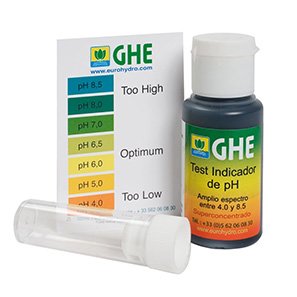 PH test kit
It contains a sample tube, a small bottle and a check table where you have to compare the color of the nutrient solution to know the PH.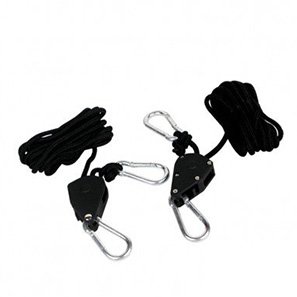 2 Pulleys to hang the reflector

Set of 2 practical pulleys by Neptune Hydroponics, essential to raise and lower the light of the crop as many times as you need.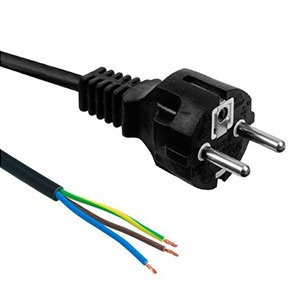 Cables to plug in extractor and intractor

Extractors come without cables, but don't worry because at Pevgrow we think of everything and we include one for each device.
Tips for your indoor cultivation
Have you calculated the production you need to cover your needs? Ideally, you should install a growing kit that adapts to your needs, thinking about the space you need at home for the cabinet, the electrical expense it may involve, and the yield you can obtain. Within this category you have many different options, with different sizes, configurations, products and prices. And of course you know that in our blog you have all the information you need to grow the best indoor cannabis, from seed germination to drying and curing, check it out!