Jamaican Lamsbread from PEV Seeds is one of the most exotic sativa cannabis plants on the planet. Bob Marley popularized Jamaican cannabis all over the world, and now you can enjoy it too, and on top of that as feminized seeds.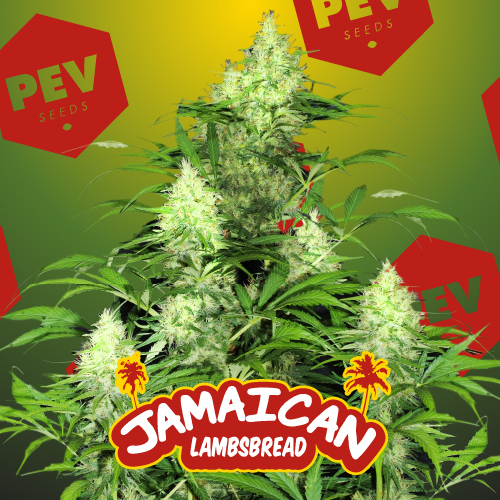 What is Lamsbread?
Lamsbread comes from Lamb's breath or Lamb's bread, and refers to a kind of green marijuana, very bright and sticky. In Jamaica they have several landraces or pure varieties, some have a name on the island and a different one outside that country, like the famous Creppy. Do you know any of them?
How is the morphology of Jamaican Lamsbread?
It is a plant that forms a high, branched structure, with stronger trunk and stems than other sativas. The internodal distance is medium, not as wide as most equatorial strains.
In flowering it stretches quite a lot, both vertically and horizontally, so it is not a bad idea to put it directly with photoperiod 12/12 from germination indoors.
Some can take dark shades during the ripening of the buds, especially when grown in areas where the night time temperature decreases enough, or they have a lot of thermal difference between day and night. Is this your case?
How is Jamaican Lambsbread grown?
It's really a more suitable plant for growing outdoors than indoors, mainly because of what we said about height, but also because of its longer flowering time than other hybrids.
But that doesn't mean that you can't harvest indoors, the only thing you have to consider are those factors. In indoor cultivation we usually prefer fast and compact seeds, however all strains can be grown indoors if appropriate measures are taken.
Indoor tips for growing Jamaican Lamsbread seeds
If you are going to put many plants per square meter, 9 or 12, (we do not advise more with this variety) I recommend you to start directly with 12 hours of light and 12 hours of darkness. As the culture progresses we will cut the photoperiod, when they start to flower we will put them with 11 hours of light and 13 hours of darkness, and in the middle of flowering we will change to 10/14.
On the other hand, if you are planning to put 1, 2 or 4 plants per square meter, then it is better to start with a photoperiod of growth, to make the most of all the space. In this case it is very interesting to use the technique "SCROG", making several prunings to encourage branching. As the branches grow we will " sew " the net, and when ⅔ of the net is covered we can change the photoperiod to flowering.
How do I grow Jamaican Lamsbread outdoors?
In northern latitudes it is difficult to harvest outdoors without the help of a greenhouse, because it is possible that the cold comes before the ripening of the buds of this sativa genetics. However in many other places it is perfect, the more sun we give it the bigger it gets, becoming a real tree if it is planted directly in nutrient-rich soil.
In outdoor cultivation it will germinate late, late spring or early summer, it is not necessary to plant in early spring as with other strains. Jamaican will grow and reach a considerable size just as well with this growing cycle. This way the crop is more comfortable, you save time and resources, and the plant uses the nutrients better when it needs them the most, right?
Tips for outdoor cultivation of Jamaican Lamsbread
If we want to control the growth of the Jamaican outdoors, it is important to maintain its pot size, at least until the flowering has started. We can do transplants during its growing period, but the definitive one has to wait as we said, otherwise it can consume all the resources of the new substrate to grow, remaining without nutrients in the soil before the most important phase of the culture, the flowering.
When is feminized Jamaican Lamsbread harvested?
Within the classification of sativa genetics, Lamsbread can be considered quite early, in indoor can be cut with just 11 weeks of flowering, something impossible for most strains of this category.
Outdoors it can normally be harvested at the end of October in the northern hemisphere, more like a Haze hybrid than a pure sativa. In the southern hemisphere it can be harvested at the end of April.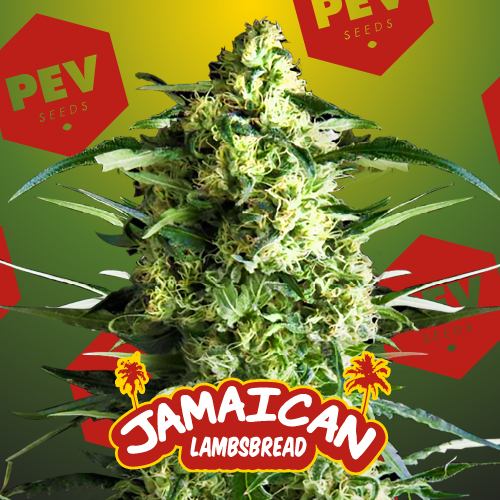 What is the production of Jamaican Lamsbread?
The weight of the harvest is often not the most crucial factor, there are marijuana that you smoke a joint of a gram and after half an hour you feel like another. But on the other hand there are varieties that with a half gram joint fill you for several hours, and that is the case of Jamaican Lamsbread.
In indoor cultivation with a 315w LEC you can get about 350 grams, perhaps with a sodium of 600w you can get almost half a kilo, because it is a genetics that appreciates high intensity of light.
Outdoors a single plant can give you 500 grams or more, depending on many factors, such as the number of hours and intensity of sun, the size of the pot, the quality of the substrate, the frequency of irrigation, and of course the hand of the grower.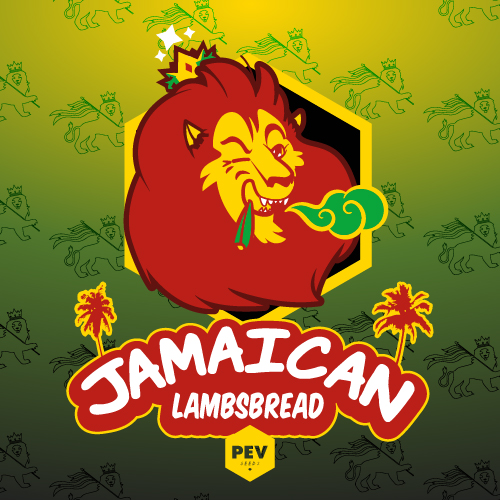 How does PEV Seeds Jamican Lamsbread taste?
The organoleptic qualities of this pure sativa are special, as well as with other unique Landraces. The aroma is floral, sweet and complex, not very potent but pleasant. The taste is also floral, but mixed with woody and earthy hints, a mixture that stays in the mouth and usually pleases everyone who tries it for the first time.
What effect does Jamaican Lamsbread produce?
No doubt the best quality of this strain is the effect, it makes you fly instantly. It is one of those sativa varieties with a "roofless" effect, that is, the more you smoke, the more you get higher, without physical load or relaxing low. Perfect to share with friends at parties, in colloquiums, to laugh, etc.
It is a high of great quality, rather than intense is motivating, inspirational, and affects the mood positively to a large extent, so it is recommended for people with depression, post-traumatic stress disorders and other types of psychological disorder.
Jamaican Lamsbread seeds for sale
Would you like to know what is the taste or effect of this lady? Well, don't wait any longer, now you can try the experience of growing a pure feminized sativa, but not just any sativa, the favorite of the great Bob Marley, and at an impressive price.
You may also be interested in: