ARAE presents Keep Calm, its new revolutionary product based on hemp oil, which will soon be on everyone's lips for its ability to bring calm, harmony, serenity and drowsiness. If you want to know everything that this product can do for you, be sure to read what follows…



What is Keep Calm?
It is a product obtained from the mechanical extraction of hemp seed oil, obtained by cold pressure and without chemical methods. The hemp plants from which the seeds that are subsequently pressed come out have been cultivated in an ecological way, with varieties certified by the European Union.
Keep Calm by ARAE is a food supplement very rich in fatty acids, both Omega 3, Omega 6 and Omega 9, and contains a high concentration of 2 essential terpenes, Myrcene and Linalool, which act together to enhance the properties benefits of this superfood.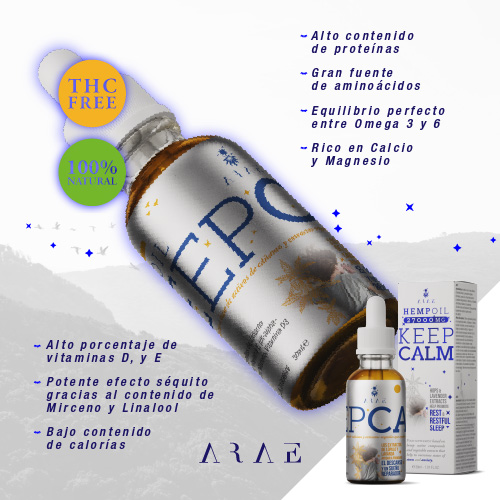 What are the properties of Keep Calm?
The oil made from the seeds of the hemp plant is one of the most complete foods that can be found in nature. It is very difficult to find vegetable sources that provide so much protein with so little fat, and it also contains all the essential amino acids and a perfect distribution of vitamins, so the properties it offers us are multiple. In this case, 2 terpenes have also been added that act in synergy with the rest of the compounds to make them more effective. Here you can see some of the most important properties of Keep Calm:
Great source of amino acids
Perfect balance between Omega 3 and 6
Rich in Calcium and Magnesium
High percentage of vitamins D, and E
Powerful entourage effect thanks to the content of Myrcene and Linalool
low calorie content
100% natural and ecological product
How is this product used?
It is consumed sublingually , or through the buccal mucosa, which is one of the most effective forms of use due to its rapid absorption. It is necessary to apply 4 drops in the mouth and taste them for at least 30 seconds, so that the entire content can penetrate through these tissues.
The ideal time for its administration is half an hour before going to sleep, but people with states of generalized stress can repeat the dose mid-morning, fasting or having eaten food before.
Keep Calm is a food supplement with many beneficial properties, but in no case is it considered a substitute for a rich and varied diet, as well as a healthy lifestyle. is recommended not to exceed the recommended daily dose, and always keep it out of the reach of children.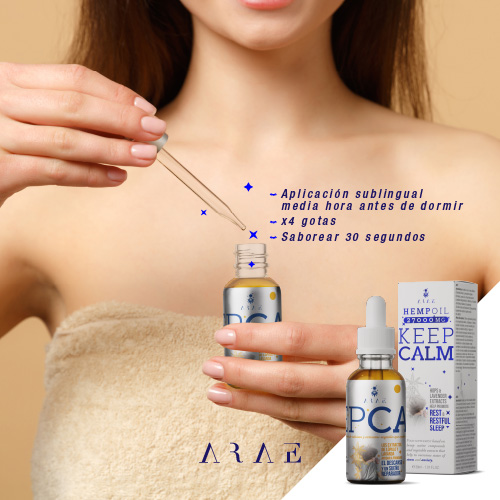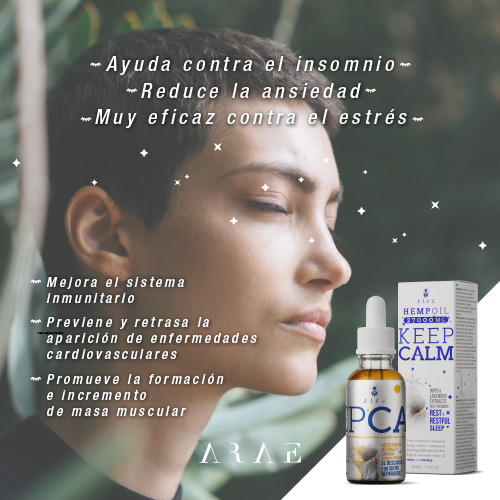 What are the benefits of consuming Keep Calm?
The hemp seed oil has been used for hundreds or thousands of years, and is considered one of the most complete foods that can be consumed. There are many benefits that its consumption brings us, but below you can see the most outstanding:
Improves our immune system
Improves anxiety states
Prevents and eliminates insomnia
Very effective against stress
Prevents and delays the onset of cardiovascular diseases
Improves physical performance
Promotes the formation and increase of muscle mass
Its distribution of vitamins helps improve vision, heal tissues, improves iron absorption, and prevents aging, among other benefits
Does not contain THC, so it does not have psychoactive effects
Buy ARAE Keep Calm at the best price online
It is said that most of the most common diseases of our century are caused by the pace of life we lead, stress, anxiety, nerves, insomnia, etc. Keep Calm is released with the intention of helping people fight against these disorders that end up causing serious problems. Try it and start improving right now!
*Declaration of allergens: High content of Myrcene, Linalool, as well as traces of its isomers.