Discover ARAE's pure terpene Myrcene through PEV Grow: 100% pure organic and manufactured in Spain under GMP standard. The pure terpenes are extracted naturally from plants, flowers and fruits and confer a unique aroma in addition to influencing the taste and effects of the plant.
Remember that pure terpenes are totally natural and have no side effects or extra chemical treatments. We obtain them by means of the method of extraction by steam dragging, to keep it pure.

This terpene isolated from ARAE has more than 95% purity.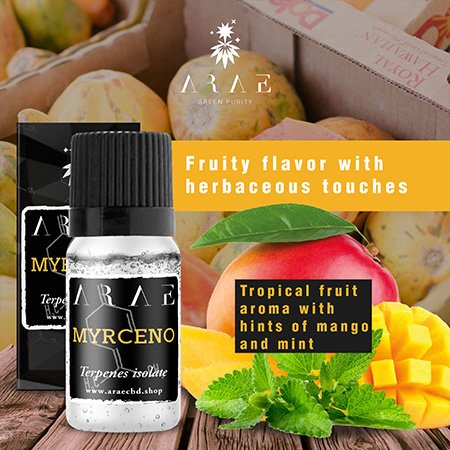 Taste and aroma
Its aroma and flavor are worthy of appearing among the 7 wonders of the world, marked by a fruity flavor with herbaceous touches, added to its aroma in which you will be able to detect, from tropical fruits, with shades of mango and mint that are going to make calada a unique and unrepeatable sensory experience, you won't want it to end.
Where is it located?
Isolated Myrcene can come from a variety of sources: Myrcia, Bay Tree, Mango, Ylang - Ylang, Wild Thyme, Parsley, Hops, Houttuynia, Vervain.
How can I use ARAE's pure terpene Myrcene?
In order to enjoy the medicinal qualities of pure terpene Myrcene you can choose to add it to your carbonated drinks, with a proportion of 4 to 6 drops per liter, as well as to your olive oil, coconut oil or hemp seed oil. To use it in your meals you must be mindful to add Myrcene in a proportion of 0.5% of the total weight.
Medical Benefits of Myrcene terpene:
- Analgesic
Myrcene has been tested in studies with mice, demonstrating an analgesic effect of peripheral character and that did not create tolerance unlike morphine. Myrcene seems a very promising advance for the development of new peripheral analgesics with a different method of action than aspirin-like drugs. Valid for muscular pains, back pains, headaches, etc....
- Sedative
The sedative effect of Myrcene has been analyzed in studies with mice, through the rotation test. Sleeping time was also increased.
Myrcene mimics the peripheral analgesic activity of lemongrass tea. So if you use Myrcene's pure terpene, you'll get a sleep enhancement that's perfect for those who suffer from insomnia. It can also be used as a tranquilizer for altered nerve states, stress, anxiety, etc ...
- Antioxidant
The consumption of Myrcene favours antioxidation and therefore reduces cellular ageing, which will result in a smoother skin and an increase in health. The consumption of antioxidants is vital, and if we do it doing what we like best... Can we ask for something more?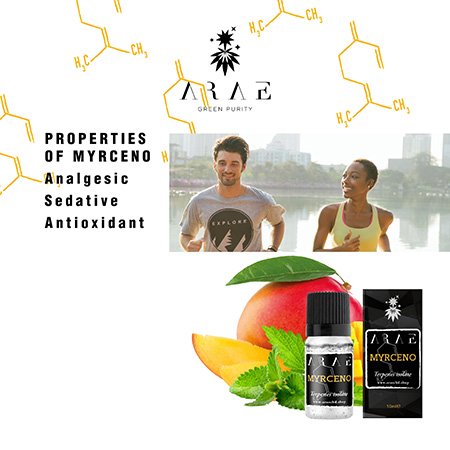 Discover with ARAE, our new section of pure terpenes and live the flavor that best suits you. It will be a difficult choice, and that is to choose between the best of the best, It is very complicated!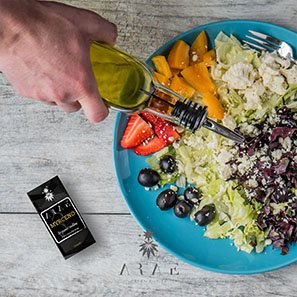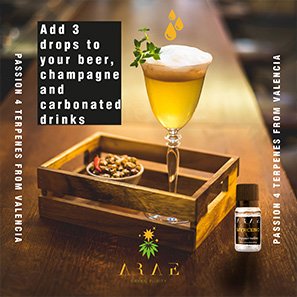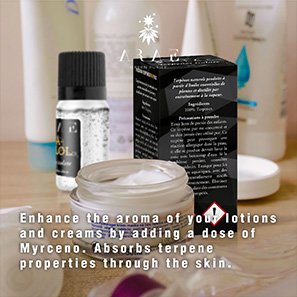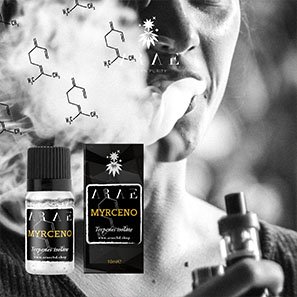 Quantity:
Envase de 10 ml.
Common strains of this compound include:
- Phantom OG
- White Rhino
- Bubble Gum
- White Widow
- Skunk #1
- The child
- Himalayan Gold
- White Rhino
Related studies:
1-  Behr, A.; Johnen, L. (2009). "Myrcene as a Natural Base Chemical in Sustainable Chemistry: A Critical Review". ChemSusChem. 2 (12): 1072–1095

2-  M. Eggersdorfer (2005). "Terpenes". Ullmann's Encyclopedia of Industrial Chemistry. Weinheim: Wiley-VCH.

3-  Kunihiko Takabe, Takao Katagiri, Juntaro Tanaka, Tsutomu Fujita, Shoji Watanabe, And Kyoichi Suga (1989). "Addition Of Dialkylamines To Myrcene: N,n-diethylgeranylamine". Org. Synth. 67: 44
All ARAE terpene varieties