ARAE's pure terpene Valencene is going to surprise you. You are about to buy a product which brings that different and special touch to your food, carbonated beverages, oils, creams, vaporizations... The list is incredible.
When we talk about terpenes isolate or pure like ARAE's we are talking about aromatic and medicinal molecules present in plants, flowers and fruits. ARAE extracts them in a 100% natural way, by the steam drag method, and offers them to you in a 10 ml bottle, directly on your table ;-).

This ARAE isolated terpene has more than 65% purity.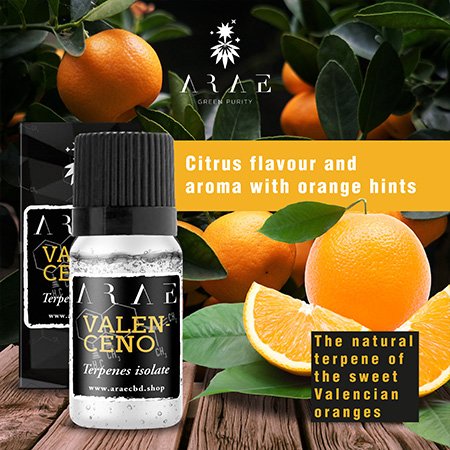 Taste and aroma
The taste and aroma of pure terpene Valencene, are a real madness, and I guarantee you can not forget it. Its citrus flavour and orange aroma give it one of the most exclusive organoleptic properties of Arae's catalogue of pure terpenes.
Where is it located?
Valencene, can only be found in Valencian oranges, so you can understand that this is one of our favorites, as we love that the products of "La Terreta" are considered a reference. Do not miss the opportunity to taste an authentic flavor, coming directly from the best Valencian oranges.
How can I use ARAE's pure terpene Valencene?
You can add the pure terpenes Valencene to your drinks and edibles, but remember they are concentrated pure terpenes, and you need to dilute them to use them.
If you feel like adding it as a condiment to your meals remember that the proportion should be 0.5% of total weight, and if you prefer to add it to your glass of whole milk in the morning, to your salad oil or your favorite soda you should know that the equivalence is 4 to 6 drops per litre.
Medical Benefits
The consumption of pure terpenes brings a series of medicinal benefits that have been extensively studied and scientifically demonstrated over the last few years. More specifically, the consumption of pure terpene Valencene has these medicinal benefits:
- Diuretics
- Antioxidants
- Anticancerigens
- Promotes cell renewal,
- Anti-inflammatory properties and reduction of stomach pains
- Prevents degenerative diseases
- Hydrates and promotes healthier skin
Buy Arae's pure terpene Valencene, personalise your E-Liquids or use it in the kitchen to flavour your food with one of the star terpenes in the catalogue, and without a doubt one of my favourites, Enjoy it!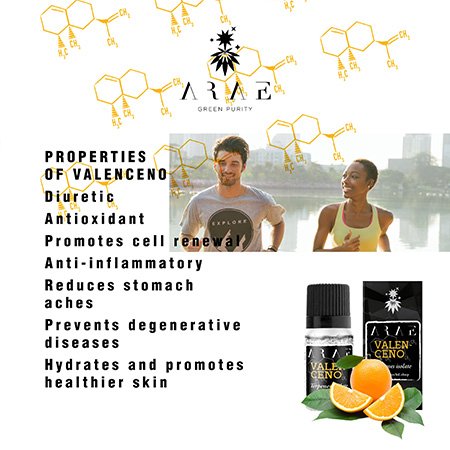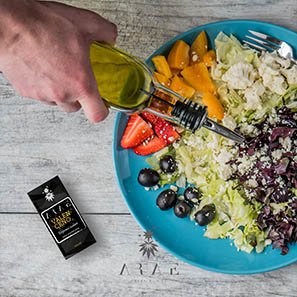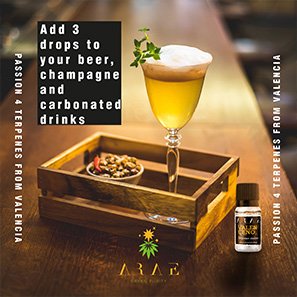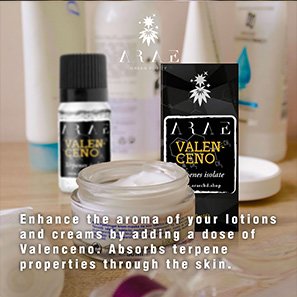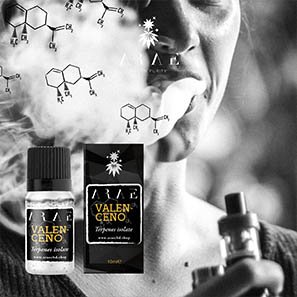 Quantity:
Bottle of 10 ml.
The strains that commonly contain this terpene are:
- Citro Haze
- Ramses
- Chem OG
- Auto American Pie
- Michka Regular
Related studies:
- Furusawa, Mai; Toshihiro Hashimoto; Yoshiaki Noma; Yoshinori Asakawa (noviembre de 2005). "Producción altamente eficiente de Nootkatone, el Aroma de la Toronja de Valencene, por Biotransformación". Chem. Farmacéutico Bull . 53 (11): 1513-1514. doi : 10.1248 / cpb.53.1513 . PMID  16272746.
- MM Bomgardner (16 de julio de 2012). "Fragancias 101. Un campo fortuito de sabores y fragancias" . Noticias de Química e Ingeniería . 90 (29)
All ARAE terpene varieties