Reading Time
5
minutes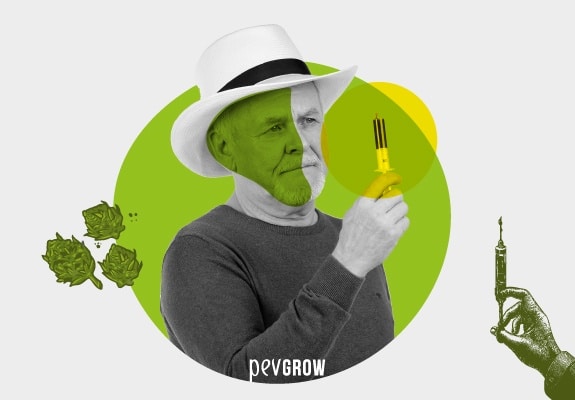 Rick Simpson achieved international fame a few years ago thanks to his story of struggle that he recorded in the documentary "Run from the cure". Among other things, he popularized the RSO (Rick Simpson Oil) recipe and since then he has been a strong supporter of medical cannabis, now also with the sponsorship of the Phoenix Tears Foundation.
⭐ What is Rick Simpson Cannabis Oil?
It is a full spectrum cannabis extract, also known as FECO (Full Spectrum Cannabis Oil) that concentrates a high ratio of THC, CBD and other cannabinoids. It is taken in drops or tears and stored in a syringe for easy dosage, since a minimum amount of this concentrate is needed to feel its effects.
It must be said that the recipe for this oil was not an invention of Rick Simpson, as it has existed since 1830, but it had never been widely used until it became popular with "Run from the cure".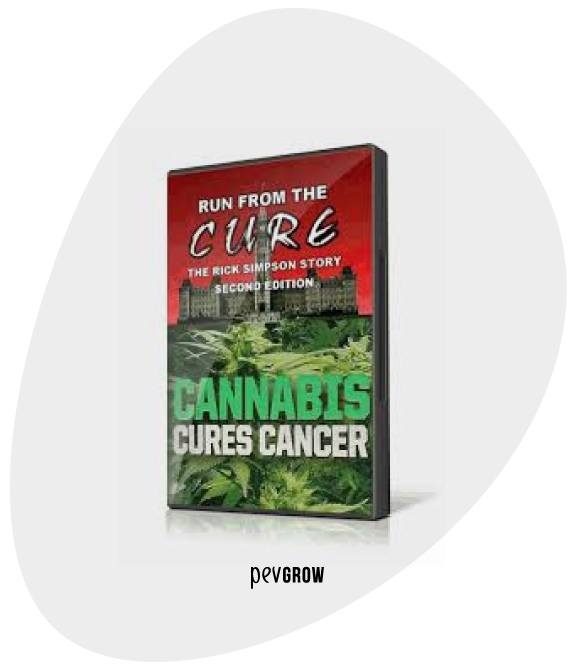 What do you need to make it?
In this case we are going to use the method recommended by Rick Simpson himself, with which we get about 2 ounces (60 grams) of oil. The performance may vary depending on the cannabis genetics used in the extraction.
17.6 ounces (500 grams) of dry cannabis
Pure alcohol or petroleum ether (about 2.6 US gal (10 liters))
Deep container where everything can be mixed
Fan
Large wooden spoon or stick
Coffee filters or similar
Rice cooker
Syringes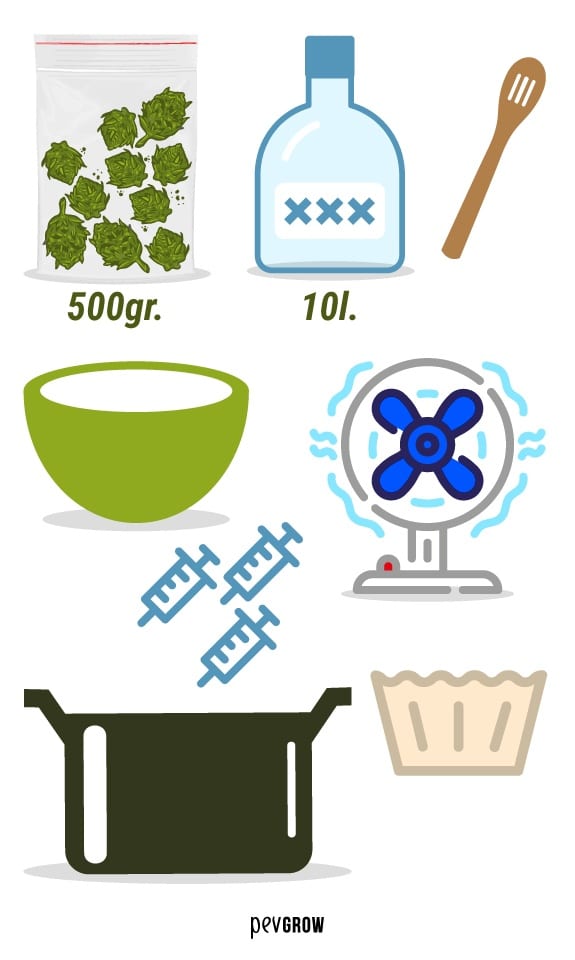 ⛳ How to make this kind of cannabis oil?
The method is simple, but you must be careful because you are using flammable solvents, so we recommend doing the process outdoors or in a very well ventilated place.
Put the cannabis in the deep container and cover it with alcohol
Crush the cannabis with the help of the wooden spoon or stick
Remove all contents for approximately 3 minutes
Place a coffee filter, cloth or strainer in the rice cooker and pour the contents of the container into the pot but do not let the weed go in
Place the weed from the filter back in the deep container with the rest and cover with alcohol for a second processing, and repeat steps 3 and 4
We begin the evaporation of the solvent, to do so we place the rice cooker at a high temperature, but not reaching 248º F. (120º C.) so that the cannabinoids do not evaporate, and we place the fan over the cooker so that it pushes the gases
Once most of the alcohol has evaporated and the mixture has been reduced considerably, it is advisable to add about 10 drops of water and continue stirring and evaporating
When the mixture is reduced until no more solvent evaporates, it is time to collect the oil, so we' ll use the syringes while the mixture is still hot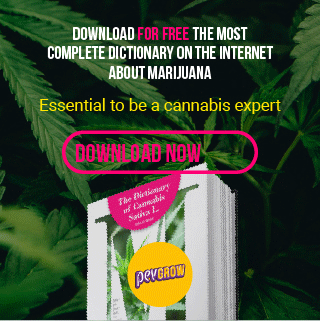 Free Download
Cannabis Dictionary
2023 Edition
Insert a correct email address
You must accept the privacy policy
SITE OF SHOPS ONLINE S.R.L with CIF: B98262777 and address for notifications in C/ VEREDA MAS DE TOUS Nº 22 LOCAL C, 46185 LA POBLA DE VALLBONA, VALENCIA, Phone: 961658271 Email: customer(at)pevgrow.com
At the name of Consulting we process the information you give us in order to provide the requested service, perform the billing of the same. The data provided will be kept as long as the business relationship is maintained or for the years necessary to comply with legal obligations. The data will not be transferred to third parties except in cases where there is a legal obligation. You have the right to obtain confirmation as to whether SITE OF SHOPS ONLINE S.R.L. is processing your personal data and therefore you have the right to access your personal data, rectify inaccurate data or request its removal when the data is no longer necessary
✨ How to use RSO?
Sublingually: It's the fastest form of absorption. You put a drop under the tongue and hold it for a minute or two
Topically: It's the best way to use Rick Simpson's oil to treat skin diseases, the affected area is rubbed so that it is absorbed
Ingested: Some people dose the RSO into capsules that are then swallowed. This way it takes an hour or more to take effect
Vaporized: Usually diluted in terpenes to use this way of consuming Rick Simpson's medicinal oil
Smoking: There are people who spread it on paper, but it is not very advisable. If you want to smoke it, it's better to do it with a dab and at a low temperature
Anally: It's a less widespread way, but there are also those who use it for stomach problems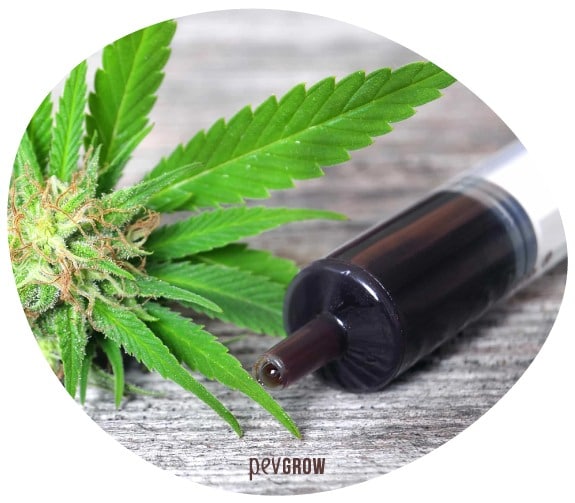 What is the ideal dose?
Rick Simpson created a dosage formula that is based on consuming 2 ounces (60 grams) of RSO in 90 days. Each day of these 3 months 3 doses are consumed, spaced 8 hours apart, starting with minimum doses of the size of a grain of rice, and doubling the dose every 4 days until reaching a daily consumption of one gram, per month or so, and from then on, one gram per day distributed in 3 times until the end.
It is a very objective dosage, as the effect can vary depending on the weight, tolerance and THC level of the cannabis strain used. However, it is a good reference as a starting point and, from this dosage, you can choose the one that best suits you.
👌 Rick Simpson Oil benefits
As this is a full spectrum extraction, if you make the oil from a standard variety the final product will have a high THC content, which can exceed 50%, a CBD level between 2% and 6%, slightly less CBG and up to 2% of other cannabinoids. This means that it can be beneficial for many ailments, disorders and diseases, including the following ones:
Pain Relief
Treatment of skin cancer, brain cancer, colon cancer, ovarian cancer, etc.
Treatment of inflammatory bowel disease such as Crohn's
Insomnia, also improves the quality and longevity of sleep
Improves appetite
Controls and prevents epileptic seizures
Improves and strengthens cardiovascular health
Delays Alzheimer's and other degenerative diseases
Very effective against glaucoma
Relieves anxiety and stress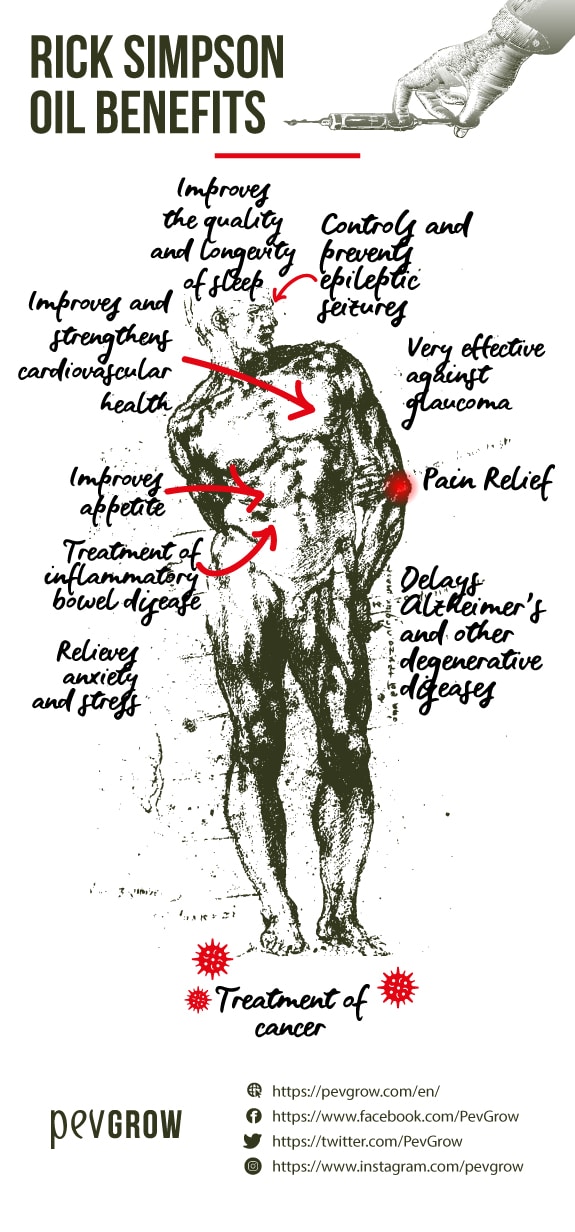 Are there any side effects?
Please note that it is a potent cannabis concentrate with a high THC content, so it may have certain adverse effects that need to be taken into account:
Dizziness
Paranoia
Disorientation
Anxiety
Vertigo
Hallucinations
Irritability
Depression
Memory loss
Reflex loss
(FAQ)
Can the RSO get you high?
– Yes, after all it is like an extraction like Qwiso or some types of BHO, but this also depends on the variety used to produce the oil, as the distribution of cannabinoids is what gives the kind of effect to each concentrate.
What is the best variety to make Rick Simpson's oil?
– That depends on the purpose you want to give it, its maker uses hybrids with indica predominance, but if you don't want to get high you can do RSO with hemp or varieties that don't contain or hardly contain THC.
What is the best solvent to make this oil?
– We recommend using ethanol or pure alcohol, although Rick Simpson has produced it with naphtha or petroleum ether with very good results.
🚀 Conclusion
Among all the formats derived from medical cannabis, Rick Simpson's oil is one of the most effective, if not the most effective. If you haven't tried it yet you know how to do it, but be careful when handling flammable products and also when consuming it. If you liked this post, please consider sharing it.
Best CBD Strains to treat different problems and diseases →