Reading Time
9
minutes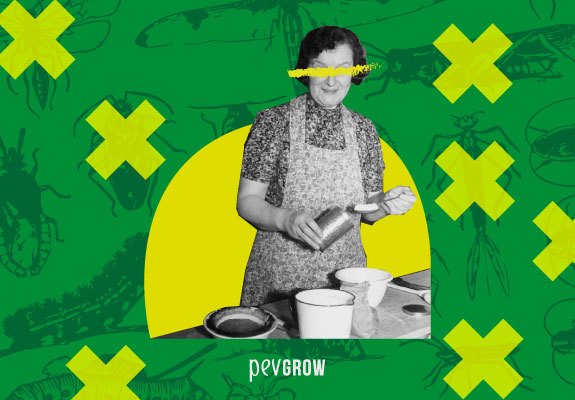 If there is something that annoys all growers is to arrive one day to the garden or the grow tent and see signs of insect pests or other diseases. And the worst of all is that they always come at the wrong time, so we have seen necessary to make this entry to let you know that you can make your own specific homemade insecticide for each type of insect of the usual ones in marijuana plants, with things that everyone has at hand, Good idea right? Well, let's start…
⭐ Homemade aphid insecticide
Aphids are quite common in cannabis crops, especially outdoors, but luckily it is not one of the most difficult pests to eradicate, and the best thing is that we can do it with something we all have at home, vinegar, and you can prepare it very quickly.
Just mix 10 parts of water for each part of vinegar, depending on the amount you need. For example, for a 1m2 (3x3ft) indoor cultivation you will only need to dilute 100ml (3.4 US fl. oz.) of vinegar in 1 litre (0.26 US gal) of water, but if you have several large outdoor plants compromised you can make a proportion of half a litre (0.13 US gal) of vinegar with 5 litres (1.3 US gal) of water, or 1 litre (0.26 US gal) of vinegar with 10 litres (2.6 US gal) of water, it is very easy.
The mixture must be properly stirred and all parts of the plants must be sprayed, insisting on the most affected, at sunset or when the light goes out if it is indoors, every day until you stop seeing aphids.
Both wine and apple vinegar contain acetic acid, which is very effective in both eliminating and preventing aphids. It is also completely natural, so it can be applied as a homemade preventive product to repel the attack of aphids.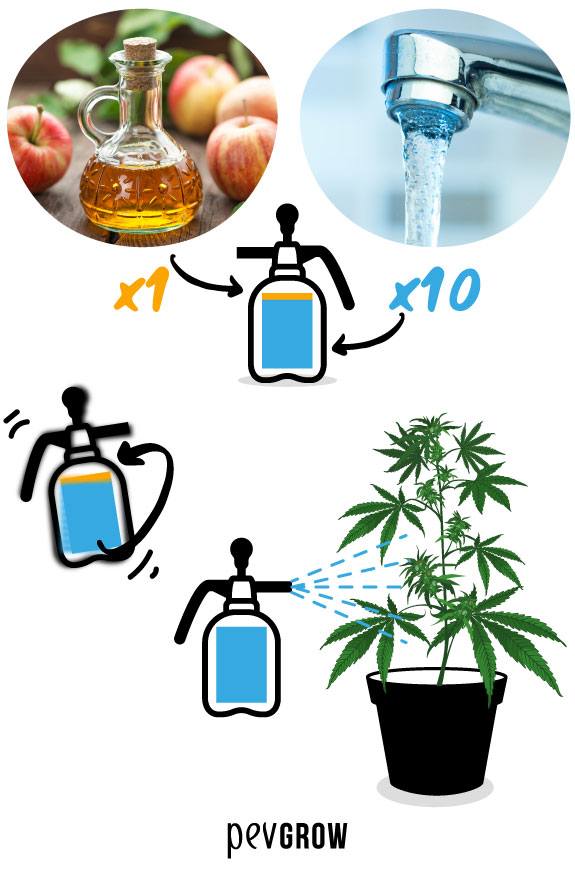 ⛳ Making a homemade solution against red spider, Apichi
Apichi is a compound created in South America to fight different insects. It is made of a mixture of garlic, pepper and chili, hence its name, and can be a good homemade option against the dreaded red spider, one of the worst marijuana pests, which is also getting stronger.
Ingredients needed to prepare the Apichi
50 grams (1.76 oz.) of chilli or hot pepper (as hot as possible)
50 grams (1.76 oz.) of garlic
25 grams (0.88 oz.) of unground black pepper
50 ml. (1.7 US lq. oz.) of 96º alcohol
How to prepare
*First of all it is important to know that you have to cover your hands with gloves in case you get splashed, as it can cause burns.
Crush the chilli peppers and put them aside on a plate
Crush the unpeeled garlic and leave it on the same plate/li>
Crush the black pepper and put it also on the same plate
Put everything in a pot, mix it with the alcohol, stir it well, cover it with a cloth and let it macerate for one night
Next day add 1 litre (0.26 US gal) of distilled, rain or osmosis water to the mixture and stir well
Cover up again and leave the mixture to stand for two weeks
Once that time has passed, we filter the liquid and remove the solid waste
We already have our Apichi prepared, but using it directly can be very powerful, so it will have to be diluted to 10% in mild cases, or up to 20% in severe pest situations. It is used in a powdered form, and as always at sunset is the best option. This homemade insecticide will work for up to 3 months or more if you keep it in a cool, dry place away from light.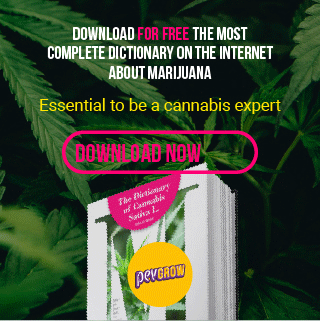 Free Download
Cannabis Dictionary
2023 Edition
Insert a correct email address
You must accept the privacy policy
SITE OF SHOPS ONLINE S.R.L with CIF: B98262777 and address for notifications in C/ VEREDA MAS DE TOUS Nº 22 LOCAL C, 46185 LA POBLA DE VALLBONA, VALENCIA, Phone: 961658271 Email: customer(at)pevgrow.com
At the name of Consulting we process the information you give us in order to provide the requested service, perform the billing of the same. The data provided will be kept as long as the business relationship is maintained or for the years necessary to comply with legal obligations. The data will not be transferred to third parties except in cases where there is a legal obligation. You have the right to obtain confirmation as to whether SITE OF SHOPS ONLINE S.R.L. is processing your personal data and therefore you have the right to access your personal data, rectify inaccurate data or request its removal when the data is no longer necessary
✨ Homemade remedies to kill the substrate fly
There are several ways to get rid in a homemade way of the damn black fly from the substrate that can cause us so many headaches in cannabis cultivation, especially indoors. Although it is not a lethal pest, far from being the worst, it is quite annoying, takes energy away from plants and can cause fungal infections.
These little flies lay their eggs under the first layer of the substrate, and there are a couple of things you can use to scare them off, pieces of lemon rind or cinnamon sprinkled on the surface, both of which are very effective.
Another thing you can do is to place a trap that attracts flies, in this case just pour vinegar in a plastic bottle and make some small holes in the cap. The flies are attracted to the vinegar, and once they get into the bottle they usually don't come out.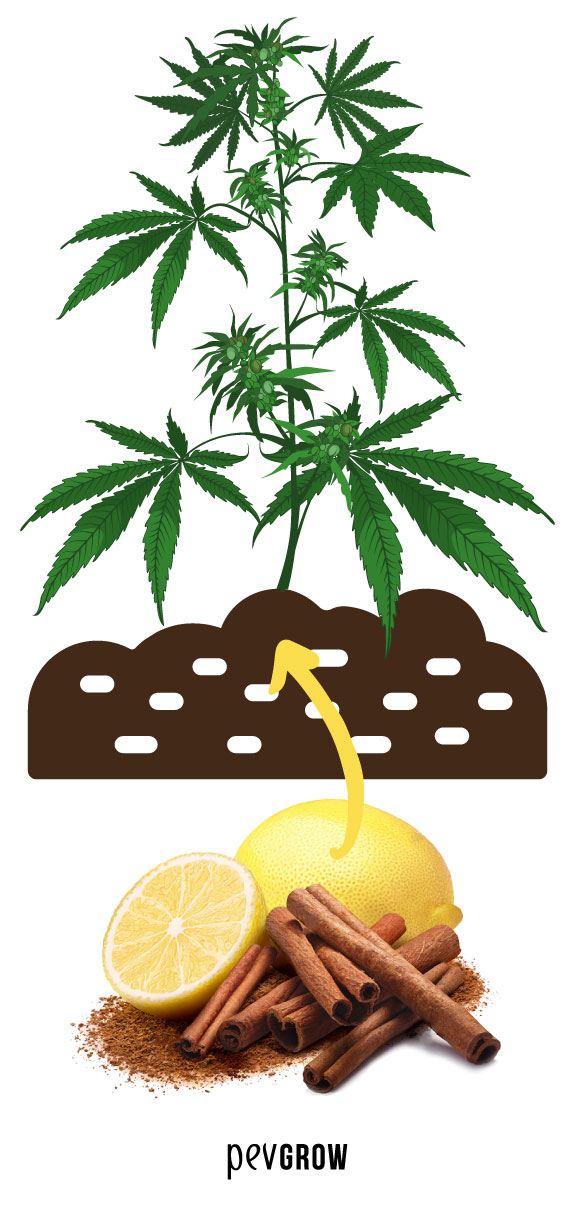 👌 How to make a homemade pesticide effective against thrips
Who hasn't had thrips in their cannabis crop? Unfortunately most of us have, but fortunately it is easily eliminated, even with some products that we all have in our pantries, such as garlic and onions.
Its preparation is very simple, but it has to be left to macerate for a few days, so it's best to have it ready and not wait until you find the plague. I'll explain it to you with the next steps:
Cut half a kilo (17.6 oz.) of onions and a garlic bulb into small pieces
Crush the pieces with the help of a mortar to reduce them as much as possible
Pour everything into a bucket, add 5 litres (1.3 US gal) of water and cover it for 10 days so that it ferments in a cool, dry and dark place
Once this time has elapsed, filter the content with the help of a sieve
Before applying, dilute with water at a rate of 1/10, that is, for each part of this preparation, add 10 parts of water.
It is used as a spray, a treatment can last 2 weeks. During the first one we spray it every other day, and during the second one 3 times during the whole week, always at sunset or when the light has been switched off if it is indoors.

📲 Homemade insecticide preparation to eliminate whitefly
Another of the most common pests that affect us cannabics, and it also has other negative side effects, as it can cause the appearance of fungi such as bold. As soon as you see a white fly fluttering through the plants I recommend you to act fast and if you don't know how to make a homemade poison for these insects I'm going to explain you a very simple and cheap way to produce it yourself.
Leave 2 cigars of tobacco to macerate in a litre (0.26 US gal) of water for 24 hours
After that, filter the water with the help of a kitchen strainer
Add one tablespoon of 96º alcohol and 2 tablespoons of hand soap
You can apply it by spraying and also manually with a sponge, I tell you this because the white fly lays its eggs on the underside of the leaf, and that's where they usually hide. Put special emphasis on those areas, use this solution every 2 or 3 days, always with low light.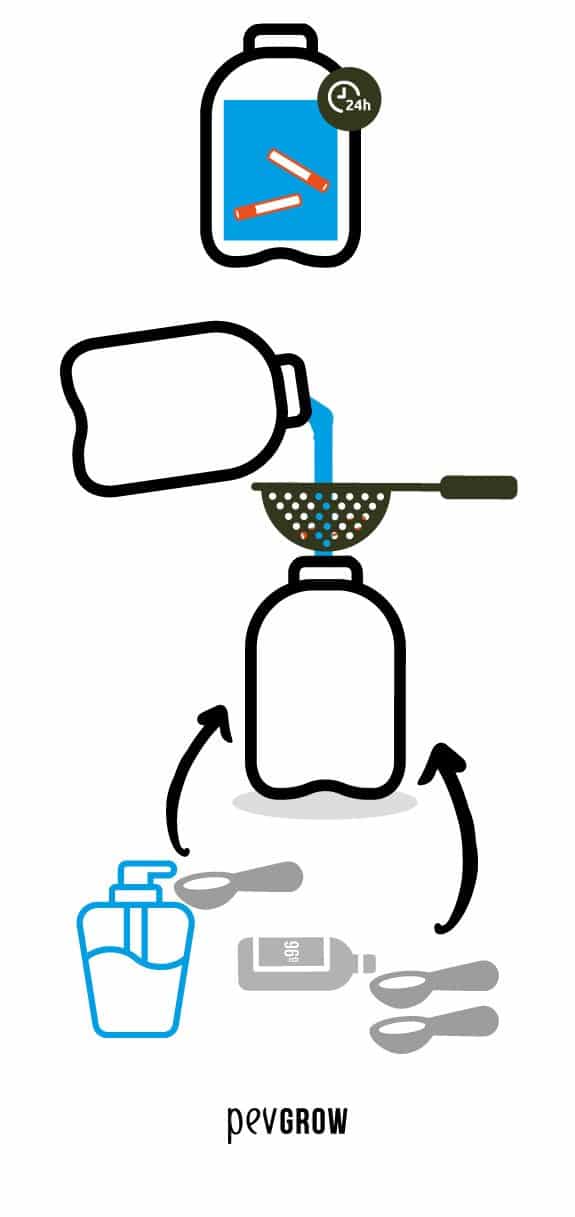 🚀 Removing cochineal in a homemade way
Within the wide family of the cochineal, the most common in our crops is the cotton one. Although it is not one of the worst cannabis pests, it can become a big problem, so it is not a bad idea to have a good insecticide against cochineal, or otherwise know how to make one ourselves.
One of the best preparations we can make as a treatment is very similar to that of whitefly, but in this case we will mix 2 spoonfuls of liquid soap and 2 spoonfuls of burning alcohol in one litre (0.26 US gal) of water. It is also used sprayed, usually once a week is enough, and as always at sunset or with low light if it is indoors.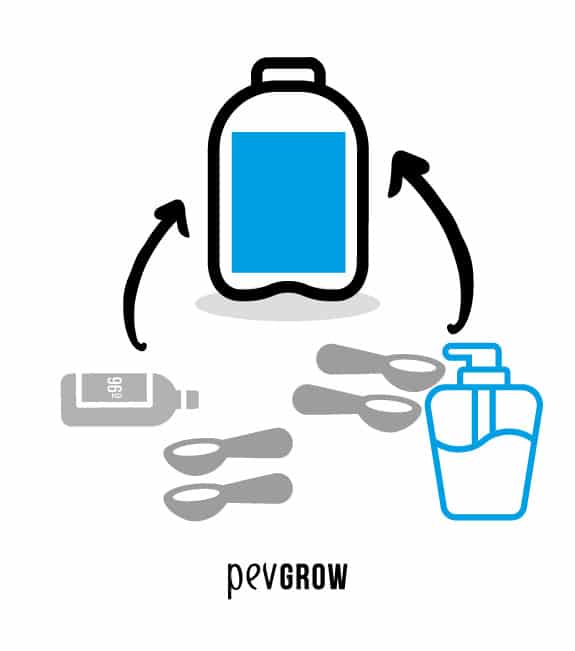 ✅ Homemade tricks to prevent the attack of snails and slugs
They seem slow and harmless, but these animals can wipe out your outdoor harvest in no time, especially when they attack a seedling or young plant. Luckily there are a number of domestic remedies or traps that we can use to prevent their voracious attack, and also in a fairly simple way, so it's worth trying.
One of the most common tricks is to make a barrier with ash or sawdust around the stem of the plants. It is very effective, they do not usually pass through these surfaces, but unfortunately it is short-lived, due to waterings, rains, wind, etc. you may have to rebuild the barrier every 3 or 4 days. Ideally, this should be done when the plants are small, because although it can be a bit annoying for large plants, it rarely causes serious damage.
Another thing you can do is set a trap that will attract snails and slugs to it. In this case you must cut a plastic bottle in half, fill it with beer and bury it next to the plants. You will see how they come hypnotized like Homer Simpson, and once they fall into the beer they will not come out anymore. The only downside is that you have to empty the trap from time to time and refill it.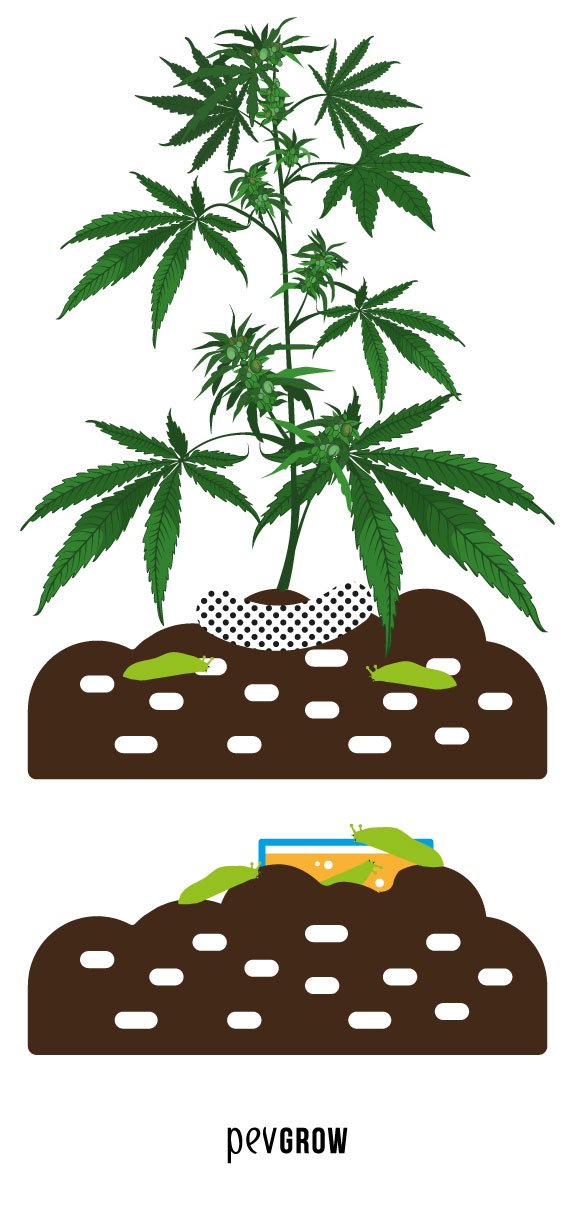 🔥 Effective homemade phytosanitary products against caterpillars
How many outdoor crops have the dreaded caterpillars destroyed? Months of hard work, suffering, danger and effort so that in a few days everything is ruined by these insects. There is a very effective, cheap and natural treatment that we all know, Bacillus T. but we can't always afford it, so we've been looking for a homemade alternative that can be useful as a preventive insecticide.
Tomato plant extract concentrates the alkaloids it contains in the leaves, and can be used to scare off butterflies that lay their eggs on cannabis plants in summer. Its preparation is fast, economical and simple, you just have to crush about 100 grams (17.6 oz.) of leaves, mix them in a liter (0.26 US gal) of water, stir well, and let the mixture rest overnight. On the next day we filter the liquid and we have already prepared our natural repellent against caterpillars and worms. To apply it optimally, reduce this solution with water to 50%, and spray twice a week as a preventive measure, from late spring until the plants begin to form buds

🎯 Domestic solution to end leaf miners
Miners are easily detectable, the trace they leave on the leaves betrays them at first sight, but eliminating them is another story, except by using chemical plant protection, which is what we want to avoid in our crops.
There is an effective homemade trick against leafminers, totally harmless to the plant, although a bit laborious if the pest has spread, so I advise you to check the crop often, and in case you see any leaf miners act quickly.
You only need 2 things, a needle or pin and patience, because it's all about removing the bugs by hand. These bugs feed on the leaves, and as they eat they leave behind their trail, well, at the end of the trail is the miner, and the mission is to needle it and kill it. Easy, isn't it? If there are not many, it will not take long.!
.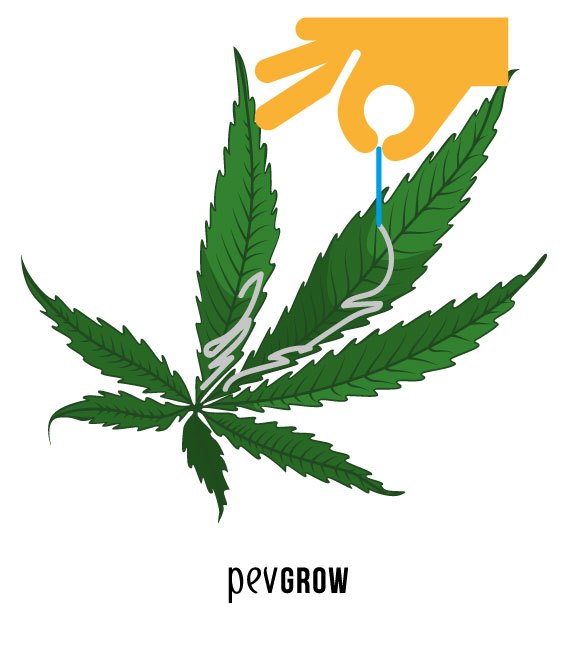 👾 Make your homemade insecticide to repel grasshoppers using garlic
This is another typical pest of outdoor cannabis plant cultivation, as are caterpillars or snails. Grasshoppers are highly destructive, so the best solution is always to prevent them from reaching our plants.
From our point of view, garlic extract is the best homemade phytosanitary that we can use, since it is also effective against aphids, white fly, mites or cochineals among others. It is safe, cheap and very easy to prepare.
We peel a garlic bulb, put the garlic cloves in a mortar and crush them as much as possible. Then we put them in a saucepan, add 1 litre (0.26 US gal) of water and let the mixture macerate for approximately 24 hours, covered and in the dark. Next day, uncover it and put the saucepan in the fire to boil for 5 minutes, then strain it to keep only the liquid, to which we add half a litre (0.13 US gal) more water to make it more diluted.
All the leaves of the plants should be well sprayed with this homemade garlic extract, especially the tender shoots, on the front and back, and repeated every 2 or 3 days until the plant starts to flower.

🧐 Conclusion
Making your own homemade insecticides is easy, cheap, and sometimes even fast. It is clear that we often prefer to buy brand name pesticides for convenience, but it does not hurt to know how to produce them ourselves. In another post we'll see the best ways to create our own homemade fungicides, so keep an eye on the blog, and if you like this kind of articles share them in your social networks, you don't know how many people can benefit from this information.
The phosphorus marijuana crops, deficiencies, excesses, and other problems →