Mikromachine Auto
Reduced price!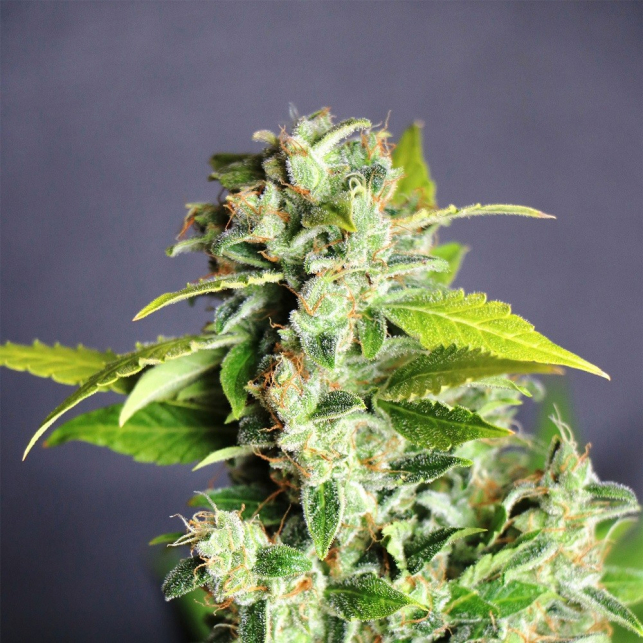 Description
Now available at our Online Shop, the new Mikromachine Auto from the Kannabia seed bank. This variety is the result of the genetic fusion of two of the most prestigious autoflowering strains of Kannabia, which he has not wanted to reveal in order to keep his success in secret.
Morphology
Mikromachine Auto, is an autoflowering and hybrid seed, of clear predominance Indica 70% versus 30% Sativa, which grows in the typical shape of Indica, Christmas fir, with a short internodal distance and will be full of buds in just 75 days of flowering period after germination.
Production
As we anticipated earlier, Mikromachine Auto is one of the most important strains in terms of productivity in the Kannabia catalogue.
In indoor crops we can harvest in just 75 days, 350 grams per m2, while in outdoor crops you can harvest up to 320 grams per plant.
Aroma and taste
As far as its organoleptic properties are concerned, its fruity flavour with a spicy touch that gives it that particular and personal touch that makes it one of the most desired strains in this seed bank. Don't miss the opportunity to try it, because you will regret it!
Effects
Its effects are marked by its Indica genetics, providing a strong body relaxation, which does not produce a sofa effect, accompanied by a balanced mental rise and draw a smile on your face, even with the jokes of Jaimito, Imagine if it is good!
Cultivation
Suitable for both indoor and outdoor cultivation, with a stunning growing facility, which is ideal for those who are just starting out, as even with some kind of blunder you can produce a huge amount of buds.
For indoor cultivation, we recommend the use of 9-litre pots, so that it acquires its maximum splendour, which will not exceed 1.5 metres in height. Also use an LEC lighting system to further enhance your crop, because if you give Mikromachine Auto good light and quantity, it will grow very comfortably.
In outdoor crops, we recommend the use of quality substrates, such as bat guano or worm hummus, as well as irrigation with good quality water. Investing in care is always a very wise decision, as you are always rewarded.
Discover with Pevgrow, the benefits of Mikromachine Auto and don't think twice, buy it now!
Video of Mikromachine Auto
Video of Mikromachine Auto
More info
Technical data sheet
Bank: Kannabia.
Type: Autoflowering.
Phenotype: Hybrid predominance Indica.
Genetics: Mix autoflowering varieties.
Production indoor: 350 gr/m2
Production outdoor: 320 gr/plant
Height: Up to 1.5 m
Crop cycle from germination: 70-75 days.
Harvest outdoor: October
THC: 18%.
CBD: N/A
Data Sheet
| | |
| --- | --- |
| Effects | Medicinal |
| Effects | Happiness |
| Flavor and aroma | Fruity |
| Banks | Kannabia |
| Type | Feminized |
| Type | Autoflowering |
Send us your questions! We are happy to help you.
There are no questions about this product, be the first to ask!
---