In the sativa and indica blend of Moby Dick from Green House you will find the perfect combination of balance, long duration and power with a spicy and intense flavor of relaxing effect. From the mix of the mythical Haze and White Widow comes this Moby Dick, already available in your trusted Grow Shop Pevgrow.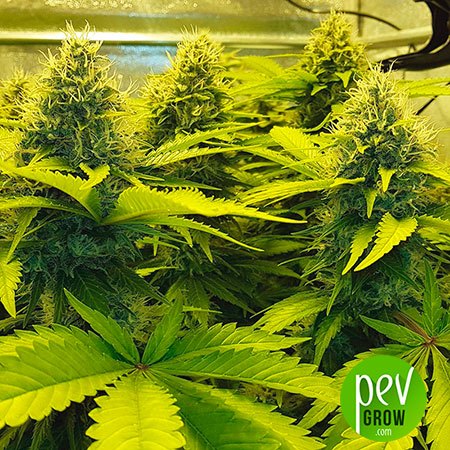 Now you can buy this type of feminized seed that produces a tall and robust plant, with high density of branches that provides, with the necessary care, a good harvest. It is characterized by large and resinous buds that it produces in its flowering stage. It has a medium/high THC rating. At the time of harvesting - after about nine weeks of flowering - you can obtain about 800 grams per square meter indoors with 10 plants and around 1,200 grams in outdoor soil cultivation, during the month of October.
Due to its composition, it adapts to the SCROG crop in a versatile way. A good plantation would be on the nine pots of 11 liters per square meter. It is one of the most popular varieties of crop, thanks to its productivity and flowering speed. Its striking colors are one of its most outstanding features, as well as its buds well loaded with resin.>
It has a complex range of flavors, ranging from earthy nuances, with hints of incense and the powerful style of Haze. These characteristics are provided by their sativa blend in 60% and 40% indica. A flavor that any amateur can recognize immediately. Intense, with a scent of flowers and hashish, which produces a long and powerful effect, combined with a relaxing style. Do with it if you want to start in the world of cultivation or if you are an expert grower who seeks a quality crop and crop guarantees. Order it now online at Pevgrow and enjoy its great effects!
You may also be interested in: