Who hasn't heard about the Critical marijuana variety? Surely if you live in Europe and you like weed is not your case, because in many places this strain of cannabis has established a standard of quality. But is it as good as they say? Well, if you think that its fame is by chance I invite you to continue reading, you will immediately see why Critical seeds are the most sold every year.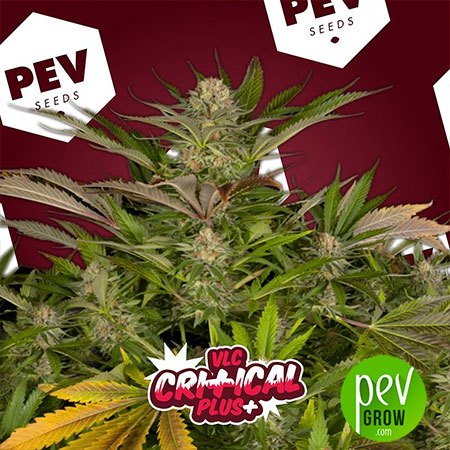 How's the Critical +?
It really is a genetics that contains everything that most growers are looking for in a cannabis plant, high production, fast flowering, great taste and lots of potency. In addition to all this, there is an extraordinary ease of cultivation and resistance, so if you put all these qualities together, the result is a champion variety.
What morphology has the Critical + feminized?
Its structure is the one of a hybrid with sativa dominance, not very thick stems, medium distance between knots, and leaves of rather narrow leaflets. The rate of growth also seems to indicate that we are dealing with a more sativa hybrid, but both the buds and flowering time reveal their indica influence.
What is the genetics of Critical + variety?
It is a renewed version of the clone known as Big Bud, selected in the USA and later taken to Holland. In this country Nevil first worked for Sensi Seeds, and then took it to Switzerland, where he set up Mr. Nice Seedbank with Shantibaba and Howard Marks.
It is thought that Big Bud is a cross of Afghan X Skunk#1, which came to Europe without stabilizing, Shantibaba crossed this clone with a male Skunk#1 not to lose the characteristics of Big Bud, and hell if he got it ...
How is Critical + grown indoors?
Its cultivation is so simple that it is one of the most recommended seeds for beginners. It is valid for applying the SOG technique and also for SCROG, as it usually forms a large central tail, but also works very well for pruning.
It likes to eat a lot, admits a high level of fertilization, and if you fertilize with organic nutrients will give you back an impressive amount of terpenes and flavonoids. That doesn't mean you can't feed it with mineral fertilizers, there's also a good taste if you do a good root wash, but the organoleptic level reached in this variety with organic food is at the level of very few genetics.
In flowering usually triples its size, this must be considered to calculate the final height in indoor cultivation, so if you want to finish with 75 centimeters approximately, change the photoperiod when it is about 25 centimeters. With the Critical Plus from PEV Seeds it is obligatory to use tutors to help the structure, because it is a strain that produces more weight than it can hold.
Critical + feminized outdoors
It is undoubtedly one of the photodependent marijuana seeds with the earliest harvest of the entire world scene, making it one of the favorites for outdoor cultivation. When grown outdoors it has a tendency to branch out more than indoors, but several prunings are needed to encourage lateral growth.
It is not a bad idea to put a mesh or some kind of structure on which you can support branches once they start to fatten the buds. We can use the typical structure used to grow tomatoes.
How much time does Critical + need to flower?
As we said before, this is one of the most demanded qualities of Critical Plus. In indoor cultivation it only needs 55 to 60 days of flowering to be fully ripe. If you like more that the cannabis has a cerebral effect you can cut it with only 50 days to 12/12, the flavor will be practically the same, but it will gain in psychoactivity.
In outdoor cultivation it is harvested in mid or late September in the northern hemisphere. In the southern hemisphere it is cut in the middle or end of March. For regions with rainy autumns the Critical Plus can be a great option, since you can harvest it before the arrival of this season.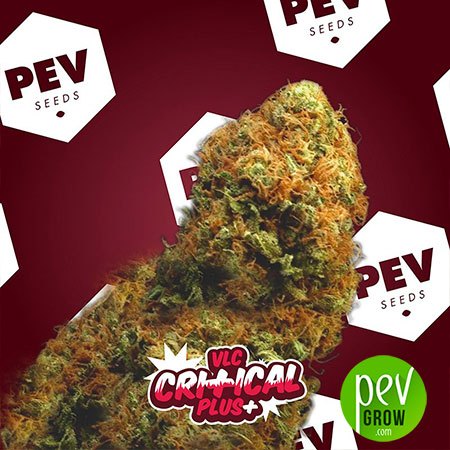 How much does Critical + from PEV Seeds produce?
The enormous production of this genetics, added to its short flowering time, make it one of the most commercial cannabis seeds in the world. In indoor crops illuminated with sodium 600w you can exceed even the gram / watt, so you can exceed 600 grams per square meter.
Outdoors with only one plant you can get more than 1000 grams of buds in dry, if you plant in early spring in a location with many hours of sunshine. It's also important to feed him the right amount, but it's easy to get a higher yield than with other plants outdoors.
If you grow your crop in the motherland you must wait until early summer to transplant it to its final place, or you prepare the soil with a lot of food, otherwise it may consume most of the nutrients during growth, and once the flowering starts it will lack food.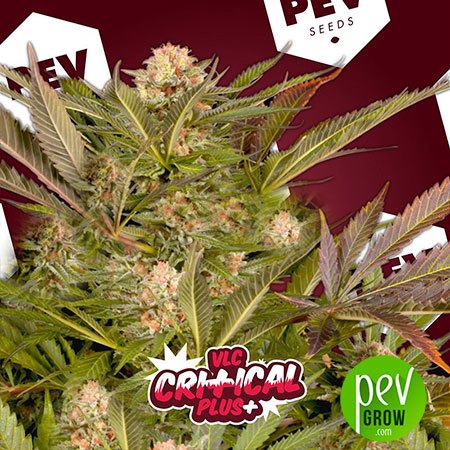 How does the Critical + from PEV Seeds taste?
Here is clearly influenced by the Skunk#1 part, both the aroma and flavor of the Critical are a faithful reflection of this cannabis strain. Its aroma is very sweet, appetizing, but so intense that it can be a problem during cultivation if you do not put the appropriate means. Transport after drying can also be a problem, because it is very difficult to camouflage its powerful smell.
The taste is a real delight, with each puff you seem to be eating a fruit salad, intense from the first puff to the last. This variety is one of the few that can be smoked well as it dries, it does not need to be cured, it is a taste that everyone likes, even expert smokers. The first time you try it changes the concept you already had of sweet taste.
What effect does Critical + produce?
The effect is quite powerful, but it has to be said that it is a weed that you can quickly tolerate. Surely it is because due to its flavor it is possible that we abuse it, and finally the body gets used to its potency. 
It should be pointed out that this is a complete effect, with which you feel a good body relaxation that may have medicinal properties, but always followed by good brain activity. This high is ideal for disconnecting at night without getting to sleep, listening to music, reading, watching a movie, etc.
Where can I buy Critical + seeds?
If you are interested in buying feminized Critical seeds you are in the right place, in Pevgrow you will be able to get them at an unbeatable price, and with all the guarantees. Here you can take from 1 to 500 seeds, so it can be considered Critical in bulk, and the more you take, the lower the price per unit. So don't waste any more time, and get your Critical Plus now!
You may also be interested in: