There's nothing more uplifting than self-cultivation, whether it's cannabis seeds, fruits, vegetables or magic mushrooms. To grow magic mushrooms you have several options, buy a mushroom growing kit with everything you need, or buy the spores of your favorite varieties and grow them your way.
For the latter we've brought a large selection of psilocybes in spore form, so you no longer have an excuse to produce your own hallucinogenic mushrooms at home.
How to grow magic mushrooms from spores
It's very simple, you just inoculate spores with the syringe into the culture substrate. The substrate can be purchased or made by you, but make sure it is properly disinfected before inoculation. Poor disinfection can lead to mycelium contamination, which can be fatal.
Spores come in pre-prepared vials or syringes, so just inject a quantity of 0.033 to 0.068 US liq oz (1-2 ml) and wait during incubation.
What are the best magic mushroom spores?
That depends on your preferences, some psychonauts prefer the power of Hawaiian, others the visuals of Golden Teacher and others the thinking of Cubensis +. Apart from this, the best spores for growing magic mushrooms are the ones that come freshest and best preserved, as this factor can make them lose their viability.
Can you order hallucinogenic mushroom spores online?
There are many sites on the web that sell spores of many varieties of magic mushrooms, there are even sites that share them. The problem is the implementation process and the state of conservation. At Pevgrow we only bring in psilocybes spores that have been produced, packaged and transported under laboratory conditions.
Magic mushroom spores for sale
Many people ask us: Can I buy magic mushroom spores online? And the answer is yes, since they do not contain Psilocybin or any other forbidden substance. So where's the best place to buy these spores? The one that gives you more confidence, since the ideal is that they are the freshest and best preserved.
At Pevgrow we offer you the fastest delivery service and the best quality/price ratio, our clients and years of experience back us up. So choose the variety that you like best and start growing your mushrooms at home in the easiest way.
Opinions and doubts about Magic mushroom spores
Leave us your opinion or ask us any questions you have about this category and participate in the draw!
Among all of you who comment or send us your questions there will be a bimonthly draw for a 50 euros voucher to buy in Pevgrow. What are you waiting for? Write now and participate!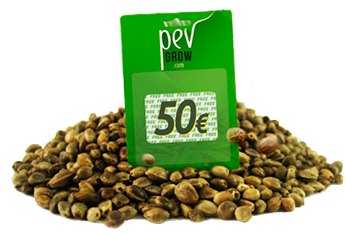 Customer Reviews