Reading Time
7
minutes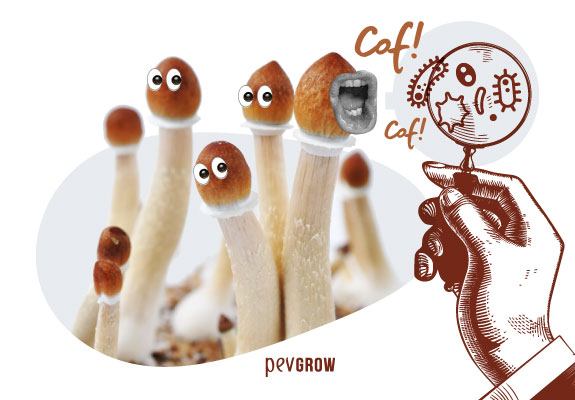 Home growing of magic mushrooms is a simple activity if you take into account some factors, especially hygiene and safety. When a mushroom bread becomes contaminated we lose time, money and sometimes even our illusion about producing our own entheogens.
To learn how to identify contamination during the cultivation of hallucinogenic mushrooms, it's important to know the stadiums it goes through, as there are critical phases in which it's easier to contract infections. In this article we will see the most common ones, and how to avoid their visit to our crops. Are you interested? Well, let's not waste any more time.
📖 Why are magic mushroom crops contaminated?
There are several reasons why they can be contaminated, the most important being that we grow them artificially. This means that in nature there is a balance between bacteria, fungi and other organisms and microorganisms, but to produce magic mushrooms indoors it is necessary to prepare the environment, which causes biological imbalance and possible infections.
When we sterilize a substrate we leave it clean of contaminants, but the absence of other agents means that the first to enter the environment will flourish without competition, something that does not happen in nature thanks to the balance between species.
Contamination can come through the air, water, tools used, our clothes, etc. Any external agent entering the culture medium can be a threat, so an adequate disinfection and sterilization is critical. Hygiene and care when handling mushroom bread is crucial, as well as keeping it away from pets and other contaminating vectors.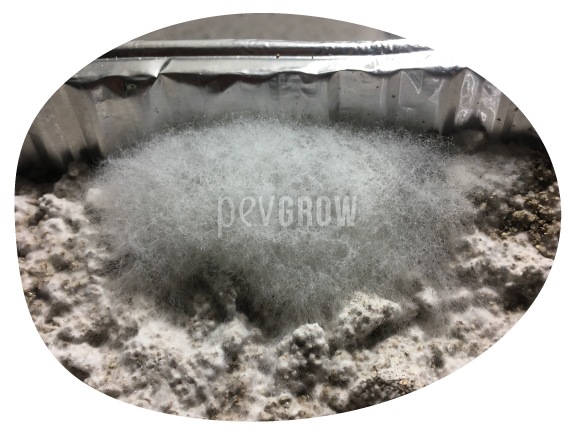 📲 What to do when a hallucinogenic mushroom crop is contaminated?
The first thing is to get rid of it, firstly because it will no longer produce anything profitable and secondly because it can contaminate other crops. Mushroom kits for sale in Pevgrow are perfectly sterilized, so it is difficult for them to become contaminated, but if they do, the best thing to do is to put them in a garbage bag and throw them away.
If you have several tuppers or culture vessels in the same space infection can go from one to the other. If you have doubts that one of them may be contaminated, the best thing to do is to remove it carefully as soon as possible, so that it does not spread to others. If you are not sure about a possible contamination in the culture medium of the magic mushrooms, you can send us a picture, we will try to help you as soon as possible.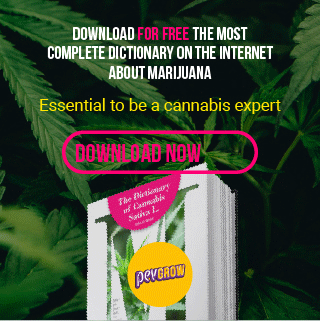 Free Download
Cannabis Dictionary
2023 Edition
Insert a correct email address
You must accept the privacy policy
SITE OF SHOPS ONLINE S.R.L with CIF: B98262777 and address for notifications in C/ VEREDA MAS DE TOUS Nº 22 LOCAL C, 46185 LA POBLA DE VALLBONA, VALENCIA, Phone: 961658271 Email: customer(at)pevgrow.com
At the name of Consulting we process the information you give us in order to provide the requested service, perform the billing of the same. The data provided will be kept as long as the business relationship is maintained or for the years necessary to comply with legal obligations. The data will not be transferred to third parties except in cases where there is a legal obligation. You have the right to obtain confirmation as to whether SITE OF SHOPS ONLINE S.R.L. is processing your personal data and therefore you have the right to access your personal data, rectify inaccurate data or request its removal when the data is no longer necessary
✅ Which are the most common contaminants in magic mushroom crops?
The most frequent contaminating agents can be divided into 3 groups: fungi, bacteria and insects, being fungi the most frequent ones.
Mushrooms spread by forming nets of hyphae, a kind of small threads, and represent the highest percentage of contamination during indoor mushroom cultivation. This is normal, because mushrooms are fungi, and when we prepare their ideal growing medium, we are basically facilitating the appearance of these beings.
Bacteria, on the other hand, can be largely avoided by good sterilization of the substrate, so they do not usually contaminate the hallucinogenic fungi crop if you are careful.
Insect pests, like bacteria, with proper sterilization and hygiene can be prevented to a great extent.
Mushroom cultivation kits come sterilized and prepared, so there should be no problems due to contamination. But by growing several crops (Flush) it is possible to have them, so it is important to be aware and prepared.
🎯 Most common contaminations of magic mushroom breads
Green mould (fungus) is the most common infection, the mushroom bread turns green and a white foam usually appears on top. When this happens it is usually due to a Trichoderma Harzianum infection, although the symptoms are very similar to those of Aspergillus and Penicillium. At first a mycelium-like mould emerges, but when it releases the spores it turns green and spreads really fast throughout the substrate. It is so difficult to eliminate that it is not worth fighting against it, so we recommend that as soon as you see any green area, remove that tupper from the crop, as it is easy to spread with the help of its spores. Poor hygiene, flies or poor sterilization can cause these contaminants to appear during the colonization or production of magic mushrooms.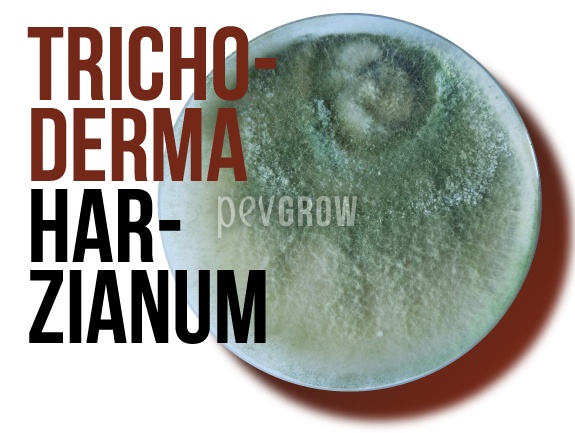 Cobweb is another fungus that often destroys crops, firstly because it is not easy to identify if you are not experienced, but also because of how quickly it spreads. It is similar to mycelium, although greyer in colour, hence the difficulty in appreciating it by new users in the production of mushrooms for self-consumption. It forms thinner filaments than the mycelium and can spread throughout the substrate in one or two days. It usually appears in crops with excessively high relative humidity, but can also develop due to poor ventilation.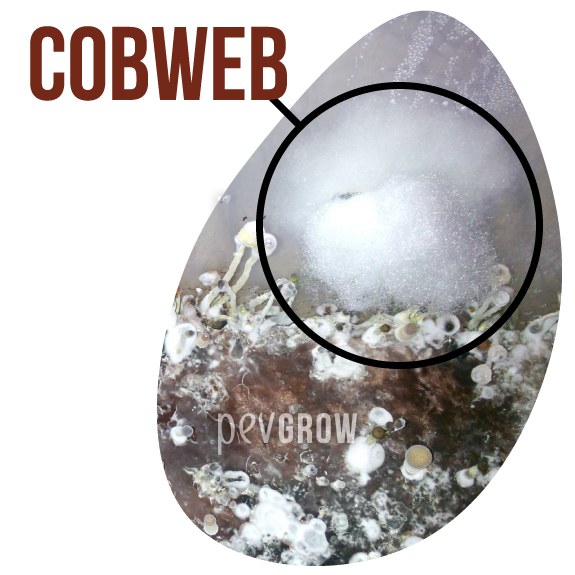 Overlay is a fungal strain that looks like mycelium, but has a more cottony texture. It usually comes out because of high temperature and too low humidity and, if you don't stop it, it will colonize the whole substrate. To stop its development is as easy as disinfecting a sharp knife and removing the affected area. Then, the remaining part should be sprayed with a solution of water + oxygenated water.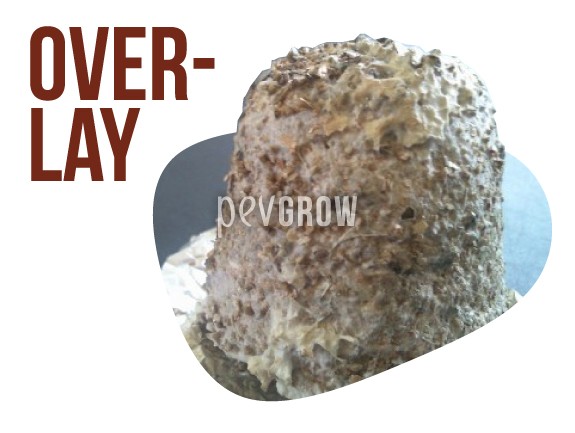 👾 Other contaminations in psychoactive mushroom crops
When we prepare the substrate ourselves to grow magic mushrooms good sterilization is necessary. Even when we do it correctly we can have problems with infections, we already have seen that sometimes the contamination comes to the crop by some external agent, so it's important to know well our enemy.
Bacillus are bacteria that usually appear in seed containers, this is because their endospores can survive high temperatures. It appears as grey slime, which moistens the substrate and is characterized by a strong rotten smell. To prevent its appearance it is necessary to immerse the substrate for 12 or 24 hours at room temperature, before sterilization. This way the endospores will germinate and die during sterilization.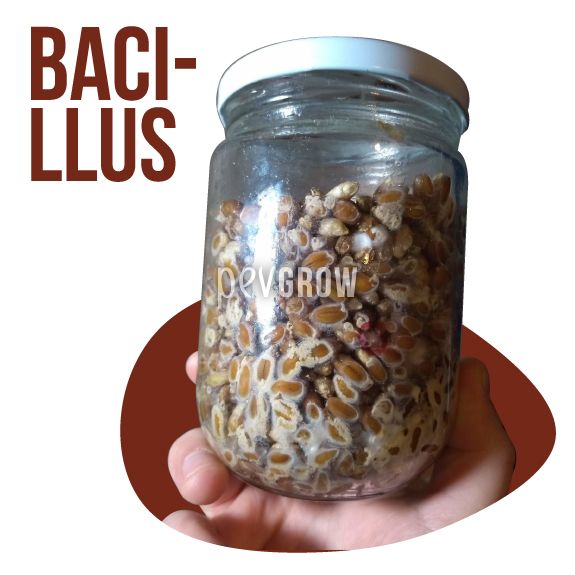 Pseudomonas Tolaasii appears as a yellow spot on or under the cap of the mushroom, hence it is also known as "Bacterial Spot". They usually come out due to excess humidity or poor ventilation after watering. To eliminate this magic fungus contaminant, it is best to prepare a solution of Calcium Hypochlorite (Chlorine) and lower the humidity, since if you apply it and high humidity continues, bacteria will reproduce faster than the chlorine will do.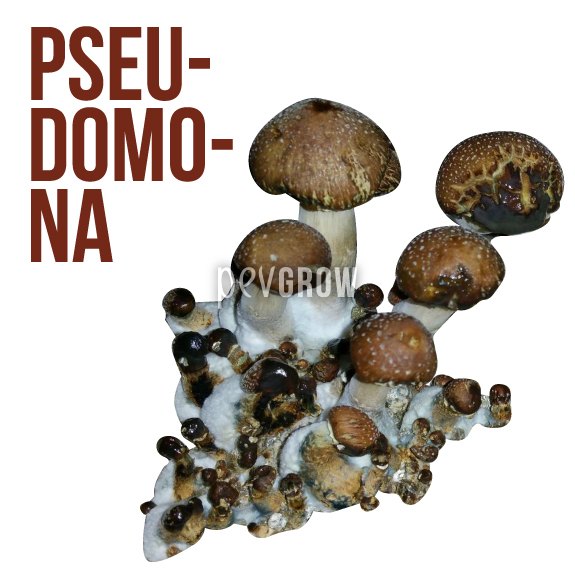 Pink mould is a fungus, also known as Neurospora, and usually appears on grain substrates or agar-type polymers. It's able to extend from one container to another even when closed, and its growth is very fast, so with the first symptom it is recommended to remove the contaminated glass or tupper. It is a lethal fungus and very difficult to remove, and if you are unlucky enough to suffer from it, we recommend disinfecting every single tool, container, fructifier, etc. before using them again.
Aspergillus is a very common kind of fungus in magic mushroom crops, as it usually appears on substrates of grain, compost, agar, etc. It can be black, gray, blue, yellow or green, and the latter can be easily confused with Penicillium. Some species of Aspergillus produce a hepatocellular toxin that can be fatal, so it is recommended to handle contaminations properly.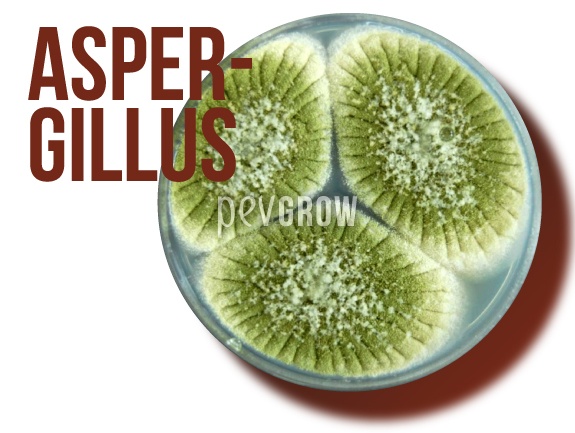 Penicillium is another type of fungus that can appear during colonization or fruiting of magic mushrooms. It is easy to detect because it produces a green/blue mould, although it can be confused with Aspergillus. Its spores are constantly in the air, so it is a real problem for mycologists and amateurs in the cultivation of homemade mushrooms.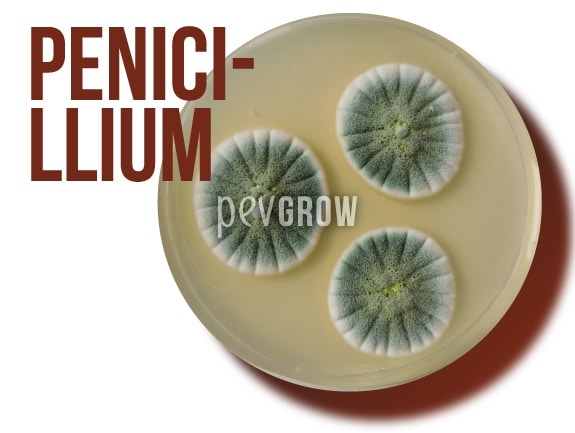 Verticillium is also a fungus that can attack at different stages of cultivation and, depending on the time, its consequences can be seen in one way or another. If the infection comes during primordia formation, they can be very affected, with serious incurable malformations. If it comes at a more advanced stage, it may result in circular spots on the mushrooms, which are grey or brown, and deformations such as a wider base or a crooked hat.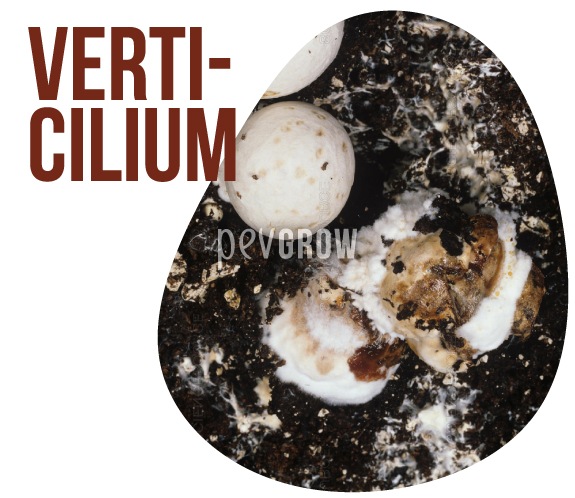 Mites are insects that tend to be naturally present in compost, straw or other substrates for mushroom cultivation. Many are beneficial and do not cause any harm to our psilocybes, but there are others that can be fatal. Tarsonemid is a microscopic brown mite and feeds on hyphae, causing reddish spots at the base of the mushrooms. Mites of Tyrophagus family feed on organic waste, they are translucent in colour and cause damage to mushroom stems and caps. Pygmephorous often warns of the presence of Trichoderma, as this mite feeds on mold and can help spread an infection. They have a flattened appearance and reproduce very quickly.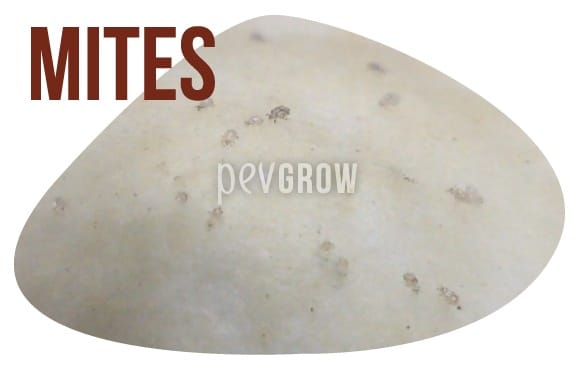 Mushroom flies that can create contamination during the cultivation of hallucinogenic mushrooms are 3: Sciaridae, Lycoriella and Megaselia. They are small insects that usually do not exceed 0.3 cm and are dark in colour. Their larvae are lighter in colour and half the size of the adult, they feed on mycelium and can transmit diseases such as Cobweb, Mycogone or Verticillium.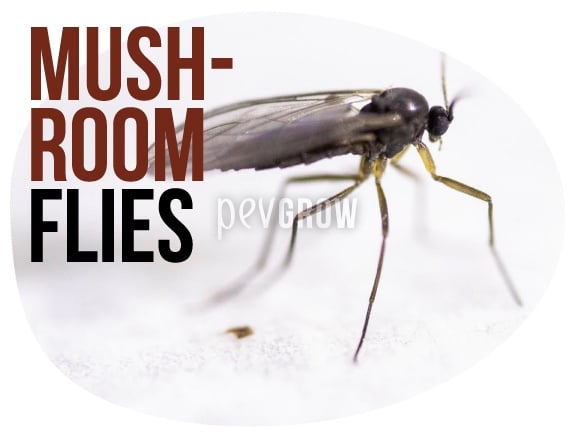 Nematodes can also cause contamination problems during fungal formation, and are present in most agricultural substrates. They attack the mycelium, turning it dark and causing the fungi to malform, or directly inhibiting their growth, so they can be extremely annoying.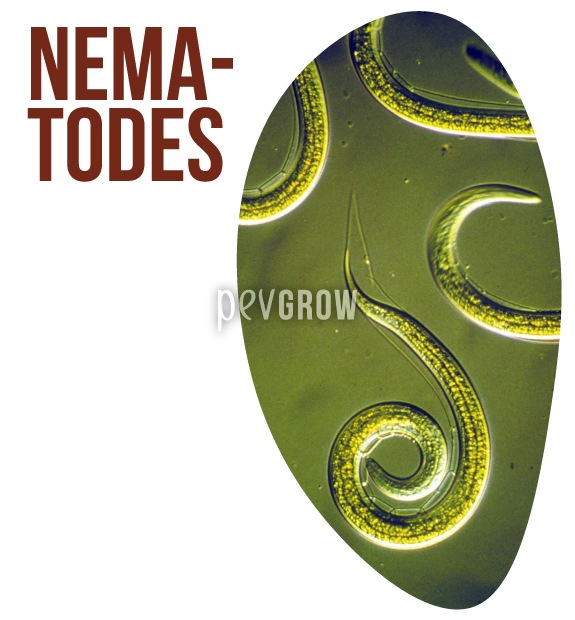 🧐 Conclusion
Contamination always comes from poor disinfection or sterilization of the culture medium and tools. We may also suffer from it through poor handling, or we may even be the ones acting as a vector to transmit infection. At Pevgrow we always recommend extreme cleanliness when handling the mushroom growing kit, and if you have any questions we are here to help.
If you liked this article we would appreciate it if you share it in your social networks, sometimes we help other users simply by sharing the information.
Growing magic mushrooms with different methods →