ARAE's pure Isopulegol terpene is 100% organic and manufactured in Spain. At PEV Grow we love bringing you the most innovative and natural products, that's why we bring you this terpene with its menthol aroma and taste.
Isopulegol is obtained naturally, like the rest of ARAE's terpenes, without aggressive chemical processes that influence the integrity of the terpene. ARAE uses the extraction method of steam distillation, always under the highest quality standards of the market and passing the highest safety tests.

This ARAE isolated terpene has more than 98% purity.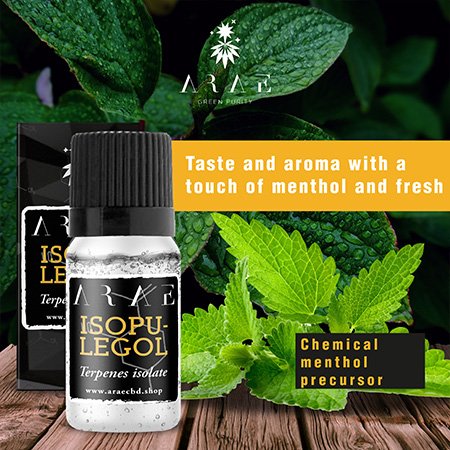 Flavour and aromas
Its taste and aroma are marked by its direct descent, as Isopulegol is a chemical precursor to menthol, and you can imagine its aroma and taste are clearly marked by a touch of menthol and fresh that will be a wonder, whether you use it for food purposes, as vaporizations, as body oils, to smoke ... Incredible!

Where is it to be found?
Isopulegol can be found naturally in plants and flowers that are totally common to all: Kumquat, Parsley and Alfalfa, Lemongrass and Eucalyptus.
How can I use ARAE's pure terpene Isopulegol?
Using pure ARAE terpenes is very simple. Just add 4 to 6 drops per litre to your carbonated drinks, champagne, olive oil or whole milk and... you're done! All the taste and aroma of the Isopulegol terpene plus all its medicinal benefits, to use in your drinks, food or creams.
Medical Benefits
- Has Anxiolytic Effects
Following in the line of each of the ARAE terpenes, they are subjected to constant tests and are experimented to analyze the effects that can produce in the human being. After studies carried out with mice, it has been shown that exposure to isopulegol reduces stress and helps combat depressive states.
- Acts as a powerful Gastroprotector
A study published in 2009 showed that Isopulegol has gastroprotective effects in those cases of ulcers induced by ethanol and indomethacin.
- It has an anticonvulsant effect.
In addition to reducing stress, isopulegol can be used to treat chronic seizures. In studies using mice as test subjects, Isopulegol has also been shown to prolong seizure latency and decrease the mortality rate of seizure-affected rodents by modulating GABA receptors.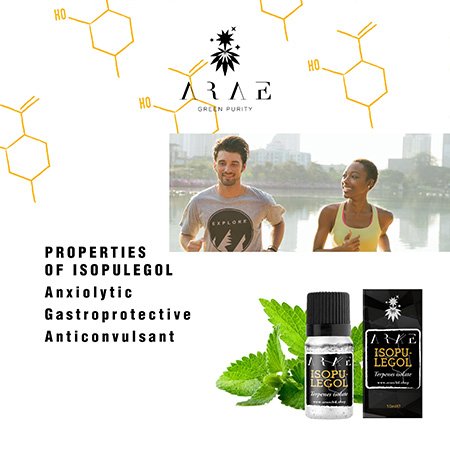 In ARAE they specialize in the manufacture of pure terpenes of the best quality. All of its products pass numerous quality and food safety tests because their application can be used for food consumption.
In addition, its factory complies with all European regulations and guarantees the 100% natural origin of all its pure terpenes, without chemical interventions that could alter the final product. For ARAE your safety is the priority and that is why in ARAE you can find all its range of pure terpenes, what are you waiting for?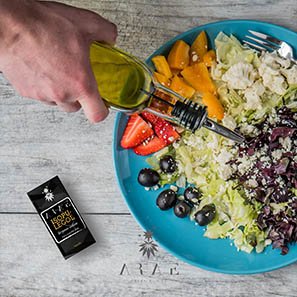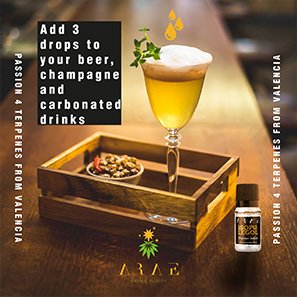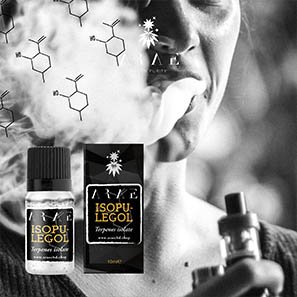 Quantity:
Bottle of 10 ml.
The strains that commonly contain isopulegol are:
- Kosher Tangie


Related studies:
1-  U.S. Patent 2117463, "Method of producing isopulegol" van 17 mei 1938 aan Charles O. Terwilliger
2- Kelly A. da Silva et al., "Cyclization of (+)-citronellal to (−)-isopulegol catalyzed by H3PW12O40/SiO2." Catalysis Communications Vol. 5 Nr. 8 (2004), blz. 425-429.
3- Raquel G. Jacob et al, "Green synthesis of (−)-isopulegol from (+)-citronellal: application to essential oil of citronella." Tetrahedron Letters Vol. 44 Nr. 18 (2003), blz. 3605-3608
All ARAE terpene varieties