From the hand of one of the most exclusive seed banks, Royal Queen Seeds, comes to your trusted online growshop the new and impressive Green Gelato Auto!. As a prominent fan of all varieties of Gelato genetics, I can confirm that this strain has a long history and solvency with its heavy name, providing a terpene profile of madness with very good production levels.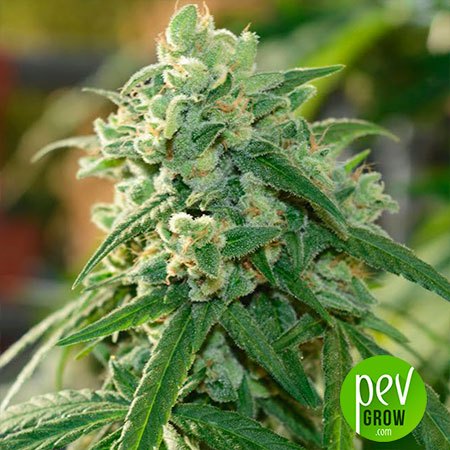 What does Green Gelato Auto cannabis plant look like?
It is an autoflowering hybrid very balanced between its sativa and indica side, although it is slightly sativa dominant. Its structure is branched, with a flattened height, which gives it that ease to adapt to all kinds of environment without difficulty. Its fat flowers are covered with a good number of buds loaded with extraordinary levels of THC.
What does Green Gelato Auto taste like?
It releases a super intense aroma, mixed with a sweet taste with well marked earthy touches.
What is the effect of Green Gelato Auto?
Its effects are very powerful and fast, one of the autoflowering with higher levels of THC in the world, guarantees a mental rise to the top, very fun and helps awaken your most social and creative side.
How to grow Green Gelato Auto
Under the protection of a grower's cabinet, Green Gelato Auto needs a very powerful spotlight, it should feel as if it were under the full sun of August. To achieve this, install an LEC spotlight with 315 w of power, supported by an Adjust a Wings reflector, with which you will obtain spectacular harvests. It uses a 2.9 US gal (11 litre) pot and you can put up to 9 plants per 3x3ft (square metre).
Grown in the ground and under the pleasant sun it is a discreet plant that can be perfectly camouflaged with other plants in the garden and you can even put it on the balcony if you live in the city. The key to make your production as high as possible is to work a good substrate, supported by an organic fertilization program, adding Super Guano from Top Crop just before the beginning of flowering.
What is the indoor and outdoor production of Green Gelato Auto?
The indoor harvest ranges between 13.2 and 15.8 oz per 3x3ft (375-450 grams per m2). Outdoors you can cut between 3.5 and 6 oz (100-175 grams) per plant.
Royal Queen Seeds' Green Gelato Auto, now available at PevGrow. Can you resist?