Feminized or autoflowering marijuana seeds? We explain the differences
0
626
[Total: 6 Average: 2.5/5]
In this post we would like to explain the main differences between a plant performed from feminized seeds and another one grown from autoflowering seeds.
To this end, we are pleased to provide you with complete information so that you can understand its development mechanisms and morphology. In this way, you will be able to choose one type of seed or another, based on your tastes, and the type of growing you want to apply.
Feminized seeds
To speak of feminized seeds is to do it with those that, mainly (in 99.9% of the cases), generate female plants. What may seem obvious is not so obvious, since a regular plant (or one that comes from regular seeds) is predetermined to be male or female, with the same probability, and based on the dioic characteristics of its genetic base.
A dioic plant, (See its meaning in our marijuana dictionary) is one that is characterized by giving male specimens, with its characteristic stameniferous flowers pollen producers, and female specimens on the other hand, with its pistillated flowers characteristics, recipients of pollen and generators of oocytes, forming both sexes, an essential pair for the cannabis plant reproduction.
That said, feminized seeds arise from plants that have been treated by chemical or physical methods to modify their hormones (phytohormones in the case of plants). So a female plant is forced to produce male flowers, thanks to a special treatment. These plants, converted into males by sexual reversion, will result in pollen whose offspring produce only seeds that have only female sex chromosomes.
These feminized seeds produce large and resinous buds, in the same way as a female plant grown as "sinsemilla" and obtained from regular seeds offspring; this is something that any cannabis producer likes very much, because they avoid the task of sexing, as well as ensuring the femininity of the entire crop, because of that feminized seeds are the top seller seeds in the market.
Our breeders team performs this work through the chemical mechanism of STS (Silver Thiosulfate Reaction), a silver complex that has proven its effectiveness for years in preserving the cut flower, paralyzing the natural ripening cycle of the flower by inhibiting the production of Ethylene by the plant, a phytohormone (curiously it's a gas in its pure state) that by being unbalanced paralyzes the natural flowering of the plant.
Feminized seeds in general give plants easy to grow, producing large harvests, abundant resin and high organoleptic quality.
Some of the best sellers are: OG Kush Feminized by PEV Bank Seeds, Original Amnesia Feminized by Dinafem and Black Domina CBD Feminized by Worldpharma Seeds.
Black Domina CBD
Black Domina Indica is a feminized strain with high CBD concentration, developed from Black Domina® , one of the most demanded genetic in the market and used as a seed production model by other seed banks…
Features
Breeder: WorldPharma
Seeds: Feminized
Mod.Culture: Indoor/Outdoor
Phenotype: Indica
Indoor Production: 100-115 gr / plant
CBD: 5.73%
Average harvest time indoor: 45-55 days
But beware! It is important that you buy in places where they guarantee the quality of the seeds, from they sell 100% feminized guaranteed seeds, as is the case of pevgrow. com, so that you get the expected final results of these seeds avoiding to buy a pig in a poke.
If you choose our catalogue, PEV Bank Seeds ensures that all seeds are feminized and all them made of high quality genetics, since they are varieties bred and developed by our technical team of breeders, passing through demanding quality controls, to achieve the best result and ensure their germination.
PEV Grow shop always works with the best marijuana seedbanks. Within the fast-flowering cultivars that do not become autoflowering, we find the so-called "Fast version". These are hybrids that have been reducing the genetic load Rudelaris in successive crosses, giving plants that, although not purely autoflowering, are very sensitive to hormonal changes that involve flowering, providing a great harvest in less time than a feminized or regular typical strain.
Cream Mandarine Fast Version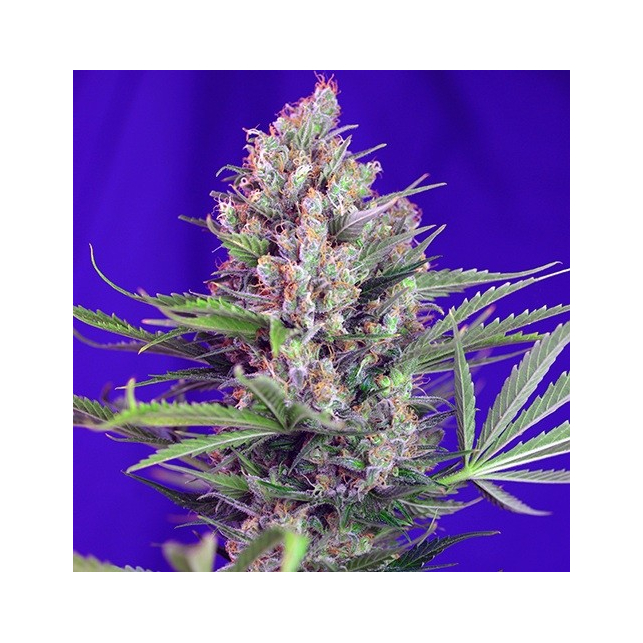 Cream Mandarine F1 Fast Version, is the feminized autoflowering version of Autoflowering Cream Mandarine auto of Sweet Seeds.
Features
Bank: Sweet Seeds
Seeds: Feminized.
Mod. Culture: Indoor/ Outdoor
Phenotype: Sativa 40%-indica 60%
Genotype: Cream Mandarine Auto X Diesel
Flowering indoor: 7 weeks
Harvest outdoor H.North: First September
Harvest outdoor H.South: First March
Production indoor: 450-600 gr/m2
Production outdoor: 400-600 gr/plant
Autoflowering seeds
This type of seed allows you to obtain results in just two months. About 65 days, from when the plants start flowering until you harvest the buds.
The autoflowering seeds are those that have undergone the same treatment with STS, so they are also feminized. Their main feature is that they do not need you to change their photoperiod to induce their flowering, so you can put it under a high intensity HPS or LEC lightning lamps at 20 hours of light, if your crop is indoor.
Its autoflowering trait is acquired from its Rudelaris ancestors, which although they have been plants with little agronomic value, have served the seedbanks for the development of hybrids with this autoflowering trait; And it is what we preserve and promote today.
Today's autoflowering hybrids preserve the best traits found in early regular genetics, which served as a model of psychoactivity, aroma and flavor.
Through later developments and great doses of patience and knowledge, seedbanks and breeders from all over the world have achieved all this list of cannabic wonders, for the general delight of the most cannaseurs, besides that they have very useful qualities for the common cannabiculturists , for their versatility of growing, and increasing degree of yield and potency.
The main disadvantage of autoflowering marijuana strains, from a horticultural point of view, is that they use a very short growth cycle of about two weeks approximately, therefore this growth cycle should be maximized, so that the plant does not remain dwarf, taking special care in the development of roots.
To do this, you should use a very spongy substrate that provides great aeration, and also retains moisture correctly. The substrate must remain humidity but never must keep wet; these are very different concepts.
In PEV Grow you will find a wide catalogue of Autoflowering genetics, always recommending you, the ones we know best, PEV Bank Seeds, developed and bred by our breeders, guaranteeing their quality and germination.
Og Kush Autoflorewing
Og Kush Autoflowering guarantees high yield, so I recommend the use of advanced techniques (SCROG) to increase their performance…
Features
Bank: Pev Bank Seeds
Type: Autoflowering feminized
Sativa Phenotype 35% / Indica 65%
Genotype: OG Kush X Rudelaris
Full cycle since germination: 70 – 80 days
Yield indoor 400 – 450 g/m2
Outdoor yield 60 – 130 g/plant
Outdoor height 80 – 160 cm
THC: 18%-22%
Autoflowering marijuana seeds allow us to get results in just over two months. About 65 days, from when the plants start flowering until you harvest the buds.
This type of seeds have the additional peculiarity that they can be grown in any season of the year, being able to enjoy two abundant harvests in summer, and even four harvests a year, although we always recommend you to grow autoflowering seeds in months that go from March to August.
We hope you liked this post.🤣
Don't forget to contact us with any questions or doubts, and share with us your autoflowering os feminized cannabis crop… surely your experience is a great success!
Thank you all very much and see you in the next post!!🤗👉