Reading Time:
9
minutes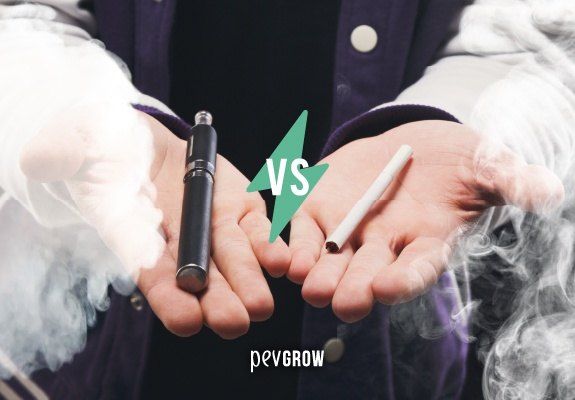 Steam is much healthier of smoking but there are consumers who resist the pleasant experience of smoking a cigarette.
Let's see, first, the definition of both terms. Let's take culturetas: the Royal Spanish Academy of Language (RAE) states that smoke (which derives from the Latin fumus) is the "visible mixture of gases produced by the combustion of a substance, generally composed of carbon, and which drags the particles into suspension" For its part, the RAE defines vapor (from the Latin, vapor) as "a gaseous fluid whose temperature is below its critical temperature. Its pressure does not increase when it is compressed, but is partially transformed into a liquid; P. ad for example, the one produced by boiling water. "
That said, we will talk about both terms that refer to the consumption of cannabis. Smoking is produced by everything that burns and disintegrates into carbon and the vapor is formed when a liquid body turns into a gaseous state
Vaporizing does not produce dense smoke that penetrates from all sides, as occurs with combustion, the vapor does not stick to clothing, skin or other objects and does not produce odors, it also disperses within seconds inspiration and only the people who are very close will be able to smell it briefly. This is undoubtedly very beneficial, because our house, our clothes (or the house or clothes of others) will not smell of smoke.
🧐 Better to vape than to smoke
It seems that using a vaporizer is healthier because it heats the cannabis to evaporate the cannabinoids without burning the plant matter of the plant. As a result, the vapor does not contain toxins such as carbon monoxide or tar (responsible for the sticky odor) found in the smoke. Carbon monoxide, for example, is not found in cannabis, but when we burn weed, gas appears.
Smoking is bad for your health (as stated in the countless campaigns we continually see around us), smoking contains many toxic compounds that are deposited in the lungs and end up causing serious illness. Cannabis smoke does not contain nicotine but contains highly toxic and carcinogenic tars and hydrocarbons. The lung damage caused by cannabis is only less than that of tobacco because it does not contain nicotine but deposits up to 4 times more tar per cigarette than tobacco.
Vaping is less toxic and harmful than smoking because it does not cause combustion. Thanks to this system, the THC contained in cannabis can be inhaled without the tars and toxic by-products of combustion.
✅ Steam is more discreet
There is little that can be masked when smoking cannabis through a joint.is what you want discretion, it's best to do it using a vaporizer, yes this has to be portable (you can't walk around with a large vaporizer).currently very small and discreet vaporizers ready to use in seconds, such as the Arizer Air Portable Vaporizer that you can find at Piensa En Verde, it is light and compact, measuring only 12.2cm in height and 2.9cm in diameter.
It has an autonomy of over an hour if we do not stop using it and in just over 1 minute it is ready to use. For added safety there is an automatic shutdown function activated after 10 minutes of inactivity.
It is very handy, has a solid hard cover to last a long time, the batteries are rechargeable lithium, has a compact and lightweight design and is completely portable, without wires or cables, easy to handle and care.
Another very light and handy alternative is the Da Vinci vaporizer, which in recent years has become one of the best sellers due to its great versatility, efficiency and durability. It can be used to consume buds or concentrates, and has an App that helps you manage it, and with the great advantage of cleaning it easily and very quickly.
If you want a vaporizer to only consume rosin, hash or BHO, I recommend that you consider the Pax 3, which is an evolution of the Pax 2 and is a favorite of many cannabis concentrate connoisseurs. It is the lightest and most discreet, its battery lasts up to 2 hours without interruption and one of the best advantages is that it recharges fully in just 90 minutes. It has 4 pre-recorded temperature memories assigned to 4 lights of different colors, designed to consume different types of extraction.
🚀 Advantages of vaporizing over smoking
Health: The most important thing is that vaping is much healthier than smoking, as we have seen before, combustion produces harmful compounds that damage our health, but vaping at low temperatures extracts cannabinoids, terpenes and other oils. . essentials of marijuana without producing these toxic compounds.
Economy: When you vaporize marijuana buds or concentrates, they are used a lot more than when they are smoked, because applying a high temperature to the same sample causes it to be consumed much more quickly. With a 1 gram bud you can make a joint that lasts 2 hours, but if you vape that same bud it can last more than 4 hours.
Discretion: When you smoke cannabis you produce a smoke that smells for miles around, but when you vaporize it creates a fine vapor that barely smells and is much more discreet, so you can consume it without attracting so much attention. You can also mix BHO or rosin with terpenes so that the vapor smells like fruit, gum, or other aromas that mask the typical smell of marijuana.
Effect: The effect of vaporized marijuana is much cleaner than when smoked, because the high temperatures cause some molecules to change. THC exposed to some heat transforms it into CBN, and this makes the effect less psychoactive and much more sedative, relaxing and narcotic.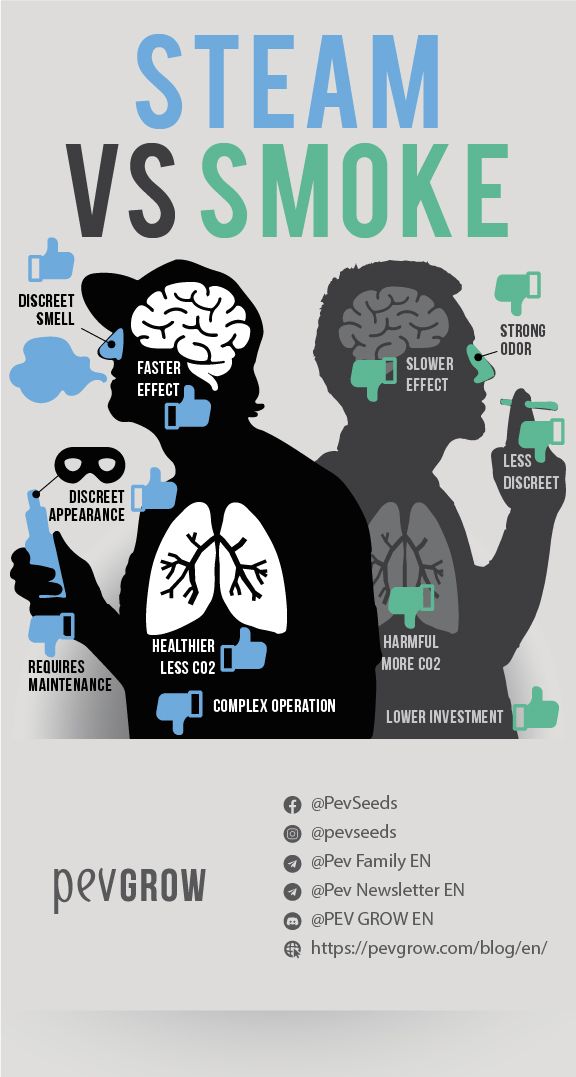 🎯 Temperature difference between smoking and vaping
When smoking a joint it can reach a temperature that can exceed 600ºC, and this is bad for several reasons, primarily for health and economy as we have seen before, because burning cannabis lasts. less and is more harmful, but also because not even 20% of the active ingredients it contains are used.
On the other hand, when cannabis is vaporized, more than 90% of these active ingredients are used, because a stable temperature can be set that obtains the evaporation of these molecules slowly, so that it can be consumed homogeneously, taking advantage of each of these. compounds. It can be vaporized at less than 200ºC and enjoy the vast majority of active components, so it is not necessary to apply a high temperature to consume all the cannabinoids, terpenes, terpenoids, flavonoids, etc.
⛳ Best temperatures for vaporizing cannabis
Temperature
Cannabinoids
Terpenes
Flavonoids
157-185º C / 314-365º F
THC
CBD
Delta-8 THC
CBG
Pinene
Beta-Caryophyllene
Alpha Terpinol
Beta Myrcene
Delta-3-Carene
Delta-3 Myrcene
1,8 Cineol
D-Limonene
P-Cymene
Beta-Sitosterol
Apigenin
Canna Flavin A
185-200º C / 365-392º F
THC
CBD
Delta-8 THC
CBG
+CBN
Pinene
Beta-Caryophyllene
Alpha Terpinol
Beta Myrcene
Delta-3 Carene
Delta-3 Myrcene
1,8 Cineol
D-Limonene
P-Cymene
+Linalool
Beta-Sitosterol
Apigenin
Canna Flavin A
200-250º C / 392-482º F
THC
CBD
Delta-8 THC
CBG
CBN
+CBC
+THC
Pinene
Beta-Caryophyllene
Alpha Terpinol
Beta Myrcene
Delta-3 Carene
Delta-3 Myrcene
1,8 Cineol
D-Limonene
P-Cymene
Linalool
+Terpinen-4-ol
+Borneol
+Pulegone
Beta-Sitosterol
Apigenin
Canna Flavin A
+Quercetin
👾 Comparative table between vaporizing and smoking marijuana
| | | |
| --- | --- | --- |
| | Smoke | Vaporising |
| Temperature | > 230º C | 150º C – 230º C |
| Volatilization | Cannabinoids, terpenes, flavonoids, terpenoids | Cannabinoids, terpenes, flavonoids, terpenoids |
| Formation | Tar, benzene, toluene, nitrosamines and other harmful compounds. Decarboxylation | CO2, ammonia,cannabinoid activation ( desc arbossylation) |
| Destruction | Virtually Half of the Active Compounds in Cannabis are lost | If we do not exceed 230º C, the active ingredients are not destroyed |
🔥 Dabbing Vs Vaping Cannabis Concentrates
We've already seen the benefits of vaporizing over smoking marijuana, but what happens when we directly consume extractions or concentrates? Well, something similar, given that the plugging is heated with a blowtorch or with the electronic nail until it reaches a fairly high temperature, so it has the same drawbacks as smoking, and they are even accentuated.
When consumed directly from a bong, glass pipe or bubbler, there is no mouthpiece capable of filtering the smoke, so we absorb all the toxic compounds that form during combustion. On many occasions it is not possible to control the temperature we apply in the bowl where we place the hash, rosin or BHO, and much of the concentrate is lost as soon as it comes into contact with this hot surface.
Vaping extractions at a low temperature is one of the healthiest and most effective ways to consume cannabis, as they are used to the maximum and we only take the medicinal or psychotropic compounds that interest us. The concentrates separate the resin from the rest of the plant matter, in this way we avoid consuming many inactive substances, and if we combine this with the fact of exposing the product to a low temperature, we will get one of the best consumption experiences. If you want to enjoy the best vaporization of mechanical or solvent extractions, try the model Pax 3, from our point of view it is the one with the best quality / price ratio on the market.
📲 Other factors to consider
When we vape marijuana at a very low temperature , we run the risk of it not being 100% decarboxylated, so not all the cannabinoids it contains will be used. 150ºC is a sufficient temperature to activate the cannabinoids, but this heat should be applied for a long time to ensure decarboxylation. However, between 180º C and 230º C this process is done much faster. If you want to see the best way to perform this process, check out this article where we talk in depth about decarboxylation.
You also need to keep the vaporizer as clean as possible, as there are residues between uses which, if heated again, can release toxic elements. However, it is important to thoroughly clean the chamber or tank where the cannabis is introduced to allow for proper maintenance, which is essential to extend the useful life of the device.
There are some vaporizers that are very quick and easy to clean and maintain, as well as offering perfect operation, such as those from Storz & Bickel. If you prefer a desktop vaporizer, the best is the Volcano without a doubt, even if the Arizer Extreme offers great performance. But if you like laptops more I recommend the model Crafty of this same brand, one of the most practical in the world. Along the lines of the latter, you also have the or the Mighty.
⭐ Conclusion
Vaporizing is better than smoking for many reasons, this does not mean that it is good, but it is much healthier than consuming cannabis from its combustion. Furthermore, it is also more interesting from an economic point of view, as each of the active ingredients is used and cannabis takes longer to consume. If you take into consideration these factors and the other benefits it offers, you will see that a good marijuana vaporizer is one of the best investments you can make.
Short-term and long-term side effects of cannabis on the body and brain →