Reading Time
6
minutes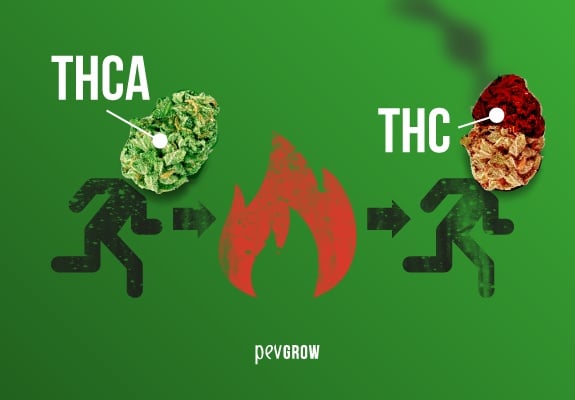 We hear more and more about the decarboxylation of weed, especially since medical marijuana started to spread, and we think why is cannabis decarboxylation so important? Let's go by parts, first you have to know this process to know its importance.👉 But before let me remind you that in our online grow shop  we have Magical Butter Decarb, the tool you need to do this process in the simplest way
🚀 What is decarboxylation?
Raw cannabis is not Psychoactive, this is because THC in this case is in its acid form, and to activate and earn psychoactivity needs heat once it has dried. It can be said that decarboxylation is the reaction that happens in cannabis when their cannabinoids activate by applying heat. So what exactly happens in the decarboxylation reaction?
The decarboxylated THCA becomes THC, the compound responsible for the stimulating and brain effect of marijuana. When we smoke or vaporize cannabis is decarbolized automatically with the same heat of the combustion of the joint, or the one that produces the vaporizer. So, why decarboxylate weed?🤔
Well, because we don't always consume it smoked or vaporized, right? For example when we eat it in a cannabis Brownie or any other cannabis recipe, in those cases it is always necessary to decarboxylate marijuana before cooking it, so that our edibles have the desired psychoactive power.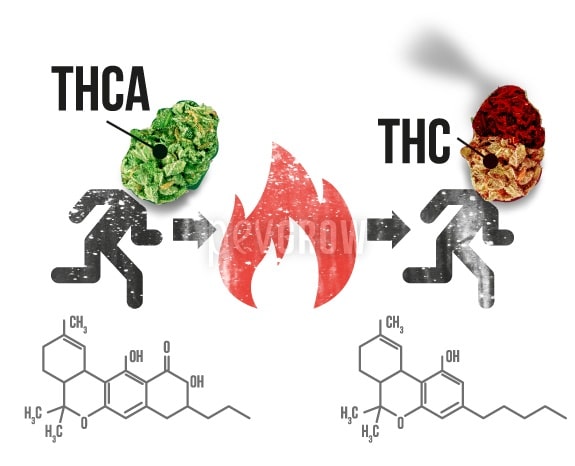 🧐 How to decarboxylate Cannabis?
The first thing that we have to do is to grind the marijuana in small pieces with help of a grinder or similar. This is to ensure that the heat is distributed in a uniform way and affects every part equally.
Decarboxylation requires temperature and time, in other words, a certain amount of heat for a certain period of time. There is not only one recipe to decarboxylate, but we always recommend using the minimum temperature to keep the maximum number of terpenes and cannabinoids. How long does it take to decarboxylate?🤨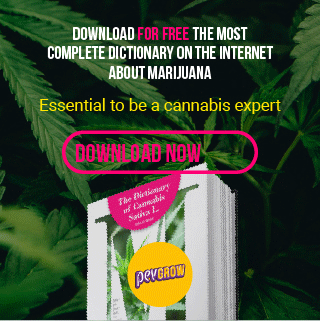 Free Download
Cannabis Dictionary
2023 Edition
Insert a correct email address
You must accept the privacy policy
SITE OF SHOPS ONLINE S.R.L with CIF: B98262777 and address for notifications in C/ VEREDA MAS DE TOUS Nº 22 LOCAL C, 46185 LA POBLA DE VALLBONA, VALENCIA, Phone: 961658271 Email: customer(at)pevgrow.com
At the name of Consulting we process the information you give us in order to provide the requested service, perform the billing of the same. The data provided will be kept as long as the business relationship is maintained or for the years necessary to comply with legal obligations. The data will not be transferred to third parties except in cases where there is a legal obligation. You have the right to obtain confirmation as to whether SITE OF SHOPS ONLINE S.R.L. is processing your personal data and therefore you have the right to access your personal data, rectify inaccurate data or request its removal when the data is no longer necessary
🔥 Weed decarboxylation in oven
In our opinion, the best way to decarboxylate weed is in the oven, for 45 or 50 minutes at a temperature of 105ºC, but it can also be done faster, in just 30 minutes, raising its temperature to a maximum of 120ºC. Over this temperature some terpenes begin to volatilize, so it is not recommended to go over 120ºC. I'll explain you how we do it in 6 simple steps:
We take a tray and place a sheet of baking paper on it
Over it we spread the crushed weed so that there is a thin layer and as uniform as possible
Pre-heat the oven to 105ºC
When it has reached that temperature we put the tray that we have previously prepared with the chopped cannabis
We wait 45 to 50 minutes
We take out our activated weed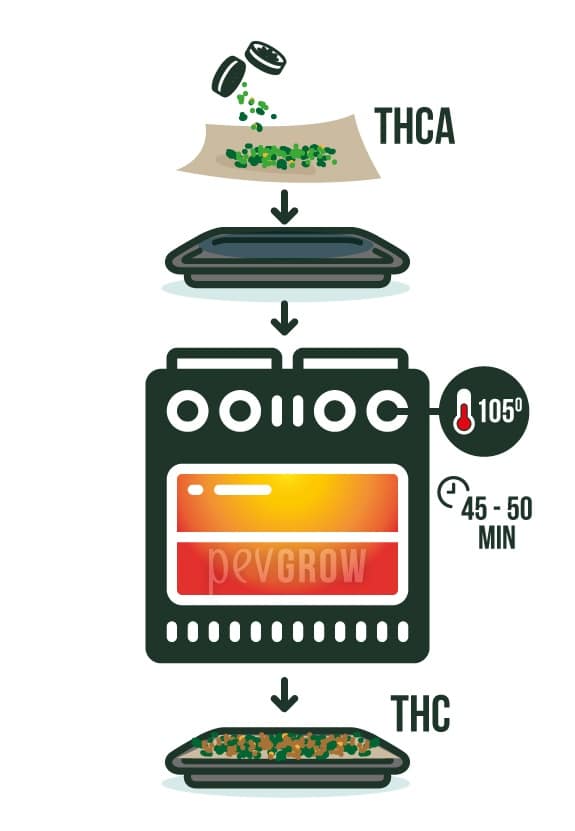 You will see that cannabis has changed from a bright green to an opaque brown, it is normal, that is one of the visual changes that happen with the process of cannabic decarboxylation, but the big changes are not visible to the naked eye, as you can imagine.
➕ Other decarboxylating methods
There are people who prefer other ways to activate cannabis, perhaps for convenience, speed, or because they do not have an oven. Do you want to know how? We will show you other decarboxylation methods.
Microwave decarboxylation
For some users this is the best method, probably because of its speed, although many people think that microwaves degrade terpenes and cannabinoids. It is possible that we lose some of these compounds, but it is clear that after decarboxylating in the microwave it still keeps a part of these valued molecules, because you can smell and feel it.
But not everything is bad with this method, since there is less chance of burning the weed than with the oven, and it is much faster, let's see how it is done.
Grind the marijuana
Place it spread out on a dish
Put the dish with the chopped cannabis in the microwave
Heat it for 3 minutes at half power
Take out your active cannabis.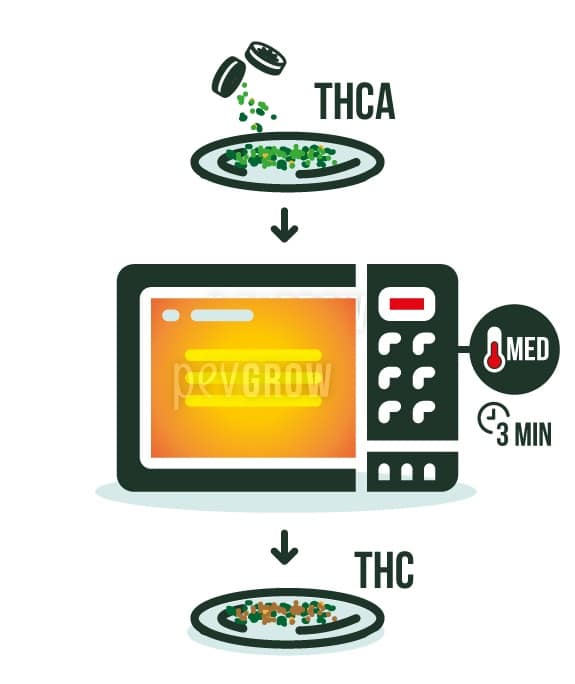 Decarboxylation in bain-marie
This method is less used, but there are people who use it. To decarboxylate the weed in bain-marie we need to vacuum-pack it and " boil" it for an hour. I'll explain it best in 5 steps:
Break the marijuana without grinding, in this case it has to be in bigger pieces than with previous methods
Introduce the cannabis in a bag and leave it sealed with the help of a vacuum packer
Put water to boil in a saucepan
When it begins to boil we lower a bit the fire so that it is to 95ºC approximately (To the maximum temperature without boiling). Put the bag into the saucepan
Wait an hour and you will have your weed activated.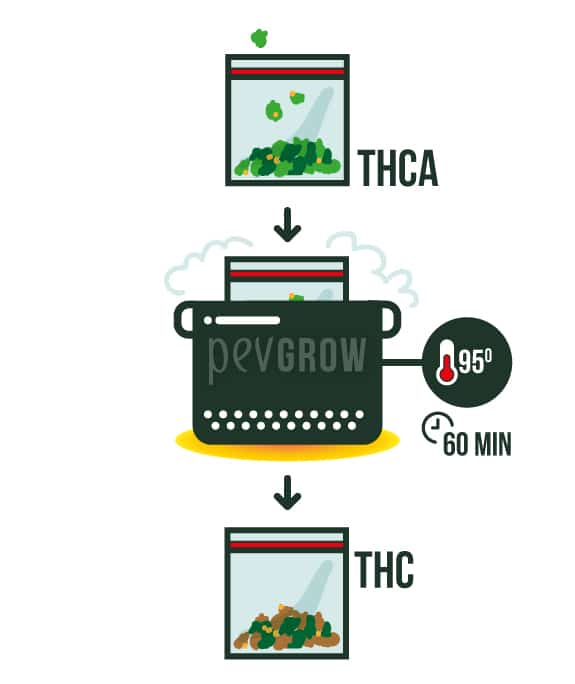 Decarbox by Magical Butter
Magical Butter launched a device to optimize the decarboxylation process. It is a container similar to a tapperware, which contains a thermometer to check the exact temperature concentrated inside this container.
Introduce the grinded cannabis in its interior, close well and once preheated the oven put it in the central tray. The thermometer has a cable to place it outside the oven, so you do not need to open it to check the temperature.
With Decarbox from Magical Butter the temperature remains more stable, once the time necessary for the reaction is over, we take out the Decarbox and wait for it to completely cool down before opening it.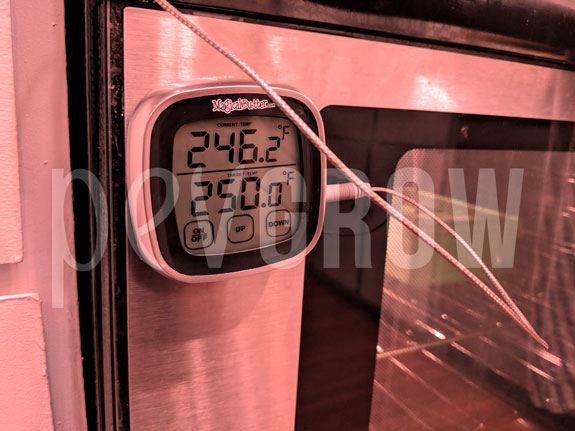 ⭐ Decarboxylation after extraction
More and more people are using extractions to "dress" their weed recipes, but some people don't decarboxylate their hash or BHO before cooking, sometimes not getting the results they expect.
How to decarboxylate Kief, Hash or other concentrates?
Some customers have called us with this question, do you have to decarbox hash or kief to make edibles? The answer is yes, as long as you want to get high, psychoactivity is obtained with decarboxylation.
It is done in the same way as weed, but to decarboxylate cannabis extractions we recommend doing it in the oven at 110 º C for 45 minutes.
If you are going to decarboxylate BHO to make edibles take into account that with the heat it will be liquid and sticky, use non-stick materials to avoid problems.
✅ CBD decarboxylation
CBDA needs more time at the same temperature as THCA to become CBD, just as it degrades at a higher temperature. In this case, if we want to decarboxylate with the minimum temperature, about 105ºC, we will have to maintain the heat for one hour.
If we want to speed up the process, we can raise the temperature up to 120ºC and in 45 or 50 minutes it will be ready.
Eating decarboxylated weed
I'm sure there are people who, while reading this article, think…How many times have I eaten edibles without decarboxing then? Yes, it has happened to us all, before we thought it was enough to add a little marijuana or hashish to our recipe for our edibles to be psychoactive, but it turns out that to eat is not the same as when we are going to smoke or vaporize, in this case to get the high effect you always have to do the decarboxylation process.
But not everyone cooks with cannabis to get high, many people need cannabinoids to treat diseases or ailments, and in that case the THCA, the CBDA, and the rest of components in their acid state, also have many medicinal properties, so they will not need to decarboxylate.
🎯 Decarboxylation Tips
If you want to avoid losing a part of the terpenes that volatilize during this process, there is a trick that works very well, especially with extractions. It's about wrapping the marijuana in aluminum foil, as in a sealed envelope but in this kind of material, and put it in the oven for the estimated time. Once this time has expired we take out the package, but we don't open it until it has cooled down. So the vapours are reabsorbed in the weed again. It is better to put the concentrates in a pyrex container or a glass that can withstand the temperature, and wrap this container with aluminum foil.
If we are going to cook recipes that already have a great taste as a cake, brownie or similar, we do not have to worry much about maintaining the maximum terpenes, because the flavor here is the base. In these cases keeping the maximum of cannabinoids is enough.
Do you know tricks or other ways to decarboxylate cannabis? If so please let us know, and if you liked this article do not miss the opportunity to share it so it reaches more people.
You can make this recipe with Zkittlez strain and  Birthday Cake Strain
Legal marijuana in Louisiana What does the law say in this state? →