Our kit with cabinet of 240x240x200 cm. allows you to make large indoor cannabis crops. It's big enough to grow 64 medium indoor plants from seed and up to 144 cuttings in Sea Of Green, that's up to you.
It consists of everything you need to carry out a cannabis cultivation indoors from start to finish, as we include even the seeds and fertilizers. The assembly of all elements is very easy and will not take more than a couple of hours to have your growing kit ready.
What does this kit for growing cannabis indoors contain?
Cultibox Light Plus growing cabinet 240 x 240 x 200 cm. (7.87 x 7.87 x 

6.56 ft.)
Manufactured with top quality materials, the Cultibox Light Plus cabinet is very solid and resistant, ideal for withstanding changes in temperature and humidity without suffering damage. The assembly is very simple and fast, you do not need tools or special skills, in less than 15 minutes you have it.
The canvas that covers the structure of the cabinet is silver on the inside to achieve a light reflection of over 95%, however on the outside it is black so that nothing can be seen. The structure is formed by metallic cylindrical bars and resistant plastic corner pieces.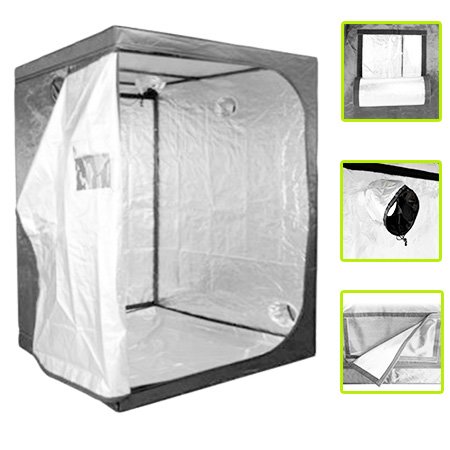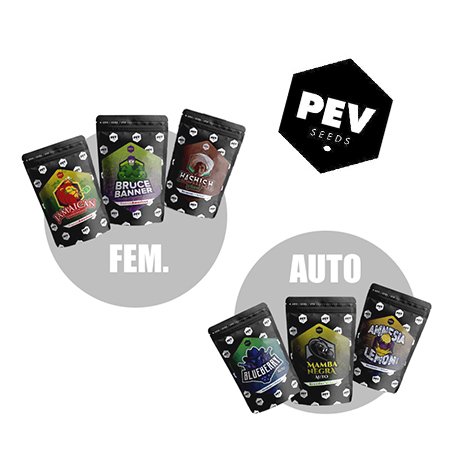 Feminized or autoflowering PEV seeds 
50 feminised or autoflowering seeds from PEV Bank Seeds to choose from:
Bruce Banner: Balanced indica/sativa hybrid with an intense kush flavor and superior strength.
Hash Plant: Indica plant easy to grow, high resistance and high resin yield.
Jamaican Lambsbread: Pure Sativa with fast growth, high production and brain effect.
Blueberry Auto: Autoflowering representing the version of a classic like the Blueberry.
Mamba Negra Auto: Automatic variety very tasty, productive and powerful effect.
Amnesia Lemon Auto: Fast, easy to grow and automatic version of the mythical Amnesia.
You can choose between sativa, indica, hybrid or auto, whichever you prefer.
4 600w HPS lighting kits
Composed by 4 magnetic ballasts Agrolite, 4 reflectors Prima Klima Azerwing, and 4 bulbs Hortilight of mixed spectrum, so they're good for both growth and flowering. With this lighting you can get up to 2400 grams (84.65 oz.) of harvest every 3 months, so you can get almost 10 kilos (353 oz.) per year.
Note that you can also configure your kit with electronic ballasts, or with cooltube reflector if you prefer it more than open. And don't forget that with the magnetic ballast it is important to change the bulb every 3 cultures, whereas with the electronic ballast they can last you twice as long.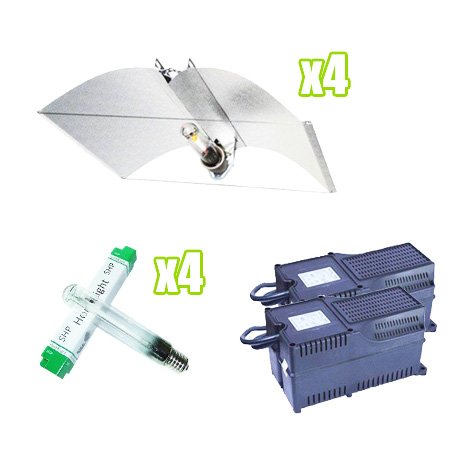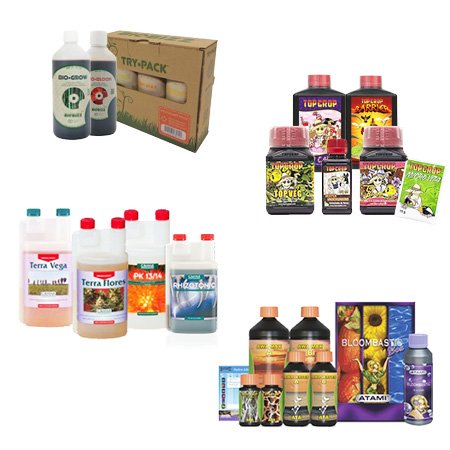 Fertilizer package of your choice
At Pevgrow we want you to get the best possible growing kit, and for that you can also choose 2 packs of fertilizers of the type you prefer. You can choose between 
organic or mineral, from several of the best companies in the sector:
2 Ata Bloombastic mineral packs: With the basic fertilizers and stimulators needed to grow.
2 Canna mineral packs: Each pack contains 1pc - Terra Vega 1 litre, 1pc - Terra Flores 1 litre, 1pc - PK 13/14 500 ml. and 1pc - Rhizotonic 250 ml.
2 Organic Biobizz Packs: Each pack contains 1pc - Bio Grow 1 litre, 1pc - Bio Bloom 1 litre and Trypack of stimulators.
2 Organic Top Crop Packs: Each pack contains Beginner's Pack, 1 pc - Barrier 250 ml, 1 pc - Top Candy 1 litre and 1 pc - Micro Vita 15 gr.
Odour filter (optional)
Discretion is very important if we want to go unnoticed with our indoor pot culture, and for that the best thing is to install a good carbon filter. It is connected to the extractor by means of the flexible aluminium tube, and in this way all the air taken out by the extraction is cleaned thanks to the active carbon of the filter and comes out to the outside without odours. You can choose between these 2 models or take none of them with you, whichever you prefer.
- Mountain Air of 1070 m3/h: Highly durable and efficient, with washable outer sleeve.
-  Odorsock of 1010 m3/h: Light and effective, lasts up to 12 months.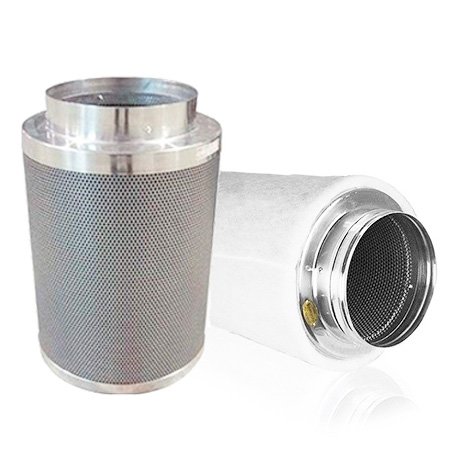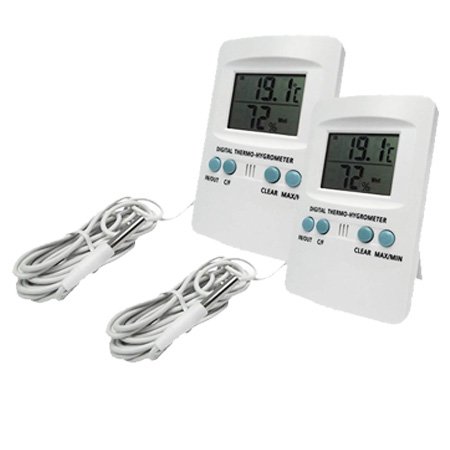 4 Thermohygrometers with probe
4 digital devices from Cornwall that are essential to be able to control the temperature and humidity inside the grow room. They contain probes that you should always try to place under the bulbs, at the level of the upper tips of the highest plants.
In addition to constantly check the environmental parameters of the moment, you can also review the maximum and minimum data that the crop has reached since the last reading, so remember that you have to press the reset button, that way the previous memory is erased and it starts counting from that moment.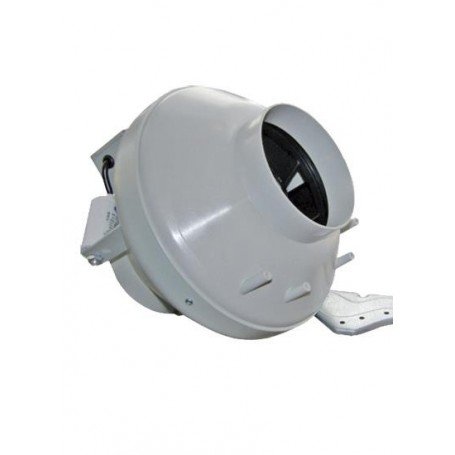 150 mm. RVK L1 extractor
It is in charge of taking out the hot or stale air from the cultivation cabinet, it is very silent and its power reaches up to 700 m3/h.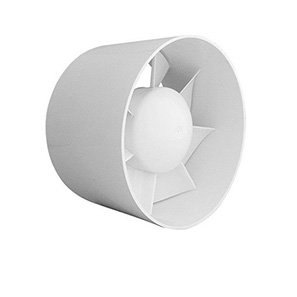 150 mm. helical extractor.
Silent but powerful, this lineal extractor will be used as an intractor in our internal kit. It draws up to 300 m3/h and consumes really little.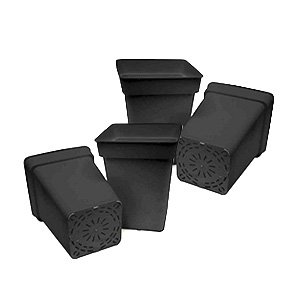 48 black square flowerpots 7L.

Square pots made of black reinforced plastic, measuring 20 x 20 x 27 cms. (7.8 x 7.8 x 10.6 inches) and easy to drain thanks to their raised bottom design.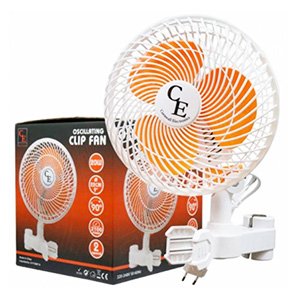 4 Oscillating fans with clamp
4 small fans that can be attached to the metal bars of the cabinet structure to remove air from the crop.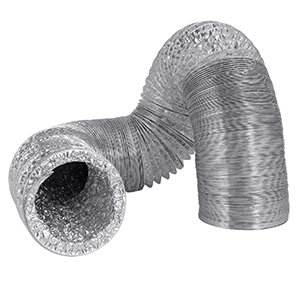 Tubes for intractor and extractor

Aluminium tube of 152 mm. diameter and 10 meters (32.8 ft.) long in total, to connect the extractor and the intractor of your culture kit.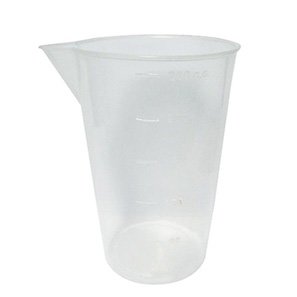 Measuring cup

Essential in any cannabis crop to measure the right amounts of fertilizer we add to the irrigation water to feed our girls.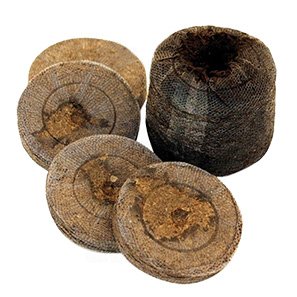 50 Jiffy 33 mm. (1.3 inches)

These are small sacks filled with peat, which when pressed and in contact with water swell, and are perfect for germinating cannabis seeds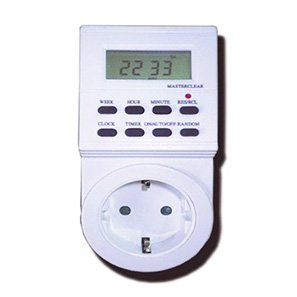 Digital timer

Manufactured by Cornwall, this is a digital programmer with 8 built-in functions, to control the photoperiod of the cannabis growing kit.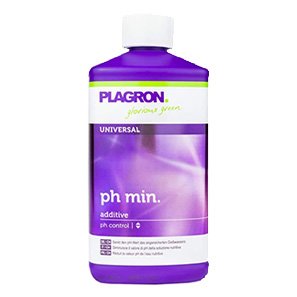 PH-reducing liquid
This is the acid needed to lower the pH of the nutrient solution before watering. Remember that an ideal pH in soil moves in a range between 6 and 6.5.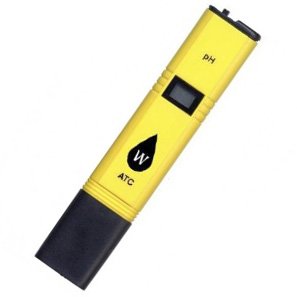 Digital PH meter

Pen type, is a digital PH tester manufactured by Wassertech to measure the irrigation PH in cannabis plant crops.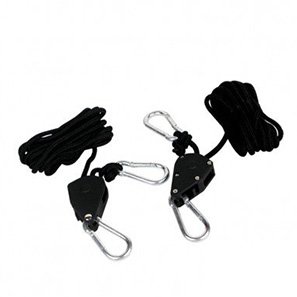 8 Pulleys to hang the reflectors

4 pairs of very strong Neptune Hydroponics pulleys, which are used to regulate the height of the growing kit's bulbs.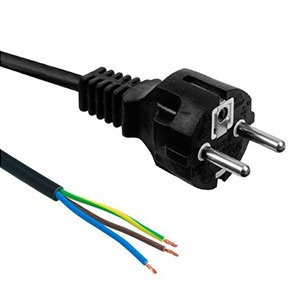 2 Power cables for extractors

Since the extractors come without power cables we have found it convenient to include 2 cables so you don't have to buy them.
Tips for your indoor cultivation
You can configure your growing kit in many different ways, so think through all the variants to achieve the culture that best suits your needs. You can choose between magnetic or electronic ballasts, the latter are more expensive but have the advantage of better preserving the efficiency of the bulbs, so you save money in the long run. Also you can choose the seeds, and have available all formats, feminized, autoflowering, hybrids, indica, sativa ... Whatever you prefer. For the choice of fertilizers think what you prefer, quality or quantity, and if you prefer quality do not hesitate to choose organic. Enjoy your crop!