The citrus flavour with sweet touches of ARAE's Caryophyllene will delight you. Extracted in a completely natural way, they are here to stay. because you will not be able to stop using them in your vaporizations, drinks or oils.
This ARAE pure terpene from has over 80% purity and is a completely natural product without psychoactive effects.
This terpene isolated from ARAE has more than 80% purity.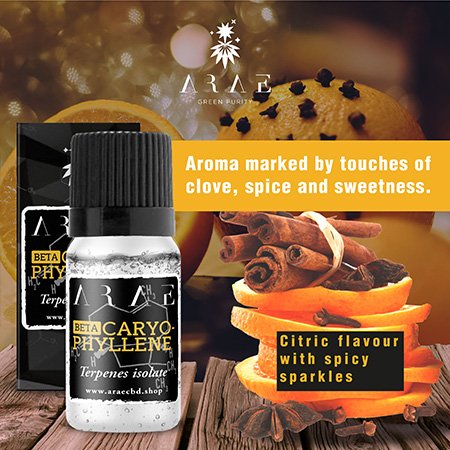 Taste and aroma:
Its aroma will intoxicate you, marked by touches of cloves with spicy eyelashes and a combination of sweetness that will make your nose go into a state of shock. Its taste is not left behind, a puff with this wonderful pure terpene will take you to live one of the most satisfying experiences you can have as a smoker, is marked by citrus with spicy sparkles that will leave a feeling of pleasure on the palate, difficult to transmit with words.
Where is it found?
The BCP can be found in many plants that we can find or know on a daily basis such as Hops, Basil, Oregano, Black Pepper, Cinnamon, Rosemary, etc ..., and of course, can also be extracted from cannabis.
We see important that you know its means of extraction, to obtain these terpenes in an isolated way, we use the system of distillation by steam drag. In this way we conserve all its purity.
How can I use ARAE's pure terpene Beta Caryophyllene?
Using ARAE's pure terpenes is very simple. Just add 4 to 6 drops per litre to your carbonated drinks, champagne, olive oil or whole milk and... you're done! All the taste and aroma of the Beta Caryophyllene terpene, plus all its medicinal benefits, to be used in your drinks, food or creams.
Medicinal benefits of Beta Caryophyllene terpene:
As we have discussed on previous occasions, cannabic products with high percentages of CBD have a number of medicinal properties, in this case Beta Caryophyllene will report:
1- Analgesic:
According to a study carried out in animals and published in 2014 by the journal Neuropsychopharmacology, showed that after the analysis of the use of Beta caryophyllene in mice, the CB2 receptor was activated which is directly related to the reduction of inflammatory pain. The final conclusion of the study determined that the use of BCP is recommended for long-lasting pain processes.
2- Antioxidant:
Beta Cariofilene has also been shown to inhibit lipid peroxidation, in short, it will help our body feel gradually younger.
3- Anti-inflammatory:
It has anti-inflammatory properties, the study focused on renal cells and BCP reduced renal failure induced by cisplatin, as well as morphological damage and inflammatory response derived.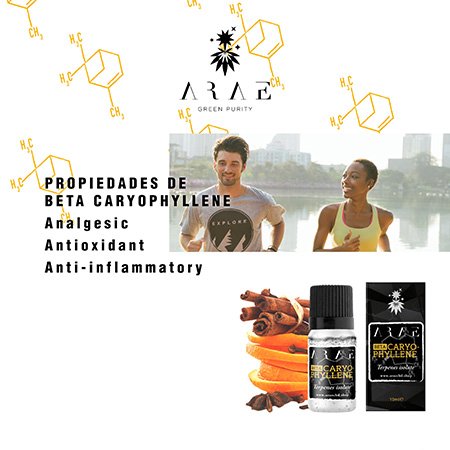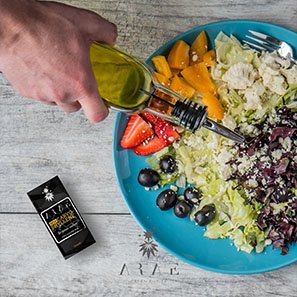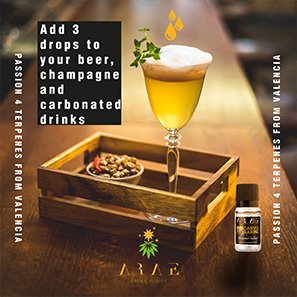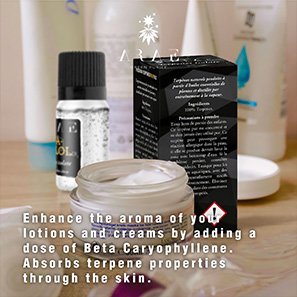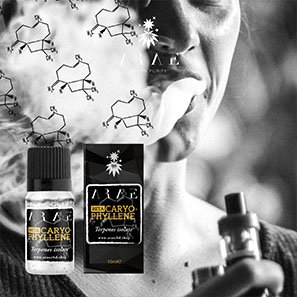 Quantity

:
Bottle of 10 ml.



Common strains of this compound include:
AMS: 3.68%
Diamond Girl: 2.15%
Related studies

:

1-  Ghelardini C, Galeotti N, Di Cesare Mannelli L, Mazzanti G, Bartolini A (2001). "Local anaesthetic activity of beta-caryophyllene". Farmaco. 56 (5–7): 387–9

2-  Corey EJ, Mitra RB, Uda H (1964). "Total Synthesis of d,l-Caryophyllene and d,l-Isocaryophyllene". Journal of the American Chemical Society. 86 (3): 485–492

3-  Pubchem. "Caryophyllene oxide | C15H24O - PubChem". pubchem.ncbi.nlm.nih.gov. Retrieved 2016-09-08
All ARAE terpene varieties