ARAE's isolate terpene Delta 3 Carene will add that missing touch to your sprays, foods or beverages. Its characteristic lemon flavour and wood aroma with spicy touches will leave you speechless.
With these aromatic and medicinal molecules, present in plants, flowers and fruits, you can have all its qualities and medicinal properties in a bottle of 10 ml of pure concentrated terpenes in a 100% natural way.
This ARAE isolated terpene has more than 93% purity.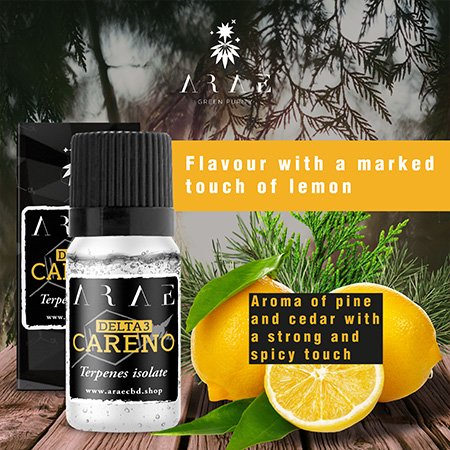 Taste and aroma
Its flavour is very characteristic, with a marked touch of lemon that will give us a unique sensation in the mouth. Its aroma is a spectacle, Pine, Cedar and all marked by a strong and spicy touch, tell me the truth ... Have you heard a description as appetizing as this?

Where is it?
Delta Carene 3 can be found naturally in plants and flowers that we are very accustomed to seeing: Rosemary, cedar and pine.
We always like to remind you that pure ARAE terpenes are extracted in the cleanest and most natural way to avoid contamination, using the steam extraction method. ARAE is always at the forefront of quality and manufacturing standards.
How can I use ARAE's pure terpene Delta 3 Carene?
To use ARAE's pure terpene Delta 3 Carene it's important to remember that this is a concentrated product, so you need to dilute it in order to use it.
You can add it to your food using a proportion of 0.5% of the total weight, or adding 4 to 6 drops per liter to your carbonated drinks, whole milk, olive oil or even champagne, depending on the intensity you like.
Medical Benefits
- Promotes bone growth
Following studies in mice, exposure to Delta 3 Carene was examined in the process of differentiation of osteoblastic cells. In this study it was demonstrated that Carene promoted calcium induction significantly, which is a sign of bone mineralization.
- Insecticide
Delta 3 Carene has been reputed and tested as an insecticide for S. Aegypti through Brazilian pepper oil containing levels of Delta 3 Carene. The study has also proven the efficacy of Carene against two other mosquito vectors of human diseases, Cx Quinquefasciatus and An. Gambiae.
- Anti-inflammatory
Delta 3 Carene has been shown to have positive anti-inflammatory effects in people with joint pain and multiple sclerosis.
- Regulate body fluids
From menstruation itself, to abundant mucus, so you must have it at hand if you have the flu...
- Also acts as a sedative
Delta 3 Carene is a central nervous system depressant, so it will have a sedative effect that will be perfect to calm stress, and help us overcome insomnia.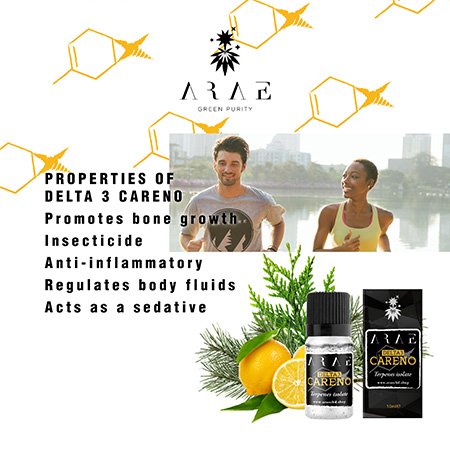 Buy now at PevGrow the Delta 3 Carene, the new pure terpene from ARAE that comes to our store to mark a before and after. Pure ARAE terpenes surpass the most important and demanding quality standards of the world organisms, and it is here in your trusted growshop, where we only have the best products on the market, because for ARAE what is important is you.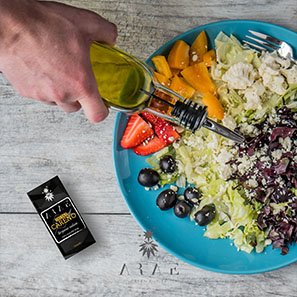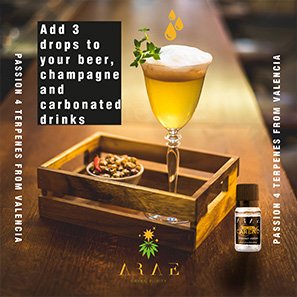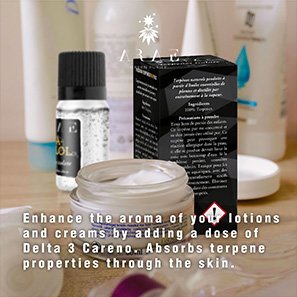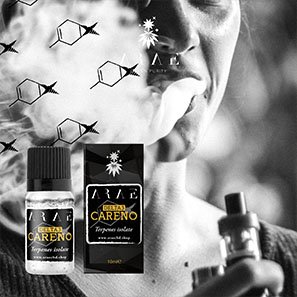 Quantity:
Envase de 10 ml.
The strains that commonly contain Delta 3 Carene are:
- Ultra Arjan Haze
- White Rhino
- Super Lemon Haze
Related studies:
1- Record in the GESTIS Substance Database of the Institute for Occupational Safety and Health
2- M. Eggersdorfer (2005). "Terpenes". Ullmann's Encyclopedia of Industrial Chemistry. Weinheim: Wiley-VCH. doi:10.1002/14356007.a26_205.
All ARAE terpene varieties