Enjoy ARAE's aromatic and medicinal molecules at home. The pure terpene Eucalyptol will give a unique aroma, while adding flavor and bringing all its medicinal benefits. Don't be fooled by its colourless and innocent appearance, because you're looking at a bomb with a gourmet aroma and an impressive taste.
Like all pure Arae terpenes, the method of extraction of the terpene in question is done by steam dragging, which ensures the naturalness of the terpene, and the maintenance of all its properties intact.

This ARAE isolated terpene has more than 96% purity.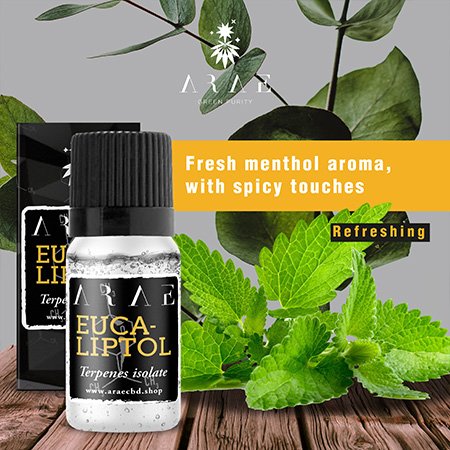 Taste and aroma
When you taste the pure terpene Eucalyptol, you discover a taste and aroma that will certainly not leave anyone indifferent. Its aroma, fresh menthol, with spicy touches, and refreshing, have made it the number of my private dispensary, in which I guarantee you will not find trifles.
Personally I use it a lot to vaporize in my electronic cigarette, especially when I'm sick, because it helps me breathe better, while I enjoy its pleasant mint flavor.
How can I use ARAE's pure terpene Eucalyptol?
If we are talking about Eucalyptol we are talking about freshness in its pure state. Can you imagine the infinite possibilities of use?
To give you an example, you can start by adding between 4 and 6 drops per litre to your Sunday beers with friends, to the olive oil of your salad dressing or to your favourite soft drink.
If you prefer to add it to your food, remember that the proportion should be 0.5%of the total in Eucalyptol. ARAE's pure terpenes come concentrated in 10 ml bottles, so it is necessary to keep in mind that they have to be diluted and follow the appropriate proportions for their correct use.
Where is it to be found?
Eucalyptol can be found naturally in many plants, some of which are used on a daily basis. More specifically, Eucalyptol is found in the following plants:
- Boldo
- Eucalyptus cneorifolia
- Peppermint
- White Eucalyptus and the entire Eucalyptus family
- Laurel
- Tea Tree
- Damiana
- Spanish Salvia
- California Laurel
- Chasteberry
- Ginger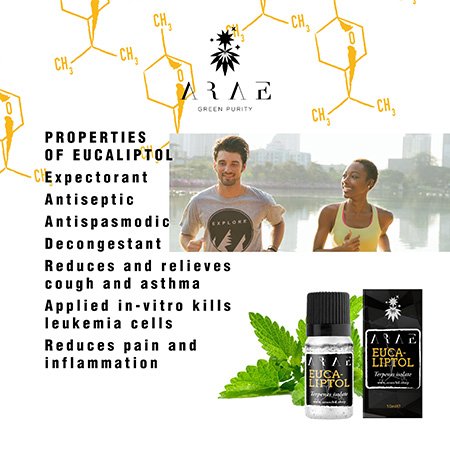 Medical Benefits
The medicinal benefits derived from the consumption of pure terpene of Eucalyptol are many, and have been corroborated by scientific studies conducted by companies outside Arae, and even by medical laboratories. The benefits of Eucalyptol are:
- Expectorant, very useful to eliminate mucus in flu processes.
- Antiseptic
- Antispasmodic
- Decongestant and anti-inflammatory at bronchial level
- It is used in medications, to reduce and relieve cough, as well as asthma and nasal congestion.
- It is very useful in the treatment of rhinosinusitis.
- In-vitro application kills leukemia cells
- Applied locally, it reduces pain and inflammation.
Buy Eucalyptol terpene now at PevGrow, where you can find and enjoy Arae's extensive catalogue of pure terpenes.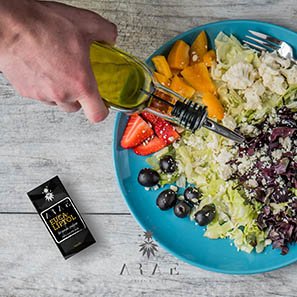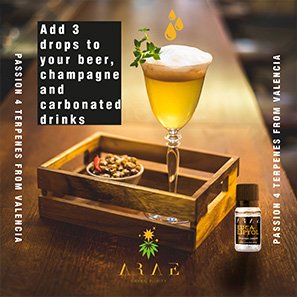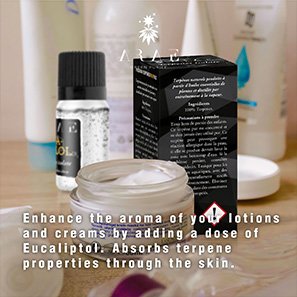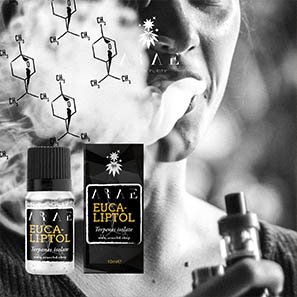 Quantity:
Bottle of 10 ml.
The strains that commonly contain this terpene are:
- Jack Herer
- Top Dawg
- Claustrum
- Kraken
- Domina CBD
- AK Skunk
- Pink Plant
Related studies:
-  Boland, Brophy & House 1991, p. 6
- «Meditaroma - Aceite de Eucalipto.» (en es). Meditaroma. [Consulta: 22 gener 2016].
- Harborne, J.B., Baxter, H.. Chemical Dictionary of Economic Plants. ISBN 0-471-49226-4.
- Juergens UR, Dethlefsen U, Steinkamp G, Gillissen A, Repges R, Vetter H «Anti-inflammatory activity of 1.8-cineol (eucalyptol) in bronchial asthma: a double-blind placebo-controlled trial». Respir Med, 97, 3, March 2003, pàg. 250–6. DOI: 10.1053/rmed.2003.1432. PMID: 12645832.
- Juergens, U., Engelen, T., Racké, K., Stöber, M., Gillissen, A., Vetter, H. «Inhibitory activity of 1,8-cineol (eucalyptol) on cytokine production in cultured human lymphocytes and monocytes». Pulmonary Pharmacology & Therapeutics, 17, 5, 2004, pàg. 281–7. DOI: 10.1016/j.pupt.2004.06.002. PMID: 15477123.
- Kehrl W, Sonnemann U, Dethlefsen U «Therapy for acute nonpurulent rhinosinusitis with cineole: results of a double-blind, randomized, placebo-controlled trial». Laryngoscope, 114, 4, 2004, pàg. 738–42. DOI: 10.1097/00005537-200404000-00027. PMID: 15064633.
All ARAE terpene varieties