The new pure terpene from ARAE Geraniol is already available in our online shop. You will be surprised by its fantastic organoleptic properties, adding an incredible rose aroma which is hard to forget.
The pure terpene Geraniol is often used to enhance flavors such as peach, raspberry, grapefruit, red apple, watermelon ... and so we could go on listing a multitude of delicious and refreshing fruits.
In no case does pure terpene Geraniol use chemical agents or solvents in the extraction process of the terpene in question. Moreover, the steam dragging method is used, thus guaranteeing the naturalness of the terpene and that it is perfectly consumable without side effects of any kind.
This ARAE isolated terpene has more than 97% purity.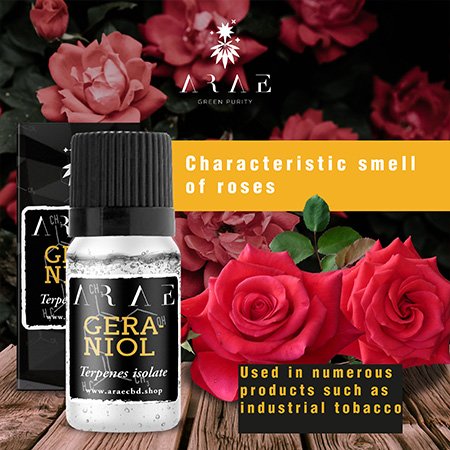 Taste and aroma
The organoleptic properties of pure terpene Geraniol, are very remarkable, and are characterized mainly by its smell of roses. This can be seen in its many uses for adding flavour to many products, such as industrial tobacco. It is also used to enhance the flavors of peach, raspberry, grapefruit, red apple, lime, plum, orange, lemon, watermelon, pineapple and blueberry, in many products.
Where is it located?
Naturally, we can find the terpene Geraniol in many varieties of fruits and plants, such as Cannabis Sativa itself or commonly known as marijuana. The Geraniol is present in:
- Roses
- Peaches
- The lemongrass
- Coriander
- The geranium
- Lemons
How can I use ARAE's pure terpene Geraniol?
To use Geraniol in your meals you only have to take into account that you need to add 0.5% of the total weight of the edible, and if you want to use it to give a special touch to your salads add between 4 and 6 drops per liter to olive oil and discover what it is to make a dressing with real flavor.
Medical Benefits
The continued consumption of Geraniol can bring you a series of medicinal benefits that have been proven by studies conducted by independent institutions that ensure that Geraniol is beneficial to health and has the following medicinal properties:
- It is Antiviral
- Anti-inflammatory
- Antispasmodic
- Neuroprotective
- It is also beneficial in the prevention of breast, lung, colon, prostate, liver and pancreatic cancer.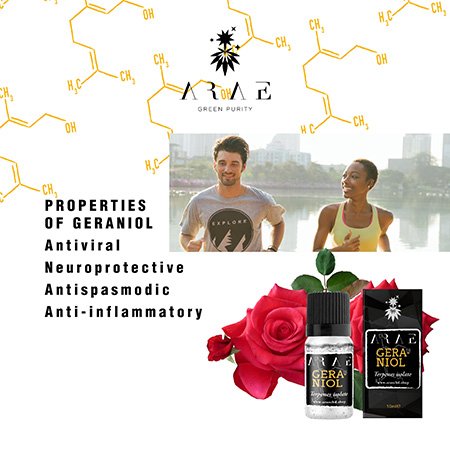 Buy now at PevGrow, the pure terpene of Geraniol, check out its incredible medicinal properties, and join the club of those who have already done so and have improved their health naturally and without side effects.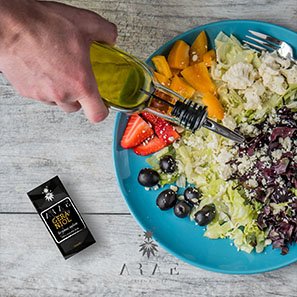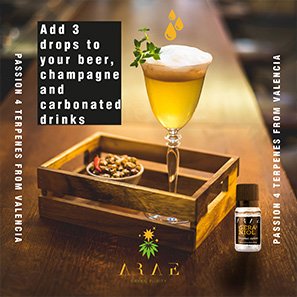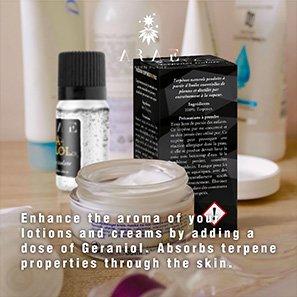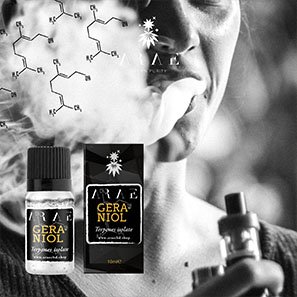 Quantity:
Bottle of 10 ml.
The strains that commonly contain this terpene are:
Geraniol is a terpene, found naturally in the Cannabis plant, but this is in greater or lesser percentage, based on the various genetic fusions that occur. The varieties of marijuana, with greater proportion of Geraniol are:
- Amnesia Haze
- White Rhino
- Headband
Related studies:
- Barnard, D.R., and Xue, R. Laboratory evaluation of mosquito repellents against Aedes albopictus, Culex nigripalpus, and Ochlerotatus triseriatus (Diptera: Culicidae), J. Med. Entomol. 41(4):726-730, 2004.
-  UF entomologist develops safe, effective alternative to DEET insect repellents, Univ. of Florida, 1999.
- What's in a cigarette? en about.com
- Evaluación de sustancias químicas en aceites para masaje.
All ARAE terpene varieties