ARAE's pure terpene Humulene, responsible, among others, for the wonderful and characteristic smell of cannabis, arrives in our catalogue of terpenes.
ARAE's pure terpenes are 100% natural molecules extracted from plants, flowers and fruits, which will give your vaporizations, food or drinks all their flavor and aroma as well as their multiple medicinal benefits.
This ARAE isolated terpene has more than 60% purity.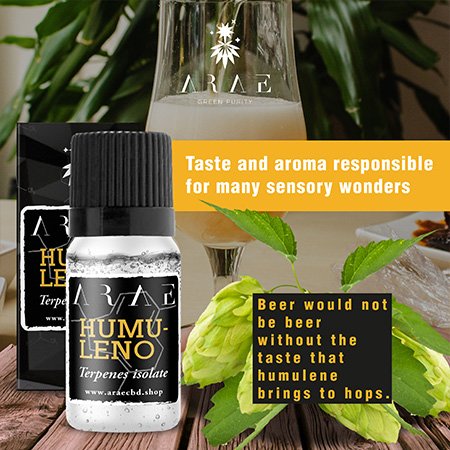 Taste and aroma
The taste and aroma of Humulene are responsible for many of the sensory wonders that we know in our day to day. Not only is one of those responsible for the traditional and characteristic smell of marijuana, but no doubt and what will leave you more surprised than ever, is that the beer would not be beer without the flavor that brings the humulene to the hop with which the famous drink is made.

Where is it?
Humulene can be found naturally in many plants and flowers that we see every day: Hops, Common Sage, Japanese Spice, Ginseng, Green Mint, Ginger and Chinese Laurel.
Their extraction process is always clean, trying to keep the terpene unaltered so that it is 100% natural. We extract them personally in our own laboratories using the steam drag distillation extraction method.
How can I use ARAE's pure terpene Humelene?
You can use Humulene, for example, in your carbonated drinks, whole milk, olive oil, hemp seed oil or coconut oil. Remember that ARAE's pure terpenes are concentrated and must be diluted for their use.
To use of Humulene in your carbonated drinks and oils add between 4 and 6 drops per litre. If you prefer to use it in your food, you must add 0.5% of the total weight of the food in pure terpene. Finally, to use it in lotions and creams, add a proportion of Humulene of the 5% of the total of the product.
Medical Benefits
Humulene is the backbone of many medicinal herbs that owe their effectiveness precisely to their Humulene content. The use of Humulene goes back to ancient China, when its apothecaries already used it for multiple remedies. We are in front of one of the oldest terpenes of the earth, and next we detail you the medicinal effects that it has:

- Antibacterial
- Anti-inflammatory
Its anti-inflammatory effects are of proven effectiveness and can be useful for muscular inflammations, back pains, etc...
- Anticancer
- Insecticide
- Natural antibiotic
- In small amounts, they kill the bacteria Staphylococcus aureus.
- It is also useful as an appetite reducer.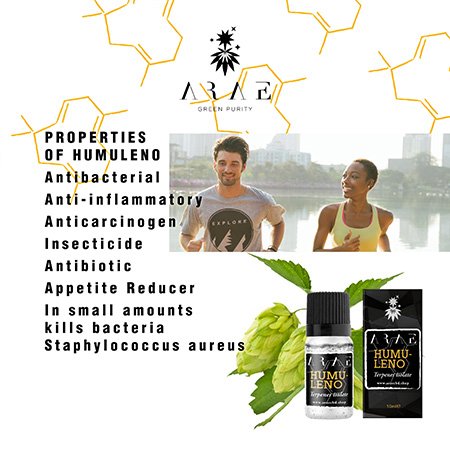 Discover at PevGrow the natural terpene Humulene, and discover one of the oldest natural elements and used since immemorial times. ARAE has done it again, one more wonder at your fingertips. Available now in our growshop.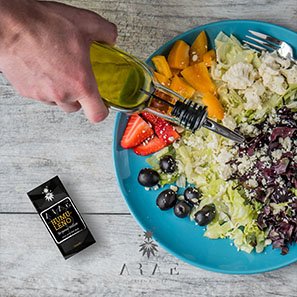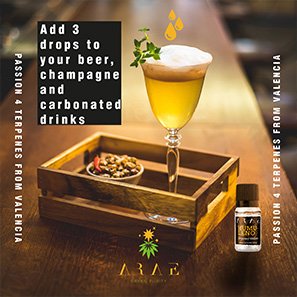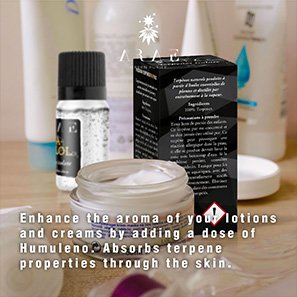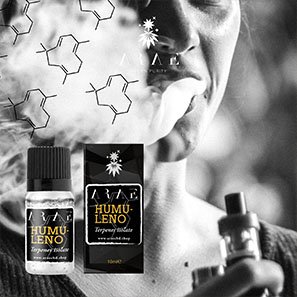 Quantity:
Envase de 10 ml.
The strains that commonly contain Humulene are:
- Arjan's haze #3: 5.55%
- Bubba Kush: 4.14%
- Chemdog: 6.85%
- Green House Cheese: 8.91%
- Great White Shark: 4.90%
- Green House Skunk: 8.49%
- Jack Herer: 6.20%
- King's Kush: 4.07%
- K Train: 4.95%
- Super Lemon Haze: 5.84%
- The Church: 9.90%


Related studies:
1-  Glenn Tinseth, "Hop Aroma and Flavor", January/February 1993, Brewing Techniques. Accessed July 21, 2010

2-  D. Degenhardt; D. Lincoln, J. (2006). "Volatile Emissions from an Odorous Plant in Response to Herbivory and Methyl Jasmonate Exposure". Chem. Ecol. 32: 725–743. doi:10.1007/s10886-006-9030-2.

3-  C. De Moraes; M. Mescher; J. Tumlinson (2001). "Caterpillar-induced nocturnal plant volatiles repel conspecific females". Nature. 410 (6828): 577–580. doi:10.1038/35069058. PMID 11279494.
All ARAE terpene varieties