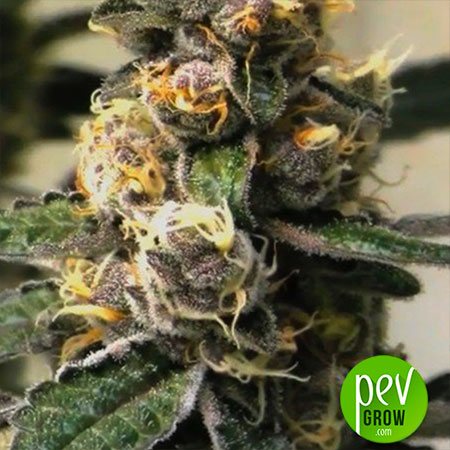 Welcome to PevGrow cannalover! I want to introduce you to one of the varieties of marijuana that will break all the molds in this 2020, Tropicanna Banana from Barney's Farm!
Derived from the genetic fusion between a Tropicanna Cookies and a Banana Kush, you get a really tasty strain. You better check it out for yourself!
What does Tropicanna Banana cannabis plant look like?
A 40% indica and 60% sativa hybrid, stands out for its impressive resistance to the environment and pests, although it is best found and developed in very sunny and dry climates. It is a plant of great size and vigor in growth, usually reaches 3,28 ft. (100 cm) indoors and easily exceeds 6,56 ft. (2 meters) outdoors if you have space to grow.
What does Tropicanna Banana taste like?
Its terpene profile looks like something out of a science fiction movie, a mix of banana and citrus flavor, with a spicy and earthy finish that will hit your taste buds until they are ecstatic with pleasure.
What effect does Tropicanna Banana have?
Its effect is conditioned by its high levels of THC, ideal for those who suffer from insomnia and need a little help to sleep or for those who want to disconnect from reality for a long time.
How is Tropicanna Banana planted?
Indoors, put it under an HPS lamp with 600w of power and a cooltube reflector, with which you will improve the incidence of the lumens of the bulb, besides helping to regulate the temperature, lowering the heat emitted by such a powerful bulb and promoting a much more suitable atmosphere for the plant. With 2,9 US gal (11 litre) pots you can fit 8-9 plants in a 3x3ft (1 m2) cabinet.
In outdoor crops, dig a good hole in the ground and fill it with Canna Terra Professional, the results will be awesome. It will stretch over 6,56 ft. (2 meters), giving away spectacular crops. When growing you can give it a little push with Agrobeta Enzyme, which improves the health of the soil and the absorption of nutrients by the plant, ensuring greater growth.
What is the production of Tropicanna Banana?
The yields are incredible, 24,7 oz per 3x3ft (700 grams per m2) indoors and 70,5 oz/plant (2000 grams per plant) outdoors if you have experience.
Tropicanna Banana from Barney's Farm, simply spectacular!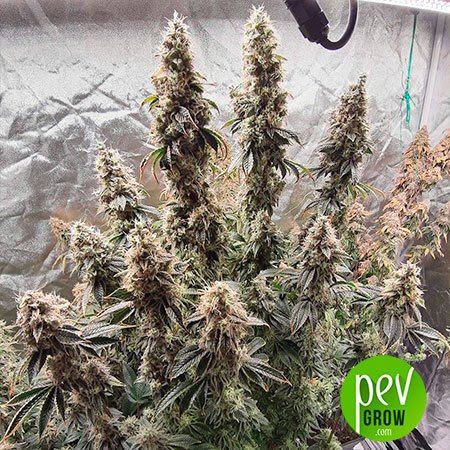 You may also be interested in: