Banana Kush is a cannabis strain with all the flavor of the tropics, an intense sweet banana flavor is the preamble to the divine experience provided by this indica predominant strain.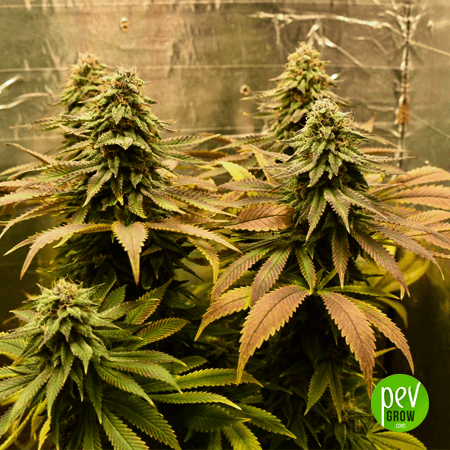 How is the Banana Kush plant?
Its genetics derive from a OG Kush and the Banana marijuana variety, a cross that results in a marijuana with an intense flavor and high THC content, It can reach 27% !
It grows vigorous, developing a thick stem with many branches, the short spaces between its nodes are combined with small very resinous calyxes that become dense buds when harvest time arrives.
The flowers emulate a conical cluster, its sativa genes will make it lengthen during flowering and can triple its size.
What does Banana Kush taste like?
The flavor of this herb reminds us of a delicious fruit cocktail with very marked notes of banana and the characteristic nuance of the kush varieties., a delight to the palate.
What effect does it have?
The Banana Kush is ideal to use in moments of relaxation, will activate your mind in just minutes, makes you feel vitality and immerses you in a state of long-term happiness.
Its most outstanding therapeutic qualities are the relief of chronic pain, nausea control, sleep regulation and increased appetite.
How is Banana Kush grown?
Grown indoors:
It can reach up to 1.20 meters in height, needs good lighting, nutrients and some pruning to improve its structure.
The ideal lighting you will achieve with 600 watt lights with them will provide the necessary energy for it to develop healthy and strong, however, you must be attentive to temperatures that should not exceed 26 degrees centigrade.
You will get good yields if you use 11-liter pots and place between 9 and 10 specimens per m2, between the seventh and eighth week you will see its fruits.
Grown outdoors:
If the direct soil plants will grow up to 2 meters, a moderate nutrition will allow a good development of its roots, the harvest will be ready to harvest in October.
Temperate climates suit him, he likes the low temperature because in this way the buds do not suffer from excess heat.
What is your production?
It is considered a medium-grown marijuana plant, with some indoor care it can produce between 14.1 oz per 3x3ft and 17.6 oz per 3x3ft ( 450 and 500 gr. per m2 )and grown outdoors 18 oz/plant to 24,6 oz/plant(550 to 700 gr. per plant.)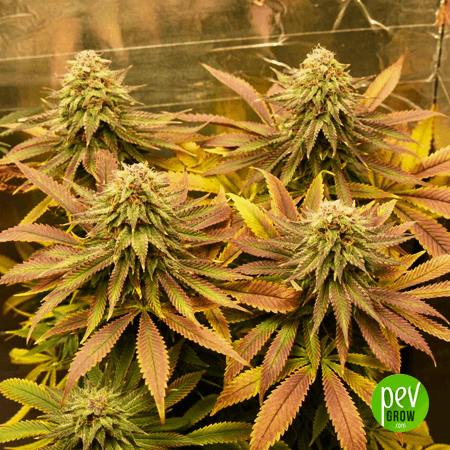 You may also be interested in: