The Lemon Bean variety hits the market to conquer the palates of lovers of the lemony flavor of cannabis, and we are sure that it will exceed the expectations of even the most demanding consumers because we have never tried a smoke with such intensity and definition. It is clear that this quality is very important in a variety of marijuana, but it is not the only one that we look for in quality seeds, and Lemon Bean has many other reasons to become one of the strains of the decade, so I invite you to read Pay attention to the following description where you can see why his fame is growing exponentially.
Lemon Bean Marijuana Strain Review
A year ago we heard that a new genetics was giving a lot of talk in the United States, and had just won a prize in a cannabis cup in Illinois. After investigating, we verified that it was the Lemon Bean variety, which had surprised both the judges of this competition and everyone who tried it. From that moment we got down to work and thanks to a contact from Chicago we received a cutting that several dispensaries grow to be able to offer flowers and extracts of this plant.
After growing and tasting it, we were able to see first-hand its impressive organoleptic quality, but what we did not expect was its stratospheric effect, something for which we were not prepared and it overwhelmed us. We thought about breeding her with one of our champions, but after much thought, we decided that this strain is so perfect that the best thing we could do was try to recreate it in easy-to-grow feminized seed, and so we did.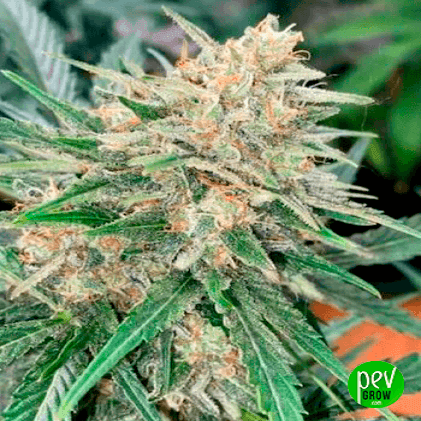 Genetics of the Lemon Bean variety
It is a cross between the delicious Lemon Tree and OG Eddy, an OG Kush cross that stands out for its extraordinary amount of resin and powerful effect. Its genotype is mainly sativa and it could be said that it is an honorable member of the Chem family, since it comes from both parents. Genetically it is very stable, and although slight variations in phenotype may appear, the main traits are shown by all plants.
What is the Lemon Bean marijuana strain like?
Its growth pattern is quite similar to that of Lemon Tree, very fast and vigorous since the plants begin to receive light. Morphologically reminiscent of sativas, showing a medium distance between nodes, thin but very resistant stems, a good number of branches that emerge from the lower parts and end near the central crown, and a low proportion of leaves that contain medium-width leaflets. The Lemon Bean variety is one of those that invades all the available space, and thanks to its structure and branching it can be grown in different ways.
The buds of these plants will amaze you with their volume, density, and the overflowing amount of trichomes that surround them. They are very fleshy and striking flowers due to how swollen the calyxes end up, the kind that are easily cleaned and after drying they look like popcorn. During the flowering stage, the aroma can become a problem due to its potency, and it is possible that it is one of the most fragrant strains that have passed through our crops.
Information on indoor and outdoor cultivation of the Lemon Bean variety
If you want to fully enjoy its delicious flavor, I recommend growing these seeds organically, both indoors and outdoors. Vegan cultivation is also a very interesting option with this variety, but if you prefer mineral fertilizers don't worry, because you can also get a very tasty harvest, although in this case I will give you some advice later. In indoor cultivation, it is very interesting to make several prunings to stop its vertical growth and promote lateral development, which thanks to the special constitution of these plants, achieves a very uniform canopy. It is advisable to place stakes that help reinforce the resistance of the branches so that they can produce more weight without the risk of breaking. You can put 9 plants/m2 in 11-litre pots, with 25 days of vegetative growth, and during that time prune the central tip and the satellite branches so that the height is equal to the lower branches.
In outdoor cultivation it can be harvested in practically all climates, but it must be said that where it gives the best results is in temperate or hot regions. Their hybrid vigor is so powerful that it adapts to different environments without problems, and among other things allows them to withstand some problems of outdoor cultivation such as temperature changes, pests, or stress caused by weather variations such as cloudy day, rains, etc. Growing outdoors is easier than indoors, and in principle you only have to fill a large pot with substrate from a well-known cannabis brand, and try to ensure that the plants receive as much light as possible. As in indoor cultivation, pruning is very important to achieve the best performance, as it allows better assimilation of light by all parts of its structure. It also helps a lot to place stakes or some support so that the branches do not bend due to the weight of the buds, which in the Lemon Bean variety can be very high. Remember to use insecticides and fungicides from the growth phase to avoid possible pest problems, and in the case of growing with mineral fertilizers, it is very important to thoroughly wash the roots before harvesting to get the cleanest flavor possible.
Flowering time of the Lemon Bean variety
It is surprising to see such a short flowering period for a mainly sativa variety, but this is another of the many qualities of this marijuana. Indoors, she only needs 9 weeks of flowering to fully mature and be ready to harvest. In outdoor crops or outdoor greenhouses, they are cut at the beginning of October in the northern hemisphere, and at the beginning of April in the southern hemisphere.
Production of the Lemon Bean cannabis strain
This can be very relative because the amount of harvest depends on many factors such as the amount and quality of light that the plants receive nutrition, environmental parameters, and even the experience of the grower. As a guide, I will tell you that in our tests the yield in indoor cultivation was 450 grams/m2, and outdoors each plant gave between 525 and 740 grams of heavy buds after drying. The resin production is extremely high, and although it is difficult to quantify, it is surely one of the highest on the market, as is the yield of cannabinoids and especially terpenes.
Aroma and flavor of the Lemon Bean variety
Although it is a very complete variety, whichever way you look at it, the aroma and flavor of Lemon Bean is out of the ordinary, an authentic cannabis delicacy without comparison. It is one of the few cannabis genetics that smells during the vegetative phase, but it is when resin begins to appear that its impressive aroma, citric, earthy, somewhat floral, and reminiscent of spices, is most accentuated. The taste is surprising even for the most experienced people, when inhaling the smoke it feels like a refreshing mouthful of authentic lemon, and when exhaling a spicy touch similar to very original black pepper remains on the tongue. Terpenes of the Lemon Bean variety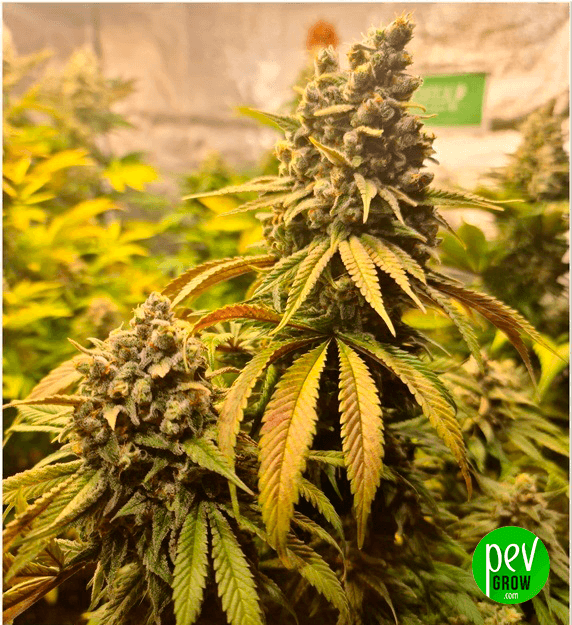 The main terpene is limonene without a doubt, followed by myrcene and caryophyllene. The analyzes also show other terpenes to a lesser extent, and traces of many others, but the citric and spicy flavor of the Lemon Bean variety arises from the mixture of Limonene, myrcene and caryophyllene. Do you like lemon flavored extractions? Then don't miss the opportunity to try the Lemon Bean hash or rosin and take advantage of the harvest manicure to make your own concentrates, I assure you that you won't regret it.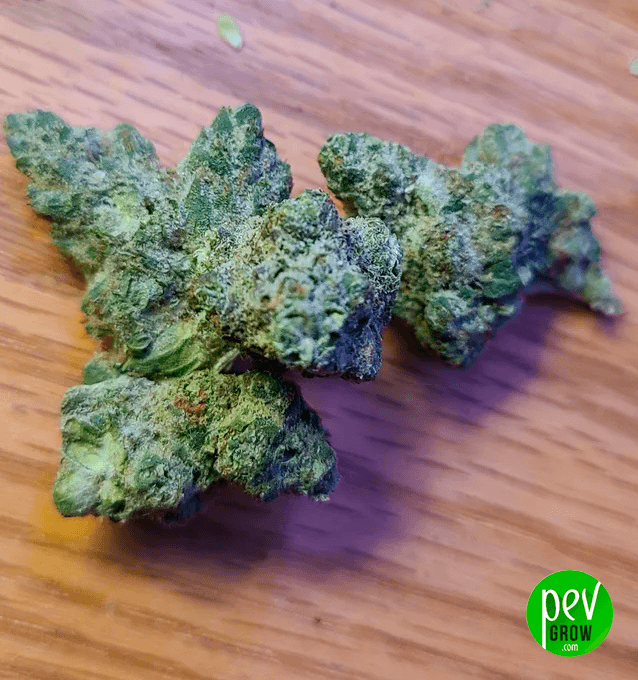 Effects of Lemon Bean weed variety
Hold on if you don't want to fly away because this marijuana is one of those that makes you take off your seat. At first it is very stimulating and energetic in every way; it clears the mind and facilitates focus, increasing happiness and the desire to carry out tasks of all kinds. It can help mitigate different types of pain, anxiety, stress, and other problems such as depression or low mood, and it is a long-lasting effect that as time goes by, you feel less on a mental level and more from the physical point of view. This herb can be enjoyed more during the day than at night, but as long as you do not have to engage in dangerous activities.
THC level of the Lemon Bean variety
Although it can vary depending on various aspects, the THC percentage of this genetics normally moves between 20% and 26%. The fact that it contains the profile and the amount of terpenes that its chemotype hides gives it a much more intense effect, because myrcene increases the amount of cannabinoids that reach the brain, and caryophyllene acts as yet another cannabinoid in this case.
Buy seeds of the Lemon Bean variety from Spain Bulk Seeds at the best price online
If you still haven't decided which seeds you're going to grow next, but you want a variety that combines high yields with a special flavor and powerful effect, give Lemon Bean feminized seeds a try and you'll surely thank us later. Order these or other seeds at Pevgrow and take advantage of all the advantages offered by the best online grow shop today, because self-cultivating quality cannabis does not have to be expensive or inaccessible.
Frequent questions
What variety is Lemon Bean?
It is a variety of hybrid marijuana that emerged in the United States, which rose to fame after winning a trophy in a prestigious cannabis cup in Illinois. Although the most significant thing is its aroma and flavor, we must highlight its impressive effect and the good production of buds and resin that it has. As with other successful strains, Lemon Bean could only be obtained through cutting, something directly impossible for many people, so Spain Bulk Seeds turned it into a seed variety to be able to offer it to everyone.
Is the Lemon Bean variety indica or sativa?
It really is a polyhybrid with a sativa tendency, something that can be clearly seen in the type of stimulating effect and the rapid growth both indoors and outdoors. However, it also has indica things like the flowering time and the morphology of the leaves, and it is that it descends from 2 plants that were already hybrids as well.
You may also be interested in: