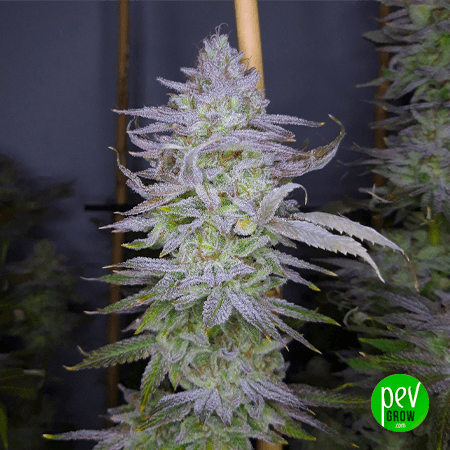 Apple Fritter are feminized marijuana seeds that the bank Spain Bulk Seeds has produced thanks to an excellent elite clone "hunted" in a dispensary on the west coast of USA. If you are passionate about fruity aromas and flavors, well defined do not miss the opportunity to test this superior genetics.
What is the genetics of these seeds?
To obtain 100% feminized seeds with these exclusive genes, the R&D department of Spain Bulk Seeds crossed this American clone by itself, and in this way many of the traits that stand out of this variety were fixed. The original genetics are not entirely clear, but it is thought to be a polyhybrid with some indica influence, a cross between Sour Apple and Animal Cookies.
How is Apple Fritter in appearance and morphology?
At a glance you can see traits that give it away, such as the typical structure of theChem family , with a lot of branching from the lower parts of the plant, which end up very close to the main crown. Its leaves are quite wide, although it does not create many in proportion to the flowers, so defoliation is not necessary.
During pre-flowering, it sticks a lug that can almost triple the size it had during growth, and it begins to form buds at high speed, of medium size but very dense and hard. I assure you that you will have seen few Resin strains like Apple Fritter does, finishing fully bathed.
How are these feminized seeds grown?
It is not at all complicated to achieve large harvests with these plants, because they adapt perfectly to different cultivation techniques and systems. Indoors it is ideal if the main tip is pruned and its dense branching is used to the maximum, and it is grateful that its branches are reinforced, because that way it produces more. A good idea is to apply method SCROG, because the mesh comes in handy as a support for the heavy buds. You can put 9 plants / m2 in 11 liter pots with 3 or 4 weeks of growth and you will fill the entire illuminated space quickly.
In outdoor cultivation it is even easier to achieve success with Apple Fritter, since only is necessary to give it a lot of substrate, food and sun. It is a very good idea to make a hole in the ground and transplant directly, but not all the world has the opportunity to do this. In a pot of 50 liters or more, can already yield a lot, but try to place it in a place with a lot of light.
When is the Apple Fritter harvest coming indoors and outdoors?
Its flowering cycle can be considered standard, in the style of the vast majority of polyhybrids on the current market. Indoors it does not usually require more than 8 or 9 weeks of flowering, and outdoors it is harvested at early or mid-October in the northern hemisphere. Growers in the southern hemisphere cut it in early to mid-April.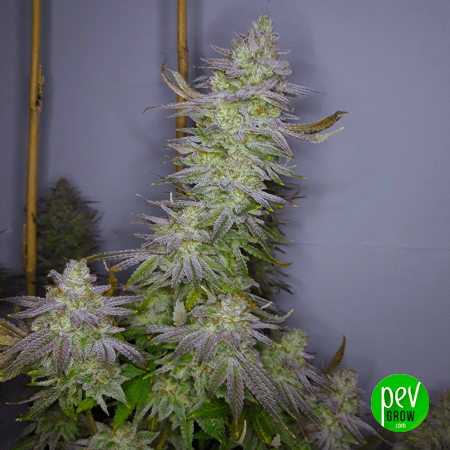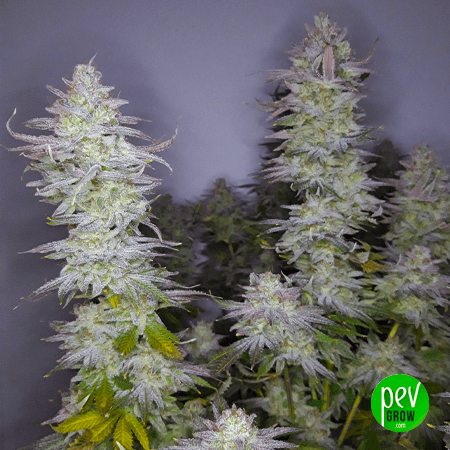 How much do these seeds from Spain Bulk Seeds produce?
In indoor crops, it produces between 12.3 oz per 3x3ft and 17.6 oz per 3x3ft ( 350 and 500 grams / m2) , depending on the intensity and type of light, environmental parameters, and especially the skill of the grower. Outdoors each Apple Fritter can produce more than 18 oz/plant(500 grams)  dry, especially if you take care of the appearance of the substrate and the light.
How is the aroma and taste of Apple Fritter?
It is impressive to feel how the terpenes of the ancestors of this herb have merged, perfectly mixing the touch of sour green apple from the tasty Sour Apple, with the sweet background of the Cookies family of pastries. los apple fritters Valencian your mind will transport you to that moment when you taste this marijuana, spectacular.
What kind of effect does this cannabis contain?
If I tell you that the THC content ranges between 28% and 32%, I guess I don't need to tell you the power level of Apple Fritter. It starts with a very euphoric and stimulating high, it accelerates the thoughts but does not cause paranoia or anxiety, quite the opposite, motivates and increases empathy. The effect is long-lasting, and little by little each remains more subdued, relaxed and peaceful.
Buy feminized seeds Apple Fritter from Spain Bulk Seeds at the best price online
This variety is a bit out of the ordinary, with a chemotype rich in THC and terpenes, and a aroma and unique flavor of its kind. For us it is the best we have tasted in a long time, so I recommend that you give it a try.
You may also be interested in: