Reading Time:
4
minutes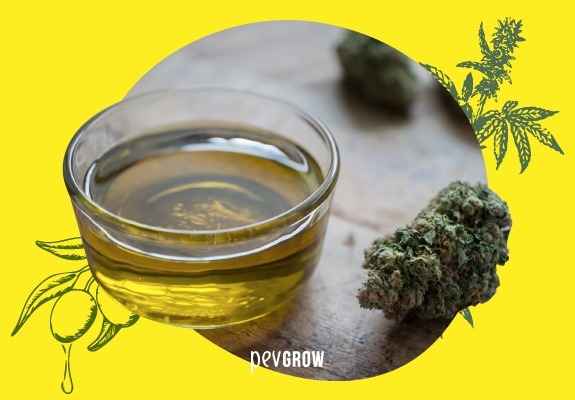 If you want to know how to properly prepare cannabic oil, in this article we will explain to you step by step this simple recipe.
In addition, we will use an indispensable element in our kitchens that will give it that Mediterranean flavor hint that we really like in our meals.
Do you already know what it is? Exactly! We are talking about olive oil.  And there is no better complement than cannabis to enhance and add that fun twist to your meals that cannabinoids guarantee.
As you know, at Pevgrow we are always discovering new and delicious uses for cannabis.
Especially thinking about those users who, besides smoking, know how to enjoy cannabis in its many presentations.
And Cannabis Oil is known to be one of the culinary elements that better let us taste the fine nuances of flavor of cannabis. Besides, it will give a gourmet touch to your dishes.
Recomendations
: For this recipe, we advise you to choose varieties such as
Amnesia Lemon
. Which not only has a spicy fragrance with citrus notes, but its flavor blends very well in salads and bruschettas. 👌
✅ Recipe
Join the Pevgrow cannabis family in our:
The ingredients we will need are:
1 medium glass jar
1 large pot
400 ml. (0.1 US gal) of olive oil (preferably Extra Virgin)
8 gr. (0.3 oz.) of cannabis buds of your choice (you can also include the leaves with trichome)
Thin or cloth sieve
Kitchen thermometer
Baking tray or baking dish
Let's start our preparation of Cannabic Oil! 👨‍🍳
1 –The first thing that we are going to do to begin with our recipe, is to decarboxylate the cannabis. This way we will activate the processes that give cannabis its psychoactive effects.
To do so, we spread uniformly the 8 grams (0.3 oz.) of cannabis in the baking tray and we will put it in the oven at a temperature of 115 °C (239 ºF), for 20 to 30 minutes.
Remember to stir with a wooden palette every 5 minutes or so, so that the heat is dispersed without burning the cannabis.
Afterwards, we take it out of the oven and let it rest for at least 10 minutes.
This process allows the transformation of the acid cannabinoids (THCA) in neutral cannabinoids (THC) by means of the heat. This way, we will be able to enjoy its psychoactive effects with no need to smoke it.
2 –Once we have the cannabis decarboxylated, we introduce it in the glass bottle (clean and dry) and add the 400 ml. (0.1 US gal) of extra virgin olive oil.
3 –For the infusion process, we must introduce the glass bottle inside a big pot and add water until it covers half of the bottle.
Once ready, heat at 60 °C (140 ºF) for 60 to 120 minutes.
Remember that the water should never reach its boiling temperature (100 °C / 212 ºF). Since when exposing the cannabis to high temperatures, we run the risk of annulling the psychoactive effects of the THC.
To avoid this, it is recommended to monitor the temperature of the water with a kitchen thermometer.
After 60 to 120 minutes, we remove the jar from the pot (being very careful not to get burned) and let the oil rest for 10 minutes.
4 –Once the resting time has passed and our infusion of cannabis oil is ready, we proceed to strain it to remove any remaining vegetable product that could have been left in the oil.
To do so, you can use a fine plastic or cloth sieve. This way, we will ensure that it is as pure as possible. And that's it! We can now start tasting our delicious Cannabic Olive Oil.
👉 If you want to enhance the flavor of your preparation, you can cut a little of garlic, ginger or rosemary and place it at the bottom of the jar to macerate with the oil once you preserve it.
Remember to keep the oil in a cool place. This way it will be preserved for a longer period of time.
⭐ Tips and Variations:
✅ If you do not plan to use the preparation at the moment and want to keep it longer, we recommend that when you heat the oil in the pot together with the water, you use a lid for the jar (always checking that the heat does not exceed 60 °C / 140 ºF). This will remove all the oxygen inside the jar, preventing the humidity from creating fungi over time.
✅ Feel free to also try other oils such as almond, coconut or sunflower oil. As long as it is a fatty substance, it will be useful to absorb the trichomes of cannabis and generate a powerful psychoactive.
✅ A variant, also called "slow maceration". It consists of introducing the cannabis decarboxylated in the extra virgin olive oil and let macerate between 30 to 60 days.
This process allows the cannabis trichome to dissolve till it integrates completely with the oil. However, its flavor and aroma is not usually as potent as when we make the infusion process.
🎯 Cannabic Oil Uses:
This recipe is ideal to be served with a delicious bruschetta of cured ham, cheese and olives. It can also be sprinkled on pizza or even on toast.
And if you are more of a salad person, a little bit of tomato, fresh cheese and Bon appétit!
Another option is to distribute it in small bottles and use a dropper to consume it sublingually at any time of day. Either way, you can enjoy the psychoactive effects of cannabis.
👾 Beneficial Health Effects:
Cannabic oil has multiple medicinal effects thanks to the CBD present in the trichomes of the plant. In addition we can use it regularly in some of our foods to relieve stress, treat insomnia or as a wonderful analgesic.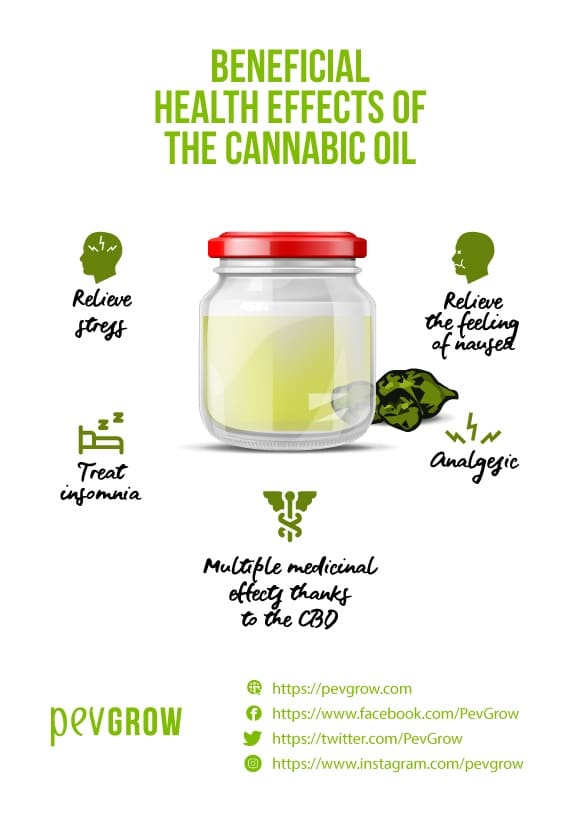 It is also recommended to relieve the feeling of nausea related to diseases such as cancer.
⚠️ Conclusion
Now that you know how to prepare this easy but powerful recipe, you just have to repeat the process and taste it with the food of your preference!
But that's not all, remember that we have many other preparations like this in the "recipes" section of our blog. Where you can find new and innovative ways to use cannabis. 😉
Keep on discovering with Pevgrow its multiple cooking uses, we are waiting for you!😉✍

Alan Martínez Benito
CEO of Pev Grow, expert grower with more than 20 years of experience.
In constant struggle for the regulation of cannabis, mainly in the medicinal field.
See more posts
Recipes you would never think of making with marijuana →