Reading Time:
3
minutes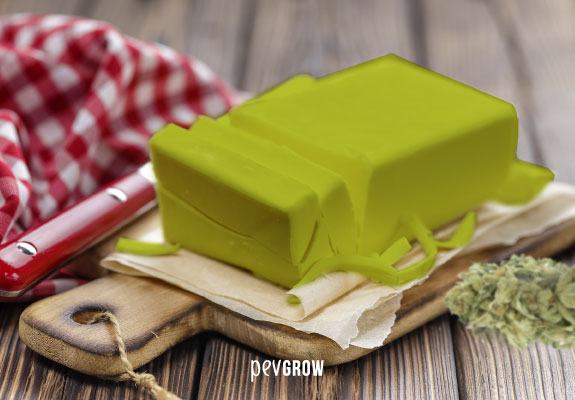 Today you are going to learn how to prepare easily and simply one of the best condiments for cannabic cooking such as marijuana butter. .?‍?
Generally it is usually used to make cannabic desserts although it is more and more fashionable to use cannabis in any recipe so let's go it…
To make marijuana butter you can use almost all the plant, including the small flowers that you would not use to smoke, the leaves or any part of the plant that contains resin. It is obvious that if you decide to make the butter with buds full of resin, you will need less quantity of this one when elaborating your cannabis recipes.
It should be remember that when you eat a food flavored with cannabis its effects are gradually perceived. A quick consumption of a lot of food can be dangerous, and as it is about enjoying responsibly … Slowly !
If you have already decided to prepare this gastronomic wonder, we are going to indicate you which are the steps you have to follow.✍
☕ Recipe for marijuana butter.
Join the Pevgrow cannabis family in our:
Ingredients:
To make your own marijuana butter, these are the ingredients you will need:

From 250 to 300 grams of butter
Half a litre of water
20 grams of buds or 50 grams of small flowers or leaves
We recommend
decarboxylate the cannabis before cooking,
because although during the process of elaboration of the recipe, the marijuana can be decarboxylated, if we do it before we make sure that the decarboxylation is done correctly. If you want to know how to do it click on this link
Weed decarboxylation
Steps to follow:
The first thing that you have to do is to grind very well all the remainders of the marijuana that you are going to use, of this way its resin is acquired better to the butter that you add.
In a pot, you put the water to boil and when it does loosen the fire to keep the water hot.

When you see that the water has stopped boiling, keep it that way and then add the remains of marijuana.
Leave the heat at a medium level and stir for 10 to 15 minutes.

Then add the butter in the pot along with the water and marijuana and stir until you see that it has dissolved and mixed properly with everything. About 30 or 35 minutes.

After that time, we strain in the mixture with a strainer, it is more advisable that it is a cloth strainer, but if we do not have any normal kitchen strainer can serve you, in a glass container and let rest at room temperature more or less for a couple of hours and then put it in the fridge until the butter has solidified and when this happens, it is time to eliminate the excess water.

Finally, when you have removed the excess water, put the container back in the fridge and you have your wonderful and delicious marijuana butter ready.
🎬 Conclusion
As you can see it's quite easy to prepare your own marijuana butter and the more times you prepare it, the faster you'll have it ready.
You can improve and perfect the recipe according to your tastes and the effect you want it to produce.
Increase or decrease the amount of marijuana to your liking, always bearing in mind that the effect of marijuana can take between 30 minutes and 1 hour to be noticed.
It is much better that you go eating in a slow pace, and little by little to go up the amount to see how it affects you and what effects it causes you. It is better that you stay short than that you overdo it, and this causes that the effects are opposite to the expected ones.
You must have a little more patience, but I assure you that it will be worth it, since you are going to enjoy not only a delicious ingredient and a dish prepared by yourself, but you are going to be able to taste the marijuana with all its shades.
Cheer up to prepare this butter, it will serve as a base for a lot of cannabic recipes. Without a doubt you will take out the chef that you have inside.?‍??‍?

Noelia Jiménez
I love to cook and write about marijuana. One day I started making marijuana butter and since then I haven't stopped creating the most varied recipes you can imagine.
See more posts
Recipes you would never think of making with marijuana →