Reading Time
7
minutes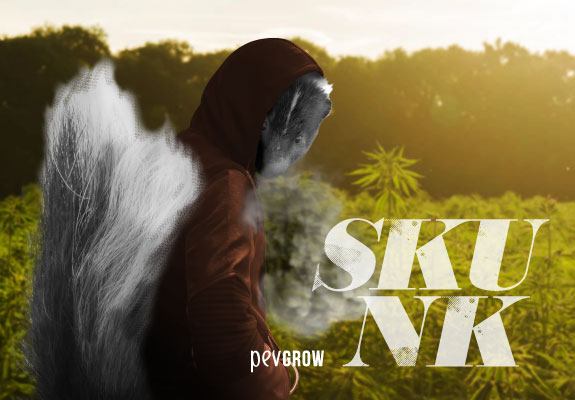 The history of Skunk marijuana is very interesting. Maybe it's not one of those stories that changed the world like Apple's in a garage… although if you think about it, it's very possible that a Skunk plant has been in that garage and it' s the anonymous hero of that legend. Everything is possible ;-). The truth is that we have all the necessary ingredients to make an entertaining film, with incredible coincidences, anti-heroes and villains, legal problems and a "happy" ending. This plant was born, marked by providence, to establish a milestone in relation to the consumption of cannabis, as we know it today. Its very name " Skunk " is synonymous with potency, and it has been erroneously given this name to other varieties that have nothing to do in their genetics with the original plant. But this is one of the costs to pay for being so "famous". This is a variety that was discovered or, more precisely, made known in 1969, at the Bay of California, when a man named Jingles, an independent grower, came across a strain. But the one who really spiced up this story, worthy of a Hollywood movie, was Sam 'The Skunkman', who along with the Sacred Seeds growers group started the epic marijuana legend Skunk that we are going to tell you.    
⭐ During the 70s
    We couldn't tell you how and when young blond Sam first tried Skunk cannabis. We can only assume that he knew Jingles and that both shared an evening full of Skunk joints, which led to a revelation in "the skunk man". Anyone would have forgotten this idea next day, but Sam smelled that Skunk was something special. His instinct and entrepreneurial spirit were united by his taste for quality marijuana, and from that moment he began to make history. As in any good movie, there is always a detail that does not allow our hero to get away with it. In this case, the small detail was that growing and possessing marijuana was illegal. But this small detail was not going to stop 'The Skunkman', nor think about it, he was going to persist in developing a new variety of recreational cannabis that would be famous, would put it to "fly" and that everyone would like to try. So in 1970, Sam and his team began to work methodically and constantly on the Skunk project, and began to make tests, until they achieved the results we know today. Sam is responsible for converting a rather small and unstable herb into a hybrid cross of 3 pure sativa varieties (other versions mention only 2) and an indica.
The percentages they managed to provide to the hybrid were 75% for the sativas varieties (Acapulco Gold 25%, Columbian Gold 25% and Mexican Sativa 25%) and 25% for the Afghan Indica.
Thus Sam intended to agglomerate the best of each of these varieties of marijuana in one : Skunk. This is how he would start his business, which was allowing him to get followers and fame throughout the bay of California and surroundings. Luck began to smile at him. However, there were some drawbacks to the project: It was more a question of luck and empiricism than science. Besides, Sam (whose real name is David Watson) wasn't very bright. First of all, it wasn't easy to directly cross Columbian Gold with Afghanistan. That's where they came up with the idea of using the Acapulco Gold hybrid to make the process easier and reduce flowering time. The gray mold that attacked the plants was a serious problem, but after the tests, they managed to create a marijuana plant very resistant to diseases and pests. The Sacred Seed was released for sale between 1978 and 1979, and they were not cheap. Buyers complained about the high price, but Skunk and its varieties were still sold like freshly baked bread. "The Skunk Man" was happy. But there's never something missing to spoil the party. In 1981 Reagan came to the White House and the anti-drug situation became tougher. 'The Skunkman' was put under arrest, but later released on bail.
There is a dark side to this part of the story. Skunkman has denied this version. There are very important people, linked to the world of cannabis, who accuse him of being a snitch of the DEA and that he was not the creator of Skunk. But let's continue with the "official version" (which has nothing official).
When he gets out on bail, Sam returns to his crop to see, relieved, that the police had not destroyed his plants or seeds. Without hesitation, the Skunkman, along with his team, proceed to recover and safeguard a Skunk#18.2. Legend says that Sam's misfortune was his salvation. He went with 250,000 seeds to Holland and sold them to Neville. Thanks to Skunk, Sam won the 1988 Cannabis Cup (a prize he invented himself, in agreement with his colleagues) and the rest is history. Today, Sam is happy and calm, enjoying the joints and the millions that this adventure left him.    
✨ Main characteristics of Skunk genetics
    You know the story behind Skunk 1 and what Skunk is, so you're probably wondering what makes it so special and caused our anti-hero, Sam the "skunk man" to go crazy for it.. You probably know what a skunk is famous for, so you'll get an idea of one of its most peculiar characteristics, a strong aroma and taste that have earned it this peculiar name.  
Skunk cannabis features
  Other features we can name you are:
Its yield is medium – high, with flowering times not exceeding two months, there are varieties that even reduce that duration.
It is a hybrid with 75% sativa genetics and 25% indica genetics. The latter is the Afghan, and the first are constituted by the varieties Colombian Gold and Acapulco Gold.
It is one of the first homogeneous and stable hybrid varieties that allowed its trade on a large scale, due to its aroma, taste, yield and sativa effect.
It has a high concentration of THC, so it is much requested for recreational uses, without undermining its medicinal properties for pain relief and other conditions..
High THC and cannabinoids content, make it a very potent variety, so it should be used with moderation.
Its phenotype is quite characteristic, with thick and dense buds moldable during different stages of flowering, with colors that can vary from green to gold.
They develop branches on the sides and their flowering is short.
His easiness for culture make it the favorite of beginners in this art, as it is very resistant, gives little struggle and can be developed outdoors, greenhouses or indoors.
Professional growers endorse and praise the reliable and uniform behaviour of Skunk and its varieties.
Skunk was considered unbeatable, but varieties of the strain have been developed that have improved its aroma, either making it stronger or softer, depending on the taste of each.
These are briefly some of the main characteristics of this variety.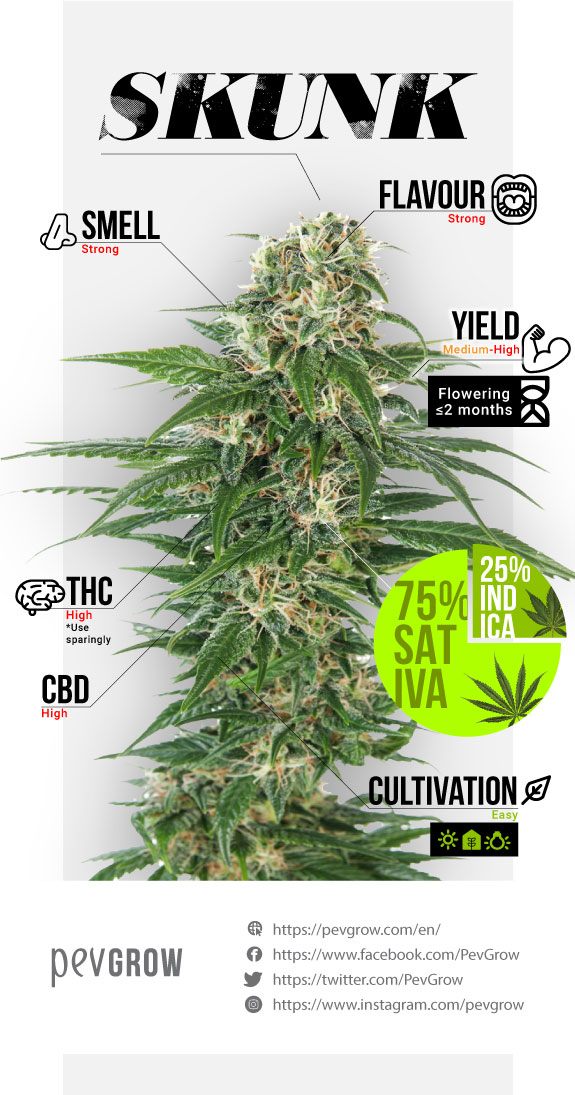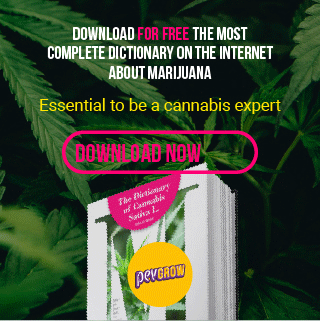 Free Download
Cannabis Dictionary
2023 Edition
Insert a correct email address
You must accept the privacy policy
SITE OF SHOPS ONLINE S.R.L with CIF: B98262777 and address for notifications in C/ VEREDA MAS DE TOUS Nº 22 LOCAL C, 46185 LA POBLA DE VALLBONA, VALENCIA, Phone: 961658271 Email: customer(at)pevgrow.com
At the name of Consulting we process the information you give us in order to provide the requested service, perform the billing of the same. The data provided will be kept as long as the business relationship is maintained or for the years necessary to comply with legal obligations. The data will not be transferred to third parties except in cases where there is a legal obligation. You have the right to obtain confirmation as to whether SITE OF SHOPS ONLINE S.R.L. is processing your personal data and therefore you have the right to access your personal data, rectify inaccurate data or request its removal when the data is no longer necessary
✅ Main strains derived from Skunk
    It's hard to say how original today's Skunk is, since parents used to procreate seeds have had variations over the years. This is how Sam Skunkman himself created his own variation called Sweet Skunk, with a softer aroma. Neville also created his own version, the Roadkill Skunk, with a very strong aroma and a tendency towards the Afghan Indica. Other varieties of Skunk are as follows:
Skunk x Haze: this is a hybrid that has allowed to combine in an almost perfect way, the production capacity and short flowering time of Skunk No. 1, with the excellent taste and effects of the Original Haze.
Hawaïan Skunk: this is a variety developed and marketed by the world-renowned Seedsman seed bank. It is an Indica/Sativa hybrid with very large female flowers and resin production in leaves.
UK Cheese (Exodus Cut): this is a famous clone in the cannabis world for its extraordinary aromatic strength.
Sensi Seeds has a large number of varieties based on Sensi Seeds Skunk#1 such as Skunk/Kush, Big Bud, Shiva Skunk, Sensi Skunk, Super Skunk, etc
The Dutch seed bank Dutch Passion has its versions: Trance, Green Spirit, Mazar, etc.
Mr Nice Seeds has also used the fame of Skunk 1 to develop its derived strains called G13/Skunk, Shit, Devil and Critical Mass.
Other well-known strains of Skunk are the Critical+ of Dinafem, the Warlock of the Magus Genetics, the Kannabia Special of Kannabia, the LSD of Barney's Farm, the Kritikal Bilbo of Genehtik, the Channel+ of Medical Seeds, the Gokunk of Philosopher Seeds, the Rica of Elite Seeds and the Mamba Negra of Blimburn Seeds.
One variety developed by Sensi Seeds is Early Skunk, which has been adapted for outdoor growing.
We are not going to forget the successful experiment of Mr Nice Seeds, where the Skunk 1 was crossed with the well-known White Widow, giving origin to the Shark Shock.
The Big Buddha Seeds catalogue is full of marijuana plants based on the Cheese clone that comes from Skunk. The same happens with the Cheese of Dinafem and Greenhouse, the Sweet Cheese of Sweet Seeds, the, No Name of Medical Seeds, Cheese Wreck from Sagarmatha and Blue Cheese
We also have the Orange Bud, Euphoria and Ultra Skunk varieties that belong to Dutch Passion Seeds.
The Green House Seeds seed bank has among its derived strains the Lemon Skunk variety.
Skunk Feminized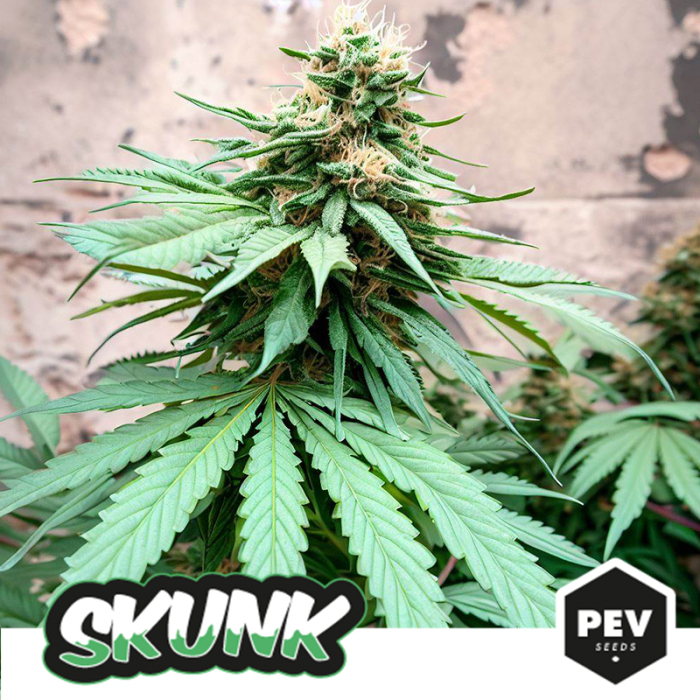 Very easy to grow, which stands out for its extreme resin production…
Features Bank: PEV Seeds Type: Feminized Phenotype: 75% indica / 20% sativa Genetics: Skunk X Afghan Harvest outdoor N.H.: Late September Harvest outdoor H.S: Late April Indoor production: 450-550 gr / m2 Outdoor production: 650-750 gr / plant Flowering period indoor: 7 weeks THC: 19%-23% – CBD: 0.1-0.3%.
Elite Seeds developed the Bestial Skunk.
Female Seeds created its variety Skunk Special.
Another cannabis seed bank, the Kiwi Seeds developed its variant called Kiwi Skunk.
These are the main strains derived from Skunk.    
🧐 Conclusion
    Nowadays, 75% of hybrid cannabis plants come from Skunk cannabis. This is something that is said easily but has a huge impact on the legacy that this plant has in the world of marijuana. This means that, if you are a lover of marijuana, it is very likely that you have tried some variety of Skunk 1 or cannabis Skunk at some point. Whether you are aware of it or not. This mixture of Skunk indica and sativa, gives some unique characteristics to the marijuana. When power was added with the Skunk sativa, it was believed that it could not be improved, but then came the Super Skunk sativa that became the favorite of many. The coffeeshops and grow shops gave popularity to these products and seeds of feminized varieties, creating a positive opinion in consumers and growers. With all this information we conclude this article on the most famous variety of marijuana in the world. The plot theory that if Sam "the skunk man" was a DEA man is almost irrelevant. We would have to conclude that Sam and the DEA made a great contribution to cannabis lovers.
Don't you think that's a great irony? What Kush or Skunk didn't achieve, apparently, was achieved by the American government sending Sam to Holland.
Have you ever tried Skunk? Tell us your experience in the comments (we assure you that we don't work for the DEA). If you found this article interesting, please share it on social media. ? This will help our website and motivate us to continue sharing information that is relevant to lovers of medicinal and recreational cannabis..    

Alan Martínez Benito
CEO of Pev Grow, expert grower with more than 20 years of experience.
In constant struggle for the regulation of cannabis, mainly in the medicinal field.
See more posts
Die besten Skunk-Sorten aller Zeiten →