Now you can find Blue Cheese at the best price, these seeds will give you quite homogeneous crops, it is yielding and exquisite, PevGrow brought it especially for you.
The combination of Exodus UK Cheese and Blueberry resulted in this indica-dominant strain and very easy to grow, you will love it immediately and it will not be missing in your garden!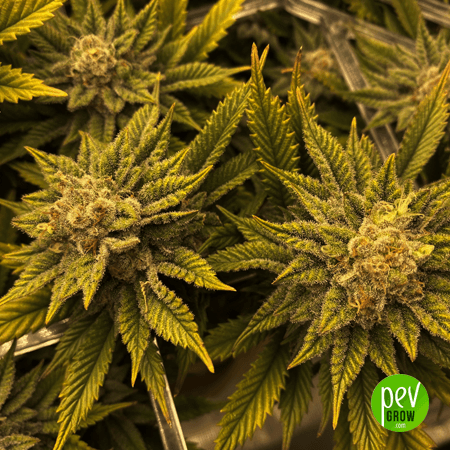 What is Blue Cheese like?
It grows powerful and leafy, can easily reach heights of 3 m if you sow it in direct soil, its buds are compact and of a very good size.
Although its color is a medium green, in temperate areas it may take on a little violet hues.
What does Blue Cheese taste like?
Its flavor is complex, a transition between a sugary fruit but you will also perceive a slight spicy inheritance from the Cheese genetics.
As for its aroma it is also surprising, the intense aromas of red fruits, especially blueberries, combined with the most exquisite cheese make a unique and surprising fusion.
How is your cultivation?
Indoor, it will develop compactly, you must control its growth because from one moment to the next it stretches uncontrollably, you can plant between 9 and 10 specimens per m2 so that they grow comfortably.
Lean on organic fertilizers and do not forget to provide it with a good lighting system so that it can complete its cycles, remember that its intense aroma will give you away if you do not use odor filters
Outdoor, it expands freely, the Astro Rey will bathe its wide leaves to give it more power, you may need tutors, otherwise its heavy buds may break its branches.
What is the effect of Blue Cheese?
Its effect on a mental and physical level is long-term., a deep relaxation takes over you, if you consume it at the end of the day you will feel that all your problems disappear.
What is the production of Blue Cheese?
This marijuana has everything to captivate you, it is not only a delicacy but it also gives you abundant harvests, inside 17.6 oz per 3x3ft (550 gr. per m2) and outdoors between 21,2 oz/plant to 28,1 oz/plant (600 to 800 gr. for each copy).
 This seed is of unique quality and Pev Grow could not stop bringing it!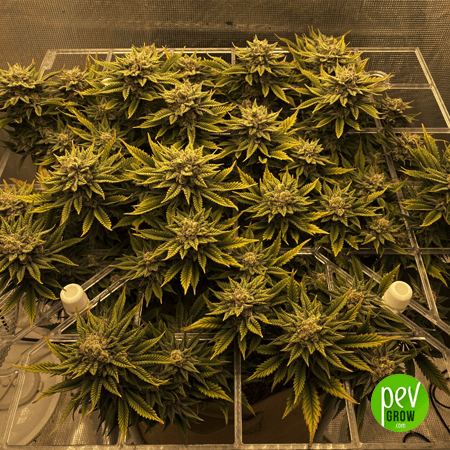 You may also be interested in: