PEV Grow is proud to present you, one of the classics of the world of cannabis, original Amnesia from the all-powerful seed bank Dinafem Seeds. This strain is one of the favourites in the famous Dutch Coffee Shops, characterised by a bestial quality, and all of it recognised and awarded with 16 first prizes in the High Life Cannabis Cup, in the Hydro Haze and Bio Haze categories. Don't you know it yet?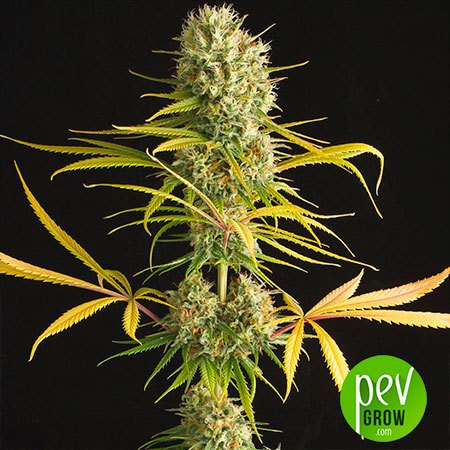 What does Original Amnesia look like?
Original Amnesia, is a feminized strain with a clear predominance Sativa of 70%, which grows with a good height especially in outdoor crops, with lateral branches that will reach almost to the height of the tip. One of the strongest points of Original Amnesia, is that it does not need too much food, as it is certainly delicate to over-fertilization, so applying a weekly fertilizer will suffice.
What does Original Amnesia taste like?
Its organoleptic properties are very special, and are characterized by a taste of beech wood, and a very intense aroma reminiscent of the typical smell of church, will flood the room and you can enjoy a truly impressive experience for those who love strong flavors and personality.
Which are the effects of Original Amnesia?
The effect of Original Amnesia, is energizing and inspiring, and the best of all is that it will allow you to enjoy it at any time of day, as it does not numb anything at all, quite the contrary, gives you that extra energy to face the day with guarantees. In the office, we call it "La cepa de los lunes", because thanks to it, Mondays are less Mondays!
How do I plant Original Amnesia?
In indoor crops, Original Amnesia stands out for being very manageable if you control its growth using small pots of 7 liters, with which you can place up to 14 plants per m2. Its flowering is done in record time to be a feminized, and is that in just 60-65 days you can collect up to 600 grams per m2, placing it in photoperiod 18/6 during growth and 12/12 when you move to flowering, with a LED lighting system of 300w.
In outdoor crops, its vertical growth skyrockets and turns into a real bush of up to 3.5 meters, a real beast! To get maximum productivity, I recommend you work a good substrate and if you have the possibility to cultivate on land, can reach the not inconsiderable figure of 1200 grams per plant.
Discover already at PEV Grow, the impressive qualities of Original Amnesia from the hand of one of the best seed banks in the world.