Amnesia Mistery
Reduced price!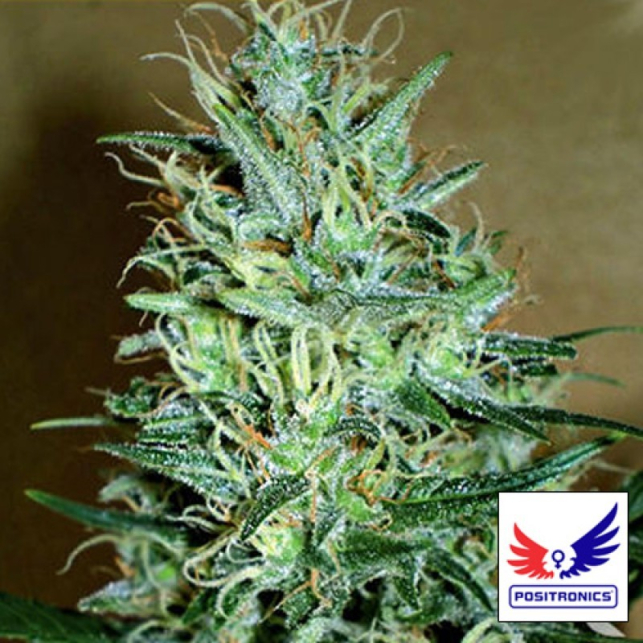 Description
Feminized cannabis seeds Amnesia Mistery of bank Positronics Seeds.
HIBRIDISATION
Discover the mistery. AMNESIA MISTERY is a step forward in the development of the newest sativa genetics. Our best selected AMNESIA clon was crossed with a misterious male coming from the greenest California valleys. As a result of that breeding you have an enormous size plant with one of the best buds never seen before. A delicious sativa for the experienced growers.
PHYSIOLOGICAL DESCRIPTION :
Big enormous growing. Its strong structure allows the plant to develop more branches than the average, producing lots of flowers besides the typical big cola on top. Needs a lot of space to grow, and will be the biggest plant of the garden. In addition to this, is very resistant to the fungus attack.
ORGANOLEPTIC:
AROMA: Before harvest it will smell like pine-tree woods, with menthol touches. Once the bud is dry will appear a spicy like aroma with tasty notes of coffee and licorice.
FLAVOR: Initial acid notes with a feeling of spice and wood. Degustamos notas iniciales de acidez con matices de ebanistería y sensación picante. In the retronasal phase we will strongly notice the strong incense background. Vibrant ending, great persistance with a nice citrics touch.
EFFECT: Amnesia Mistery is of a strong brainy effect, with a enlightning high that lead to an easy smile, taking us to the paradise of hedonism. A clear and inmediate high that will wake up our imagination brightly. Recommended for the artistic recreation. The choice of the ultimate growers.
RECOMMENDS
INDOOR: It's advised to grow 12/12 photoperiod from seedling, due to its enormous growing. In tiny spaces a pruning will be necessary. Recommended for spaces with moist issues.
OUTDOOR: Will have to sow late due to its enormous size, if discretion needed. Pruning will be necessary. Will need space for a full development. Great for wet places like seashore or the mountains.
More info
Bank: Positronics Bank.
Sexo: Feminised.
Phenotype: Sativa.
Mod. Cultive: Indoor/Outdoor.
Genotype: AFGHANI HAWAIAN x LAOS x JAMAICA x ...
THC: 21%
Recolection: 15-20 october (outdoor) / 82-90 days (indoor).
Production: 800 gr/plant outdoor - 400-500 gr/m2 indoor.
Data Sheet
| | |
| --- | --- |
| Genetics | Afghani |
| Features | Pick & Mix Seeds |
| Effects | Psychoactive |
| Effects | Happiness |
| Flavor and aroma | Floral |
| Flavor and aroma | Incense |
| Flavor and aroma | Lemon |
| Flavor and aroma | Pineapple |
| Banks | Positronics |
| Type | Feminized |
| Weather | Sunny/Mediterranean climates |
Send us your questions! We are happy to help you.
There are no questions about this product, be the first to ask!
---