The weed seeds masters have done it again. Arising, from the Spanish Seeds hands, one of the finest versions, that will make the waves this 2019: Early Skunk x Bubblegum!
In this variety, the impressive features of the Early Skunk, with one of the best Skunks genetics in history and the impressive taste of Bubblegum are blended. 5 star experience!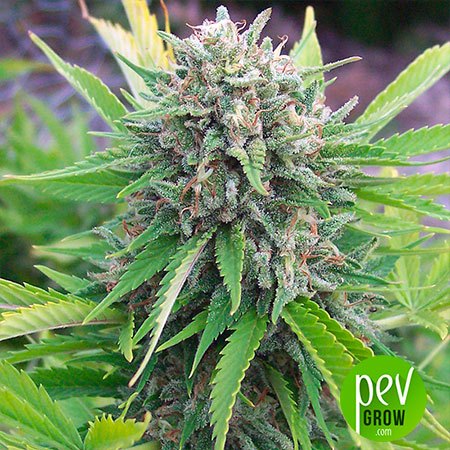 What's Early Skunk x Bubblegum structure?
It's a hybrid with a slight indica predominance with a very robust bearing, and vigorous and quick growth, available to be harvested after 50-60 days since its germination. Has a good lateral branching, perfect for applying high yielding techniques such as the SOG, parting from selected cutting.
What does Early Skunk x Bubblegum taste like?
After the first taste, I haven't stop smoking it. It's fantastic! It tastes like strawberry bubblegum blended with ripe fruits and combined with a Skunk aroma, with tons of personality.
What are the effects produced by Early Skunk x Bubblegum?
Its effect is a combination of a good and fun high, blended with a whole body relaxation without knocking you out, which it's pretty nice. The best option to enjoy with your friends while watching the movies when high we recommend in our blog.
How is Early Skunks x Bubblegum planted?
In indoor crops it needs a strong light source to grow to its fullest in a very short time, to achieve this, install a LEC 350w bulb. Bulbs with Light Emitting Ceramic technology are perfect and currently the best option, considering its light spectrum is formed by red and blue lights, making them the best for our plants, so you'll notice incredible growth spurs. With 11 L pots, you'll be able to plant up to 9 specimens per m2.
In outdoor crops, it's an authentic champ against the whitefly and red spider, as well as for the botrytis and the oído. But, nonetheless, I like to reinforce it win Canna Cure by Canna, acting in a wide spectrum. For very little, you can afford to protect it against all biological attacks. To begin with, do it in a small pot, at least 3 L, and start transplanting it just before the photoperiod phase, then, you should move it to a 50 L pot.
How many grams does Early Skunk x Bubblegum produce?
In Indoor crops, it yields up to 500 grams per m2 and in outdoors, and with adequate conditions, at least 550 g per plant.

Find the magnificent quality of the Early Skunk x Bubblegum by Spanish Seeds in the PEV Grow store, your trusted Growshop online store!