Big Bud is a cannabis plant that, as its name suggests, produces fat buds. But that is not the only quality that has made this cannabis genetics famous, since it comes from a champion lineage.
It is also the mother of one of the most famous varieties nowadays, Critical, one of the weeds that has won more prizes in Europe. If you want to know why this marijuana seed is so special continue reading, below you will get the answers.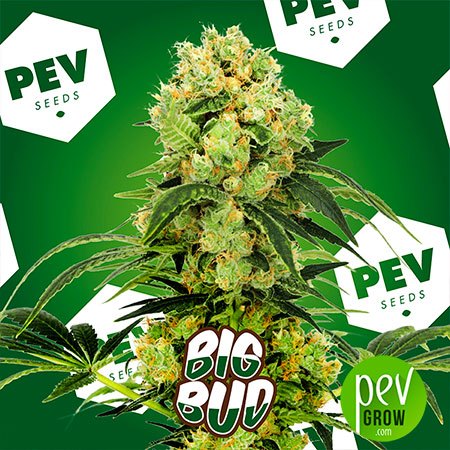 How is Big Bud variety?
It is a strain very easy to grow, it has a hybrid vigor that allows it to bear many of the situations that cause stress to other plants. It has a hybrid morphology, apparently with a sativa tendency, with not very thick stems, a rather wide distance between knots, fast development and leaves of medium-sized leaflets quite thin..
In flowering it brings out its most indica side, with some outstanding buds, and a time of ripening quite fast.
What is the genetics of Big Bud?
This is a cross between an Afghan and the mythical Skunk#1, made on the west coast of the USA around 1980. This hybrid never stabilized, and arrived in Holland in the mid 80's as a clone. Once in Europe Neville made his own seed version, first for Sensi Seeds and then for his own bank, Mr. Nice Seedbank, together with Shantibaba, which they called Critical Mass.
Mixing Afghanis with Skunk was popular in the 80's and 90's, it's a winning cross whether you use Skunk as a female or as a male, you always get high quality offspring. We can find many examples of this mixture in the market, Super Skunk, Early Skunk or Warlock are some examples of them, but you have dozens, and they are all good.
Our feminized version of Big Bud represents very faithfully all the qualities that made this impressive plant famou: production, flavour, speed, potency and resistance.
How is feminized Big Bud grown indoors?
Due to its enormous ease of cultivation, these cannabis seeds are among the most recommended for people starting their journey in the cultivation of cannabis. As we said before, its hybrid vigor gives it such resistance that it can tolerate some unforeseen events that can happen when we do not have much experience.
It adapts perfectly to both the SOG technique and the SCROG method, but perhaps it is more interesting to use the first one, since this way we save time simply by putting some more specimens per square meter. With 16 in pots of 7 liters we can obtain a great harvest. In this case it is necessary to give 3 weeks of growth so that they reach a good final size.
It should be mentioned that Big Bud generates an intense smell in indoor cultivation, which could be a big problem, so we recommend using carbon filters and ozonators for its cultivation.
And how is Big Bud grown outdoors?
This girl loves the sun and food, if you prepare a suitable growing environment she will give you a huge harvest. What do we mean by a suitable environment? Well, an aerated but nutrient-rich substrate, a location where you can enjoy many hours of direct sunshine, and prevent attacks by fungi or insects that can reduce production.
The Big Bud is a variety of cannabis ripening early, so it is interesting to plant soon in outdoor cultivation. It is also a good idea to add to the micro-life substrate to facilitate rooting, as the sooner it starts pulling with force the greater the final production will be.
When is Big Bud from PEV Seeds harvested?
The harvest of Big Bud in indoor cultivation comes after 8 or 9 weeks of flowering, apart from the growth cycle of course. Big Bud can be considered a fairly commercial strain in this regard.
In outdoor cultivation, if you are going to harvest it in the northern hemisphere you will have to wait until the beginning of October. In the southern hemisphere it must be cut at the beginning of April. It is coincident with the beginning of autumn, in many places during these dates it tends to rain in quantity, and this can be a problem. This variety produces very dense flowers, with little aeration, so if they get wet it is very likely that fungi will appear, something you must avoid no matter what.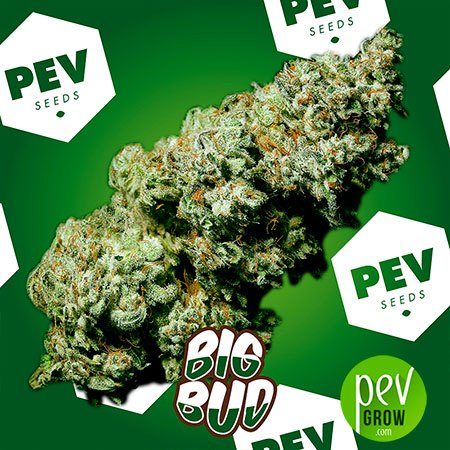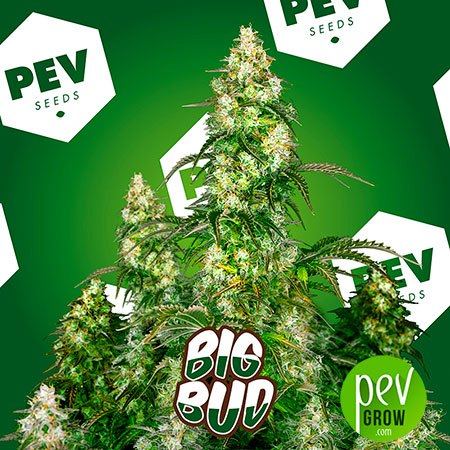 How much production can we expect from Big Bud?
The production is the most outstanding quality of this genetics, without ignoring the others, but it is called Big Bud for a reason, don't you think? The yield of this variety is above average, quite above.
In indoor cultivation you can overcome the gram / watt if you light them with HPS, so if you use 600w sodium you can get more than 600 grams, just awesome. With LEC or LED it is very easy to surpass that barrier.
In outdoor cultivation, if the conditions are met, you will harvest more than one kilo per plant. In order to achieve this, it is necessary to do what we saw before, a lot of sun, a lot of nutrient-rich substratum and plenty of water.
How does feminized Big Bud taste?
Both in its aroma and taste we can clearly notice the influence of Skunk genetics, but in its sweetest and fruity side. If you have tried the Critical you can get an idea of the flavor that has his mommy.
For many smokers this type of flavors are their favorite, it is surprising to think that the combustion of a vegetable can generate such a organoleptic quality, with many hints that you do not find when you eat other creations from nature. In extractions it is an authentic delight, that explosion of concentrated shades can end up collapsing. 
What are the effects of PEV Seeds' Big Bud?
Here you will notice the entire genetic spectrum of the Big Bud, starting with a stimulating and almost exclusively cerebral effect. But that is not the end of it, because after a while you begin to notice an increasingly strong body relaxation, which invites you to lie on the sofa.
It is not a weed that will knock you down unless you go too far, it can be consumed daily in moderation, especially if you have some tolerance to cannabis.
Do you want to buy cheap feminized Big Bud seeds?
You couldn't have chosen a better place to buy the best feminized version of Big Bud. At Pevgrow we offer it to you at a special discount, so don't think about it too much, just think about the amount you need and take it with you now!
You may also be interested in: