Discover all the new possibilities offered by ARAE's pure terpene Cadinene. We guarantee you have not tasted anything like it.
Add a few drops of this absolutely natural product in your carbonated foods and drinks and nothing will taste the same anymore. Terpenes not only confer a unique aroma, they also influence the plant's taste and effects, so you can have all its qualities in a bottle in the palm of your hand.
ARAE's pure terpenes use the steam extraction method, since it does not use any type of solvent or chemical agent that can infer the quality of the terpene, guaranteeing its safety.
This ARAE isolated terpene has more than 93% purity.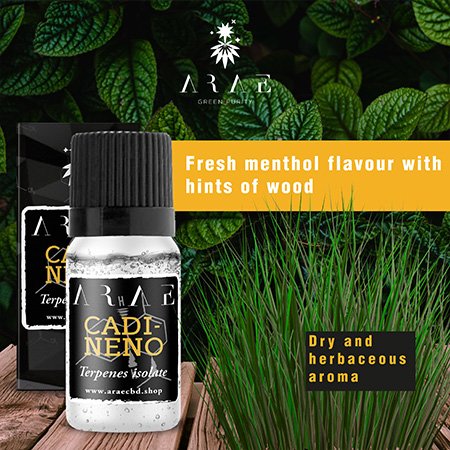 Taste and aroma
The organoleptic properties of pure terpene Cadinene, are characterized by a menthol taste and fresh, with hints of wood and a dry and herbaceous aroma, which form a really impressive combination.
Where is it found?
Cadinene is naturally found in the wood of red juniper or miera, a species of the genus Juniperus, which is found in the Mediterranean region, more specifically and mostly in the Iberian Peninsula and Balearic Islands.
Cadinene is one of the essential sesquiterpenes found in the essential oils of marijuana, which are used mainly for medicinal purposes.
How can I use ARAE's pure terpene Cadinene?
You might be thinking it looks like the product is too new or complicated for you but… nothing further from the truth!
Pay attention, you only need to add between 4 and 6 drops per litre, according to your taste, to your carbonated drinks, champagne, whole milk or olive oil, coconut or hemp seeds. Ready! You already have all the flavour, aroma and medicinal benefits of Cadinene in your favourite dish or drink. And you were going to miss the chance...
Medicinal benefits
The pure terpenes of Arae, whose fundamental premise is to promote the medicinal properties of cannabis, more specifically, the medicinal properties of Cadinene, are multiple and outstanding, as they have been able to prove their sedative, soothing, soothing and anti-inflammatory properties. More specifically, Cadinene is effective against:
- Skin rashes
- Muscle cramps
- Digestive Cramps
- Bronchitis
- It also has an effective rejuvenating effect.
- Moisturizer for skin and hair
At PevGrow, you can buy Arae's Isolate Terpenes at the best price.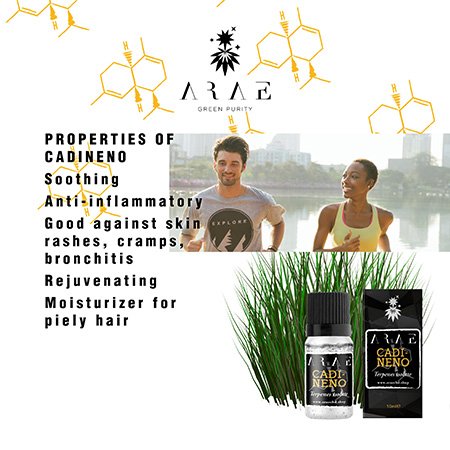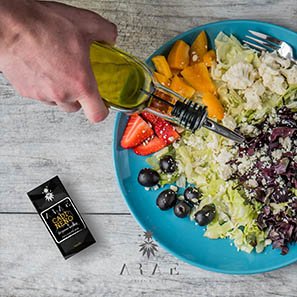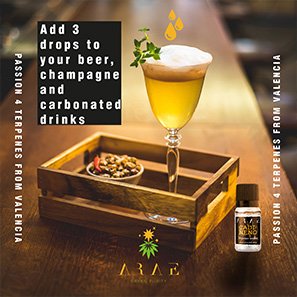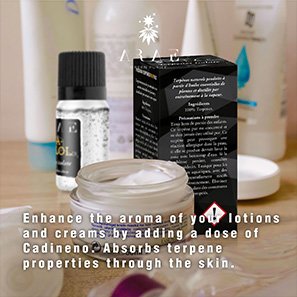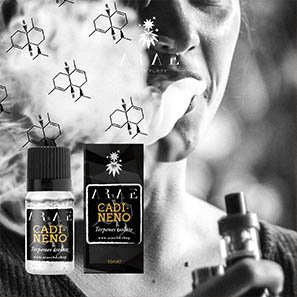 Quantity:
Bottle of 10 ml.
Related studies:
- A.-K. Borg-Karlson, T. Norin and A. Talvitie (1981). «Configurations and conformations of torreyol (δ-cadinol), α-cadinol, T-muurolol and T-cadinol». Tetrahedron 37 (2): 425-430. doi:10.1016/s0040-4020(01)92031-9.
All ARAE terpene varieties