We are proud to announce that we already have the new ARAE terpene Citral in our online shop. As its name implies Citral will add a fresh lemon scent and a citrus flavor with a touch of sweetness that you are going to love.
The pure terpene Citral has plenty of medicinal benefits and no side effects. Which makes it a very special touch to add to your meals, drinks or even creams and lotions.
Like all Arae isolated terpenes, the extraction method used to obtain Citral lacks chemical agents or solvents that could alter the quality of the terpene or pose a health problem. This is why Arae uses the method known as steam extraction, which maintains the properties, naturalness and quality of the terpene intact.

This ARAE isolated terpene has more than 96% purity.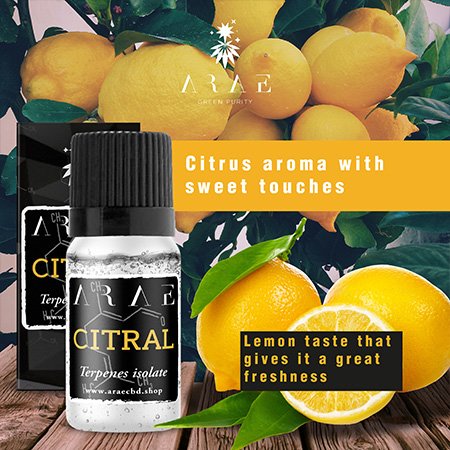 Taste and aroma
The organoleptic properties of pure Citral terpene, are characterized by a citrus aroma, with sweet touches and a lemony flavor that gives it an impressive freshness. Commonly the pure terpene Citral, is used in perfumery for its pleasant aromas, and is also used in cooking to give a lemony touch and fortify lemon oil.
Where is it found?
Citral is found naturally in the essential oils of numerous plants such as:
- Myrtle Lemon
- Litsea Citrate
- Litsea Cubeba
- Lemongrass
- Leptospermum liversidgei
- Clove basil
- Kidron
- Iron rind of lemon
- Lima
- Lemon
- Orange
How can I use ARAE's pure terpene Citral?
You can use Citral by adding 5% Citral to your creams and lotions. You'll love the fresh touch it gives them and on top of that you will get all its medicinal benefits, such as its anti-inflammatory effect or its effectiveness against headaches and migraines.
You can also add between 4 and 6 drops per litre to your favourite soft drink, to your evening beer (perfect for taking advantage of its relaxing effect and treatment against insomnia so you can sleep like a log) or as a condiment for your salads by adding it to your olive oil.
Medical Benefits
The benefits of Arae's pure Citral terpene are many and do not report any side effects. In addition, they are supported by scientific studies, as more and more, there is a wider sector of people who opt for the use of natural medicine, and more specifically the use of terpenes.
The medicinal properties of pure Citral terpene are:
- It improves digestion and helps in indigestion processes.
- Favors the elimination of gases
- Helps control nerves and anxiety
- Reduces inflammation
- Helps treat irritable bowel syndrome
- Effective in the treatment of insomnia
- Reduces headaches and migraines
Buy now at PevGrow the isolated terpene Citral and enjoy its incredible medicinal properties, with the confidence to buy at PEV Grow.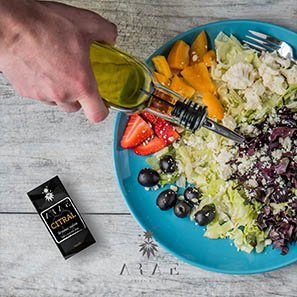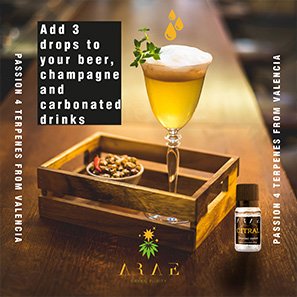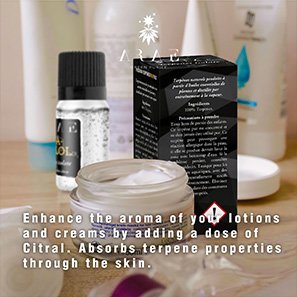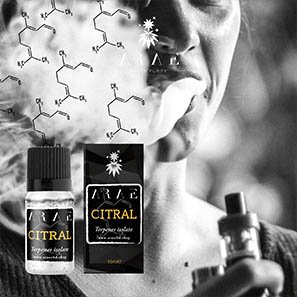 Quantity:
Bottle of 10 ml.
The strains that commonly contain citral are:
- Lemon Skunk
- Citral Skunk
- Pakistan Chitral Kush
Related studies:
-  Fenaroli, G., Furia, T.E., Bellanca, N., Handbook of Flavor Ingredients, ISBN 0-87819-532-7
- Lawless, J., The Illustrated Encyclopedia of Essential Oils, ISBN 1-85230-661-0
-  The Aromatic Plant Project
- Onawunmi, G.O. (1989). "Evaluation of the antimicrobial activity of citral". Lett. Appl. Microbiol. 9 (3): 105–108. doi:10.1111/j.1472-765X.1989.tb00301.x.
- Kuwahara, Y., Suzuki, H., Matsumoto, K. & Wada, Y. (1983). "Pheromone study on acarid mites. XI. Function of mite body as geometrical isomerization and reduction of citral (the alarm pheromone) Carpoglyphus lactis". Appl. Entomol. Zool. 18: 30–39.
- Robacker, D.C.; Hendry, L.B. (1977). "Neral and geranial: components of the sex pheromone of the parasitic wasp, Itoplectis conquisitor". J. Chem. Ecol. 3 (5): 563–577. doi:10.1007/BF00989077.
- Survey and health assessment of chemical substances in massage oils Archived 28 June 2007 at the Wayback Machine.
All ARAE terpene varieties