Citronellol is a very common element in cosmetic products and perfume, as it provides freshness and a spectacular citrus scent. Now, with ARAE's pure terpenes, produced in Spain and under GMP standards, you can have at the refreshing aroma and flavour in your home, as well as all the medicinal qualities of Citronellol.
Arae's pure terpenes are the result of an ecological extraction process, they do not use solvents or chemical products in the extraction process, thus guaranteeing the naturalness of the terpenes.

This ARAE isolated terpene has more than 95% purity.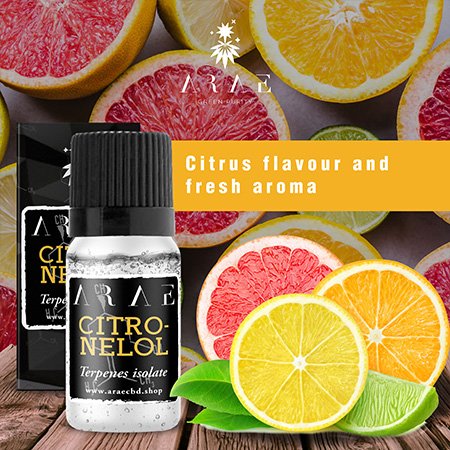 Taste and aroma
The organoleptic properties of pure terpene Citronellol, is its most prominent weapon, and are characterized by its citrus flavor and fresh aroma. That is why Citronellol is a very common element in cosmetic products, and more specifically perfumes, as it provides freshness and a spectacular citrus aroma.
Where is it to be found?
Citronellol can be found naturally in elements as common as:
- Citronella Oil,
- Rose Oil
- Geranium oil
How can I use ARAE's pure terpene Citronellol?
ARAE's isolate or pure terpenes come concentrated in bottles of 10 ml. so it is important to remember to dilute them for use.
You have a lot of possibilities to do this. From adding it to your food using a proportion of Citronellol of 0.5% of the total weight, or adding 4 to 6 drops per liter, depending on the intensity you want, to your carbonated drinks, whole milk, olive oil or even champagne.
Medical Benefits
The medicinal benefits of Citronellol are multiple and varied and have been demonstrated by various studies carried out by different institutions. The medicinal properties of Citronellol are:
- It helps to relax the muscles of the stomach, reduces spasms and helps to stop bacterial infection.
- It is also effective as an analgesic on blows.
- It is very useful for relieving migraine pains.
- It is also widely used in aromatherapy, for beauty and skin treatments, thanks to its moisturizing properties.
Buy now in your trusted online Growshop, pure terpene Citronelol from Arae, and live a unique experience...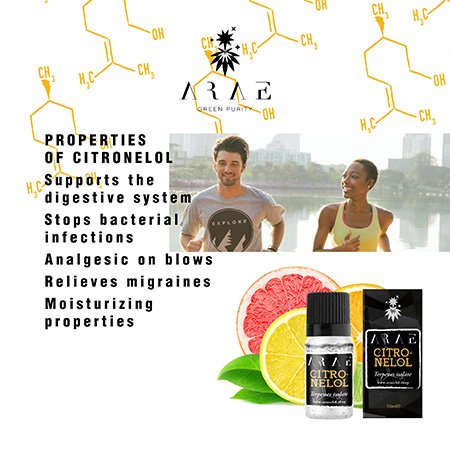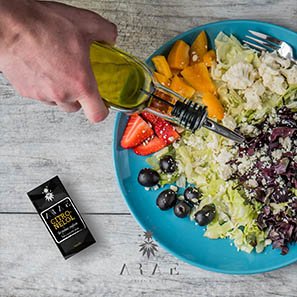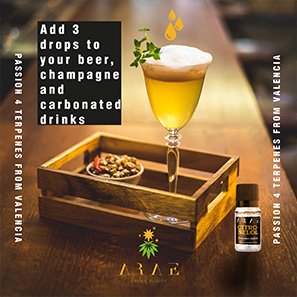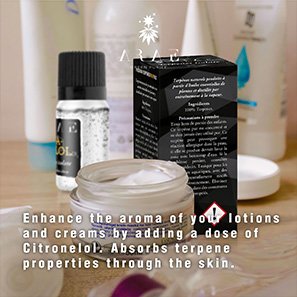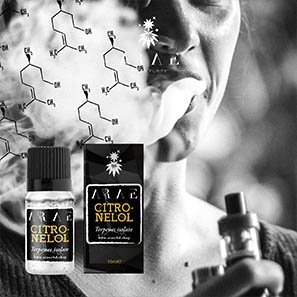 Quantity:
Bottle of 10 ml.
The strains that commonly contain this terpene are:
- Citronella Sky
- Super Lemon Skunk
- Gorilla Zkkitlez
- Tangerine Dream
- Hulkberry
- Chem Berry
Related studies:
- Lawless, J., The Illustrated Encyclopedia of Essential Oils ISBN 1-85230-661-0
- Taylor WG, Schreck CE. (1985). «Chiral-phase capillary gas chromatography and mosquito repellent activity of some oxazolidine derivatives of (+)- and (-)-citronellol». J Pharm Sci. 74 (5): 534-539. PMID 2862274. doi:10.1002/jps.2600740508.
All ARAE terpene varieties