ARAE's pure terpene Eugenol will add flavor, scent and unique medicinal properties to your drinks, edibles and even lotions and creams.

We already warn you that you are going to be delighted by its original flavor, which is not strange if we take into account that it is a terpene widely used as flavor additive and as an exclusive touch to perfumes and cosmetics.

It stands out for its incredible fragrances, which is why it is widely used in perfumes and cosmetic products.

Arae's pure terpenes are subjected to numerous quality and food safety tests, and it is guaranteed that in their extraction process neither chemical agents nor any type of solvent are used that could affect the quality of the terpene or its safety when consumed. More specifically, the extraction method used is steam dragging.

This ARAE isolated terpene has more than 98% purity.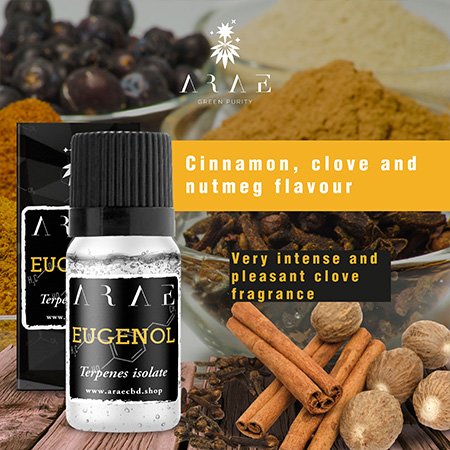 Flavour and aroma
The organoleptic properties of Eugenol are a real wonder, highlighting its flavor, which is a mixture of cinnamon, clove and nutmeg combined with a very intense and pleasant clove fragrance, which gives it a brutal exclusivity.
It is generally used as a flavouring, is also used in the vanilla manufacturing process, and is one of the recurrent elements in perfumes and cosmetic products.
How can I use ARAE's pure terpene Eugenol?
The options for using Eugenol are endless. You can use it with a ratio of between 4 and 6 drops per liter in carbonated beverages, beers, champagne, whole milk or in olive oil for your salads.
But, without a doubt, the best option with Eugenol is to add it to your creams or lotions to give them that spectacular aroma and benefit from all their medicinal properties. A perfect combination in which you only have to take into account you need to add 5% of the total weight of the product in Eugenol terpenes.
Where is it found?
Eugenol is present in nature in plants that are as common and everyday as they can be:
- Laurel
- Clove
- Cinnamon
- Camphor
- Pepper of Jamaica
- Indian pepper
- Basil
- Carrot seeds
- Marjoram
- Swab
- Nutmeg
- Pennyroyal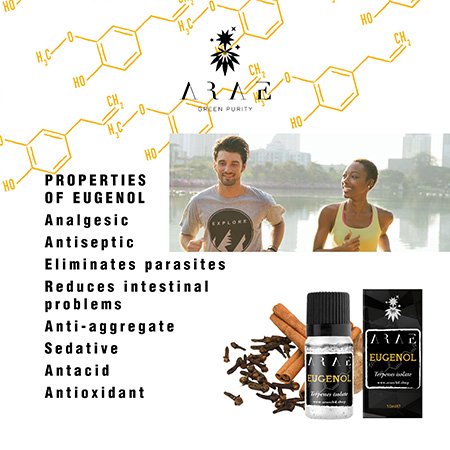 Medical Benefits
The medicinal benefits derived from the consumption of Eugenol, are very notable and demonstrated by scientific studies that demonstrate them. More specifically, the medicinal properties of Eugenol are:
- Analgesic
- Antiseptic, and is that it has become one of the most used natural antibiotics in the world, to combat diseases such as malaria or tuberculosis.
- It is very useful for the elimination of internal parasites such as intestinal worms or external parasites such as scabies.
- It considerably reduces intestinal problems, such as diarrhoea or vomiting.
- Anti-aggregants
- Sedatives
- Antacids
- Antioxidants
Discover how incredible Eugenol's pure terpene is in PevGrow, with its innumerable medicinal properties and organoleptic properties from another world.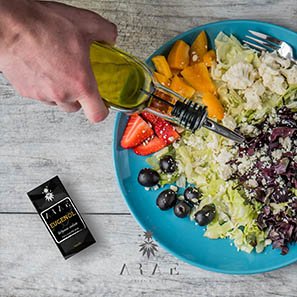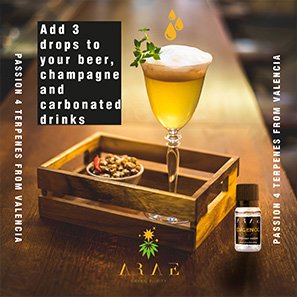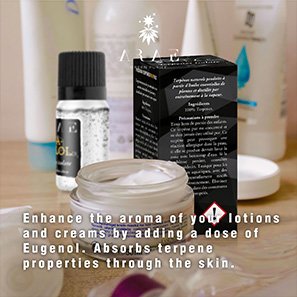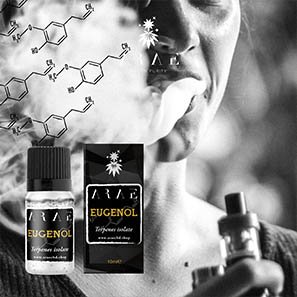 Quantity:
Bottle of 10 ml.
The strains that commonly contain this terpene are:
The strains of marijuana that commonly contain greater quantity or proportion of Eugenol, provide incredible fragrances, and incensed flavors that drag thousands of followers around the world. The strains with greater proportion of Eugenol are:
- Amnesia Bilbo Auto
- First lady
- Bubba Kush CBD
- Gipsy Haze
- One Love Haze
Related studies:
- Garza Padilla E, Toranzo Fernández JM. Revista ADM, Asociación Dental Mexicana. 87 Congreso Mundial FDIXXV Congreso Nacional e Internacional. ADM; 1998;55:46-50. Volumen LV;46-50.
- Remington´s Pharmaceutical Sciences. 18th ed. Pennsylvania: Mack Publishing Co;1990:1056,1328.
- The Complete Drug Reference. 32nd ed. Edit. Martindale; 1999:1564-5,1578.
- Briseño B, Willers Lausen B. Root canal sealer cytotoxity on human gingival fibroblasts. JJ Endodon 1990;16:383.
- Markowitz K, Moynihan Mil Liu, Kim Syngcuk K. Biologic properties of Eugenol and Zinc oxide-eugenol. Oral Surg Oral Med Oral Pathol 1992;73:729-39.
- Gossel TA. Relieving the pain of toothache. US-Pham 1986;11:23-4,28,31-2.
All ARAE terpene varieties