PEV Grow presents Strawberry Gum from the renowned Advanced Seeds seed bank. In the conception of this wonderful weed, they used a Strawberry and the world cannabis legend, Bubblegum. Want to live an unforgettable experience? You're in the right place!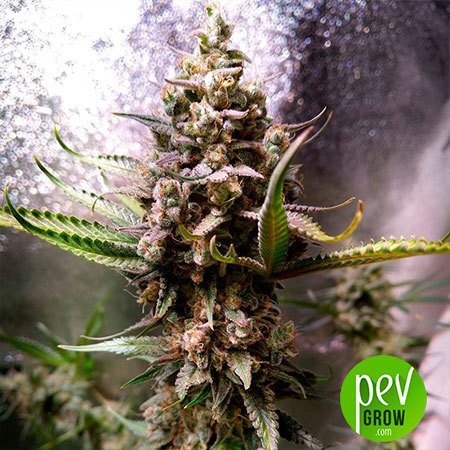 ¿What is the structure of Strawberry Gum?
Strawberry Gum is a hybrid of sativa predominance, with a strong growth, a medium internodal distance, which, with enough space, especially in sunlight, can become a real monster of 2.5 meters high. Indoors is kept measured, without exceeding 110 cm, so you will have no space problems. It will be ready to be harvested in just 60-65 days from germination.
What does Strawberry Gum taste like?
Simply spectacular, all praise falls short, as its taste with a sweet combination and a few hints of acid strawberry, are worthy of appearing in the Michelin dessert guide.



Which is the effect of Strawberry Gum?
Its effect is active at the mental level, as it has 20% THC, followed by a very pleasant body relaxation but is not narcotic at all, so it is ideal for smoking at any time of day without fear of staying KO.
How is Strawberry Gum grown?
In indoor crops, under the intensity of a 600w HPS spotlight with a Cooltube reflector, placing it at 18 hours of light during the growth phase and passing it to 12 hours of darkness in flowering, you will obtain magnificent results, which can reach 550 gr per m2. For it I recommend you that you use flowerpots of 7 liters, with which you will be able to exploit to the maximum the m2, placing up to 14 plants by m2.
Under the light of the sun, I recommend that you plant it directly on the ground, but to begin to germinate it, it is better to do it safe inside the house in a flowerpot, because if you do not run the risk of losing it, becoming the food of some insect. When it has 20-30 cm you can pass it directly to the ground, but I recommend that as soon as its leaves and branches have strength, spray Neem oil every 20 days to keep it safe from any attack. Regarding the substrate to use, you can choose the one you want, I usually recommend one already fertilized if you are a novice as Complet Mix Top Crop, and if you are already an expert you can use a light substrate as Light Mix Biobizz and apply the nutrients you consider.
You can't miss the wonderful properties of Strawberry Gum, at the best price in your trusted online Growshop!