At last we have feminized seeds of one of the most fashionable marijuana varieties in the world. A weed that when you try it the first time you get hooked, and you just want more and more. The problem is that its taste is tricky, it looks like a harmless candy, but if you smoke too much it leaves you crushed.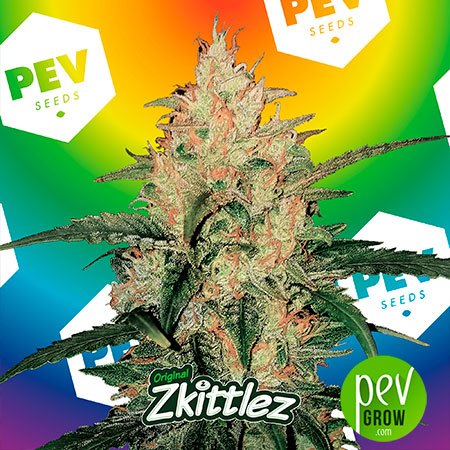 What is the genetics of feminized Zkittlez?
This is a fantastic cross between two of the most fruity genetics in America, Grape Ape and Grapefruit. The mixture of these 2 tasty plants results in a variety that has fused the qualities of their parents.
Its genotype is mainly indica, about 80%, by 20% sativa, which is basically seen in the effect.
How is Zkittlez cannabis variety?
Apparently its morphology is indica, with little ramification, solid and compact structure, with a minimum distance between knots and a rather wide leaf. Some specimens can acquire beautiful dark colorations at the end of flowering, inherited from its grandmother Gran Daddy Purple.
How is Zkittlez cultivated indoors and outdoors?
If you want to optimise indoor production, we recommend applying the SOG method, putting about 16 plants per metre in 7-litre pots. If you feed it organically, it will thank you with a much cleaner and more intense taste.
On the other hand, in outdoor cultivation we recommend pruning, not only because it makes better use of light, but also because the buds are better aerated and the production is distributed. If you live in an area where it may rain in early autumn try to protect your Zkittlez in a greenhouse or similar.
Both indoors and outdoors is interesting to use preventive fungicides with this variety, as it tends to tighten the buds a lot.
When is PEV Seeds Zkittlez harvested?
With this hybrid happens as with many others, depending on the taste of the grower can be cut sooner or later. In indoor cultivation can be harvested from the seventh or eighth week of flowering, but some users cut it with 9 weeks, in both cases the flavor looks great, but the effect changes.
Outdoors something similar happens, some cut the last week of September, and for others the exact point arrives in early or mid October, in the northern hemisphere. In the southern hemisphere it is cut in late March or early April. This is an advantage because if you see that for some reason you need to bring forward the harvest you know you can do it, the quality will remain high.
How much does Zkittlez variety produce?
In indoor crops illuminated with sodium 600 w. you can get a yield of about 500 grams per square meter. As long as it is grown without limiting factors and under normal conditions.
If you cultivate outdoors in mother earth or flowerpot of more than 50 liters it is easy that the production approaches to the kilo in dry. To achieve this, it is best to germinate in early spring, and transplant to its final location before summer.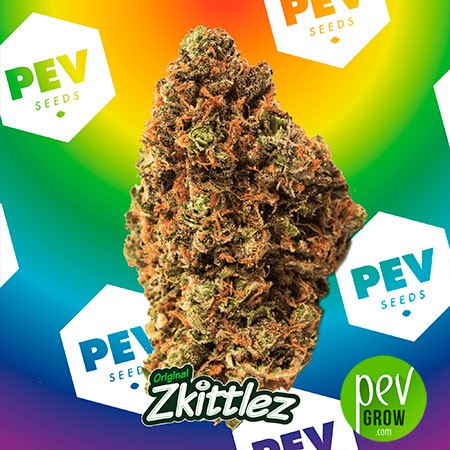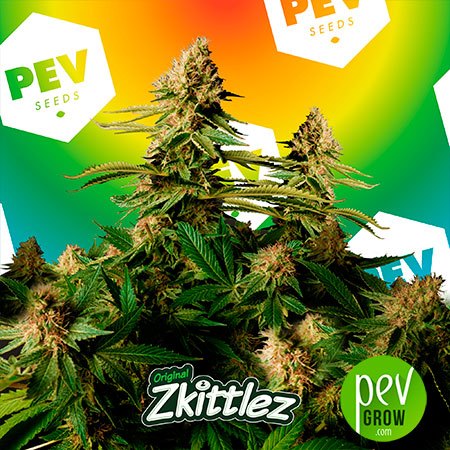 How does Zkittlez taste?
With its name you can imagine how it goes, can't you? Well more or less so, because if you've tasted Zkittlez candies you've almost tasted Zkittlez weed. This is the feature that has given worldwide fame to this genetics, began to sweep in cannabis cups as soon as it began to be in them.
The aroma is reminiscent of a mixture of tropical fruits, and the flavor is sweet and caramelized, mixed with berries with a very rich acidic touch, we are sure you will be surprised.
What effect does Zkittlez variety produce?
At first you don't expect it, as it starts with a rush in the style of the predominantly sativa hybrids. But little by little it is giving way to a physical heaviness that invites meditation and rest. It's a very good cannabis for the night, several puffs and disconnects from the world.
Where can I buy Zkittlez seeds?
The truth is that if you live in Europe you won't find many places where they sell seeds of this variety of marijuana so special. Luckily Pevgrow is at the forefront of the grow shop sector and we are always on the lookout for new products to offer to our customers. Here you have feminized seeds of the Original Zkittlez with the best quality/price ratio on the market, so don't wait for someone to tell you and start growing your own little candies.
You may also be interested in: