In our constant eagerness to bring the best strains on the market to our Online Growshop, I am proud to announce the arrival of Gorilla Blue from Advanced Seeds. His birth is the fruit of the marriage between Gorilla Glue #4 and DJ Short Blueberry.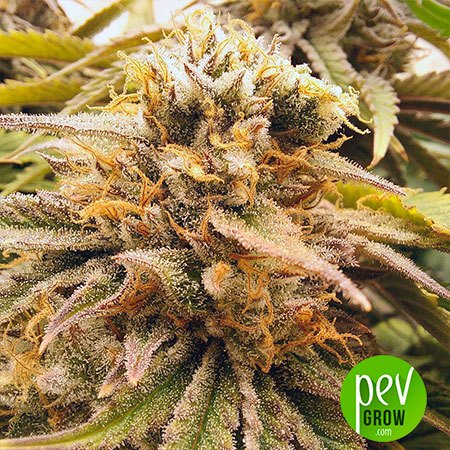 What does Gorilla Blue look like?
Gorilla Blue, is a marijuana seed of phenotype mostly indica, which grows with the typical spruce structure so characteristic of the Indicas, with a good lateral branching and a short internodal distance, which does not tend to stretch too much indoors as it does not exceed 100 cm, but outdoors with the appropriate space can reach 2.5 meters high.
What does Gorilla Blue taste like?
The organoleptic properties of Gorilla Blue, marked by a blueberry flavor, derived from its Blueberry genetics, with some very tasty sweet touches. Its aroma combines the sweetness of its flavour with a glue base, mixed with citrus and aniseed. Isn't your mouth watering just thinking about it?
Which are the effects of Gorilla Blue?
The effects of Gorilla Blue, are very intense and powerful, marked by its very high levels of THC which are estimated at 24%. You will enjoy a very powerful and active mental ascent, guaranteeing a trip to wonderland, which will be followed by an intense body relaxation that will leave you prostrate on the sofa without remission, say goodbye to stress and insomnia! It is ideal at the end of the day.
How is Gorilla Blue grown?
In indoor crops, its size makes it a perfect option for growing in confined spaces, and also in about 75 days you can harvest up to 600 grams per m2. I have always grown it in hydroponics, because its results are magnificent, in addition to being a very simple and economical technique, greatly improving productivity and keeping costs at bay. If you opt for a traditional crop, with pots of 11 liters will suffice, you can place about 9 plants per m2. It is very important that you keep the humidity of the growing space under control, which must be between 40 and 70% to avoid rotting or fungus appearances.
In outdoor crops, becomes a real monster of about 2.5 meters, so it needs a lot of space, and it is vital to choose a good substrate, more specifically I have found that the best works is Biobizz's Light Mix, which contains what is necessary to start the cultivation phase, then in flowering I like to add Top Crop Top Bloom to fatten the buds.
Do not miss the opportunity to buy at the best price in the market, Gorilla Blue from Advanced Seeds in your trusted online Growshop!
You may also be interested in: