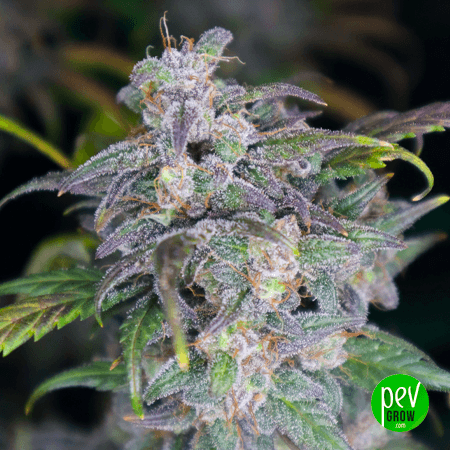 Gushers are feminized marijuana seeds that the bank Spain Bulk Seeds has just presented, produced with the intention of offering the market a variety that until now could only be obtained in the form of cuttings. This plant has an unsurpassed pedigree, showing great vigor, good performance, unique organoleptic properties, and an effect that can be considered magical.
What is the genetics of these feminized seeds?
Spain Bulk Seeds crossed the Californian elite clone Gushers with it self, hoping to fix the traits that define this genetics, especially its delicious caramel flavor. This cutting is a selection that descends from the cross between Gelato # 41 and Triangle Kush, created by the Cookie Fam combining 2 of their best strains. Its genotype is mainly indica, around 60% compared to 40% of sativa.
How is Gushers in general?
It grows strong, fast, and vigorously, taking out branches from a very small, so it ends with candelabra shape, with strong but flexible stems, and average distance between nodes. In flowering it triples its size approximately, and can get to take up a lot of space if allowed.
The buds are quite voluminous, but that does not mean that they are open or spiky, not at all, they are tight and hard like few others. Thanks to the enormous resin production of Gushers, at the end of flowering it seems to shine, giving it a very appetizing sugary appearance.
How are these seeds from Spain Bulk Seeds grown?
Gushers adapts very well to any growing system, and usually performs well both indoors and outdoors, even when conditions are not the most favorable. Indoors, its branched morphology is better used by applying the Supercropping technique, but in the face of possible stress or damage that may be caused to the plants, we prefer to use the SCROG method, putting 9 plants / m2 in 11-liter pots, with 4 weeks of vegetative growth cycle, and at least one apical pruning .
For its cultivation outdoors you don't have to complicate much, use quality soil such as All Mix, at least 25 liters, and look for a place as sunny as possible, which will surely thank you. It is a good idea to start shaping from a young age, you can use stakes or any other support to support its branches and prevent them from breaking due to the wind, rain, or the weight of the buds.
When is the Gushers harvest coming indoors and outdoors?
Its flowering and maturation cycle can be considered standard, since it needs about 9 weeks in indoor cultivation, and outdoors it is harvested at at the beginning of October in the northern hemisphere. In the southern hemisphere it is cut in early April normally.
How is the production of these seeds under normal conditions?
High, very high, and we are not just talking about buds, as it produces a lot of resin as well, and it contains many cannabinoids and terpenes. In indoor cultivation it can exceed 17.6 oz per 3x3ft ( 500 grams / m2 ), and outdoors each well-grown Gushers can give you more than 24,6 oz/plant ( 700 grams ) easily, especially those that are planted in early spring in soil.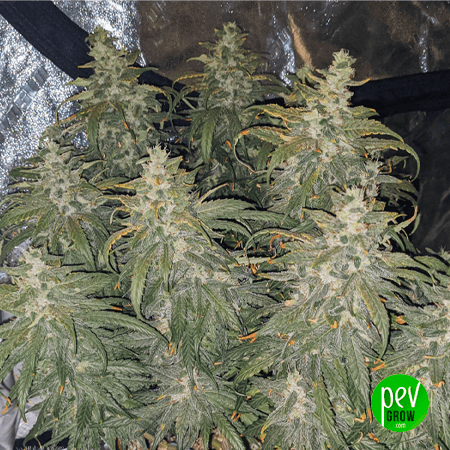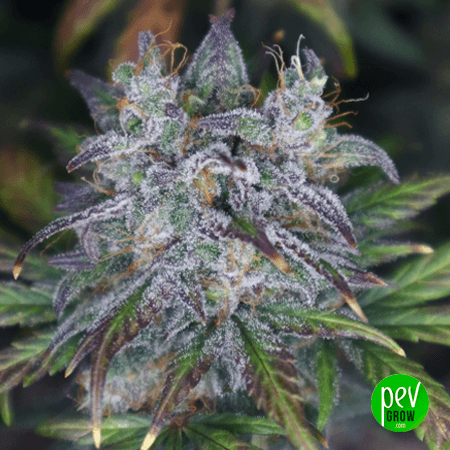 What kind of aroma and flavor does Gushers contain?
This plant is named after a brand of candy known as Fruit Gushers, and that can already give you an idea of its fantastic aroma and flavor. It smells very sweet since the first trichomes begin to appear, remembering its ancestors Cookies. The flavor is very fresh, sweet, and creamy, especially when inhaled, because afterwards the typical earthy touch of the Kush is incorporated, which with its intensity covers all the other nuances.
How is the effect of this tasty marijuana?
It feels more physically, but it is one of those modern herbs that affects all the senses, giving you a state of peace, calm, and total tranquility, with a lot of brain activity, but always from optimism, joy, and well-being general. This variety is ideal for people with nervous problems, anxiety, restlessness, or insomnia.
Buy Gushers feminized seeds from Spain Bulk Seeds at the best price
It is possible that until now you have not heard much about this genetics, but of one thing we are sure, and that is that from now on you will see it often. Don't wait for them to tell you what it is like, ask us for your seeds and start enjoying one of the most hype strains on the American cannabis scene.
You may also be interested in: