GMO are feminized cannabis seeds that have just been published by the bank Spain Bulk Seeds. We think that it can become one of the fashionable varieties in Europe, because it has a series of qualities that are difficult to combine in a single plant, and because in North America it is already a reality. Do you want to know more details about this impressive genetics? You will discover them right away…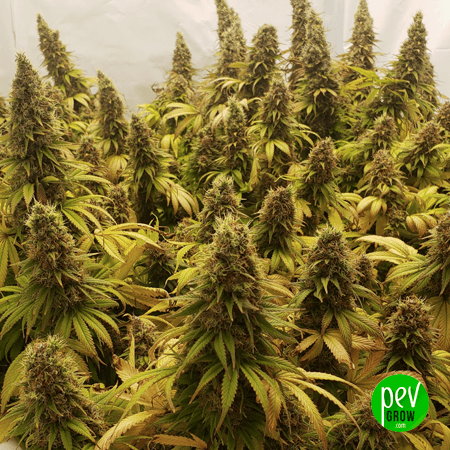 What is the genetics of these feminized seeds?
These are feminized seeds S1 obtained from the self-pollination of the famous clone known as GMO. This elite clone was selected by Skunk MasterFlex, a large grower from Michigan who found this super phenotype in a package of seeds of Chem Cookies from Mamiko Seeds bank.
The genotype of this strain is roughly 70% sativa and 30% indica, and its pedegree is guaranteed by descending from 2 great cannabis families, the award-winning Chem D and Forum Cookies.
What is GMO like in general terms?
Morphologically, its constitution of hybrid can be seen with a certain predominance of sativa, as it grows at a good speed, with a wide internodal distance, not very thick but resistant stems, a lot of branching, and leaves with medium leaflets.
During pre-flowering it can triple its size, leaving the very long branches with many buds, so they end up covered with inflorescences. The buds are typical of Cookies, not very bulky but tight and heavy like few others, although it must be said that some phenotypes may show a hermaphroditic tendency.
How are these seeds grown indoors and outdoors?
In indoor cultivation, optimization techniques LST (Low Stress Training) are the ones that offer the best results, especially SCROG. Thanks to the large branching of this plant, 9 plants / m2 are placed in 11-liter pots with 3 weeks of growth is sufficient, but it is necessary to do FIM or apical pruning to the main tip.
Outdoors it unfolds its full potential if given space, enough substrate, and maximum hours of direct sunlight. It is not necessary to plant the seeds very soon, GMO grows a lot, but the best thing is that is molded very well, so you can give it the shape you prefer. It is mandatory to use stakes or support for the branches, as they concentrate a lot of weight on the tips, and if they are not reinforced they can break.
When are GMOs harvested?
Indoor flowering period is 9/11 weeks, somewhat longer than most commercial hybrids, but it is really worth the wait. In outdoor crops, it is harvested at mid-October in the northern hemisphere, and in the southern hemisphere during the second or third week of April.
How much do these seeds produce in general?
The production is high in general, both of buds, such as resin, terpenes, cannabinoids, etc. Indoors, a standard harvest is between 
14.1 oz per 3x3ft and  17.6 oz per 3x3ft  (400 and 500 grams / m2 ) , and outdoors each well-grown GMO can yield about 
24,6 oz/plant (
700 grams )
dry.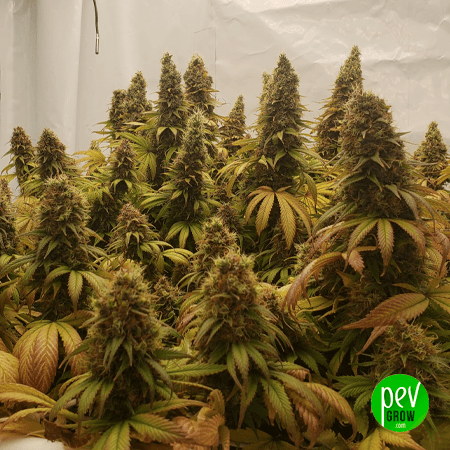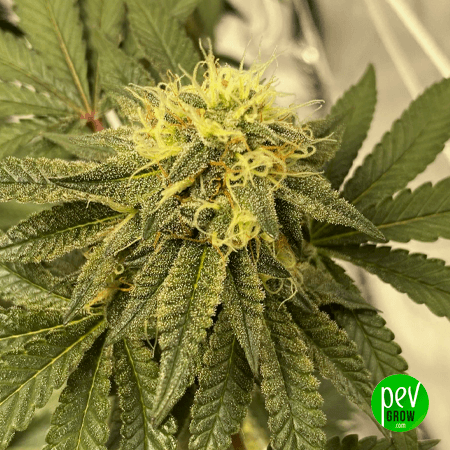 How is the aroma and taste of GMO?
In some parts of America this elite clone is known as "Garlic Cookies", first because some dispensaries prefer not to put the "GMO" label on this product because it can lead to confusion, but also because it is one of the few genetic the world that has a certain garlic aroma.
In general, the organoleptic properties of this cannabis are very similar to Chem, with intense flavor very balanced between earthy, citrus, spices, pine, fuel, and freshly baked cookies
What kind of effect does its consumption produce on us?
Cannabinoid tests don't look real, with percentages of THC exceeding 30% in some cases. The effect is immediate, just a couple of puffs and the mind begins to detach from the body, leaving you in a state of intoxication unfit to perform many of the day-to-day tasks, and less to do some work. A lot of brain activity, but always with the body relaxed and at peace.
Buy GMO feminized seeds from Spain Bulk Seeds at the best price online
This is the first time that a European seed bank offers feminized seeds of the GMO clone, but we are sure that we will not be the only ones, because this herb is of special category. Do not wait for them to tell you, and order your seeds now, at Pevgrow we are committed to giving you the best price and service in the world.
You may also be interested in: