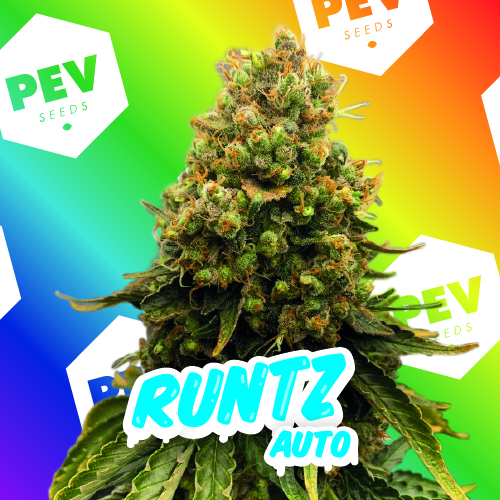 Runtz is the cannabis genetics of the moment in USA, a highly sought-after elite clone that recently landed in Europe, and the PEV Bank Seeds team has worked to turn it into autoflowering and feminized seeds very faithful to the original genetics. We are facing a marijuana plant that can give a lot to talk about, that has broken all the schemes in California, do you still not know it? Well, don't miss what I'm going to tell you…
What is PEV Seeds' Runtz Auto like?
It is a gem wherever you look at it, because in addition to the classic qualities that we all seek, such as speed, production, flavor and effect, this plant offers you a super simple cultivation, resistance to common diseases, and a unique beauty.
Its open and highly branched morphology gives it a bonsai appearance at the beginning, with secondary branches that reach the height of the main crown, but when it begins to stretch the nodes in pre-flowering its structure expands, something that is good for interior ventilation and depth of light. In the end it ends up being very balanced, forming good flowers even in the lower parts of the plant.
What genetics does this modern autoflower contain?
PEV breeders were very clear that they did not want to lose the qualities of Runtz that have fallen in love with thousands of consumers in the USA, that is, its fresh and caramelized flavor with the cookies background, abundant thick resin, dense buds and enormous effect. For this mission they crossed a Runtz cutting with their Tropicanna Cookies Auto , as they share many of those traits. And you can assess the result yourself, it has been even better than they thought.
How is Runtz Auto grown indoors and outdoors?
Indoors you can get a great harvest if you take care of certain details, take note. The first thing is to get a great root system as soon as possible, as this is critical with cars. For this mission it is important that the substrate is rich in nutrients but very aerated and spongy,2,9 US gal to 3,9 US gal (11 or 15 liters) per plant. The ideal is to add micro-life to the soil, and root stimulator the first waterings. Another important point is the photoperiod, 18 hours of constant light and 6 of darkness is very good, from when the Runtz Auto sprouts until you cut it.
For outdoor cultivation we recommend sowing in pots with capacities greater than 5,2 US gal  (20 liters), especially in spring and summer. If you add micro-life to the soil or the first waterings, you will help it to form that root ball that I told you before, and this is valid for both indoors and outdoors. Do not soak the substrate too much with the water, water little by little, more and more as the plant grows, and from the moment you start to water the entire surface of the pot, wait until it dries to water again.
When is the autoflowering version of Runtz harvested?
When you grow it with artificial light it is faster than outdoors. Indoors it is cut about 75 days after germination. On the other hand, outdoors or in a greenhouse it can go to 80 or even 85 days in some cases, but it must also be said that these phenotypes are the ones that yield the most, so it's worth the wait.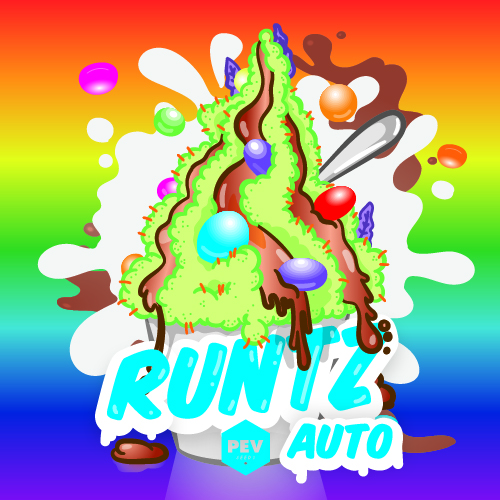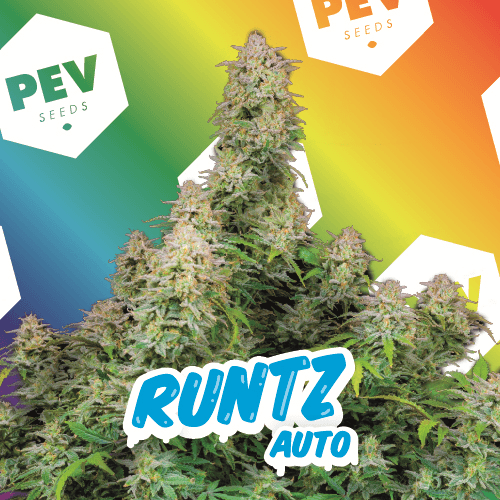 How much do you produce indoors and outdoors?
The harvest is somewhat above average, reaching 19.4 oz per 3x3ft 550 grams / m2 in indoor crops well managed. Outdoors each Runtz Auto can give you more than 4,2 oz (120 grams) , especially in temperate climates and grown in spring or summer.
Resin production is massive, not only in the flowers, all the leaves that surround the buds end up frosted as well. If you like cannabis concentrates, here is a herb that, in addition to quantity, will give you extraordinary quality.
How is the aroma and taste of Runtz Auto?
When it starts to bloom, and especially when it begins to form buds, its aroma is perceived more sweet and fruity, reminiscent of the Zkittlez ancestors. On the other hand, after being harvested, dried and cured, its fragrance becomes fresher and smoother.The flavor is very creamy, it looks like a dairy dessert, with a caramel background, exquisite as few others.
How is the effect of this automatic plant?
Although the indica part is more noticeable, at first gives you a very pleasant flight, but always with a high point of body relaxation. The effect is very long-lasting, but does not leave you down, so it can be a good yerba for the day to day, like tea.
Buy Runtz Auto seeds at the best price online
It is difficult to gather so many qualities in a single variety, but this girl is very special, and we are sure that she will be one of the most sought after, so make room for her in your garden and start enjoying it as soon as possible.
You may also be interested in: